The Dragon Returns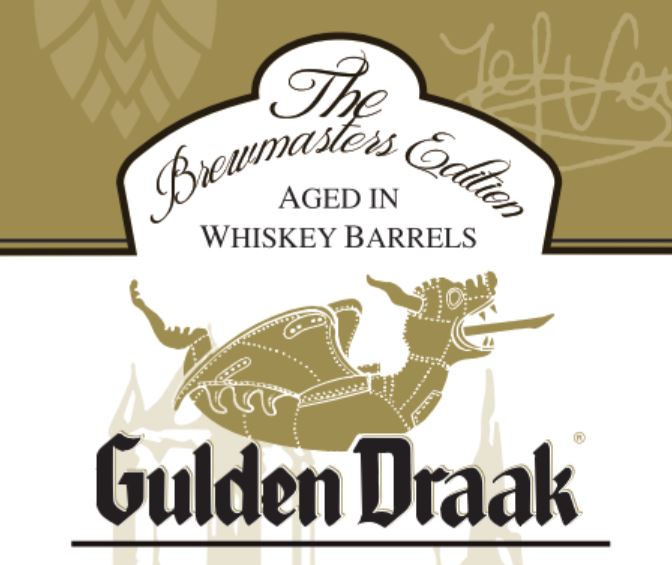 A few weeks back we thought we were getting a keg of the rare, whiskey barrel aged Brewmasters Edition of Gulden Draak.
Sadly due to a shipping error we were sent a keg of plain ol' normal Gulden Draak. Which meant cancelling our planned NRT.
It was a boon for us then, when the importer got a surprise keg of
actual
Brewmasters Edition Gulden Draak in a recent shipment. We quickly put our name on it, and this time before announcing anything we waited until we had the keg on site.
So now with the keg on hand, we're excited to be tapping a keg of 2015 Gulden Draak this Tuesday at 5pm.
If you've forgotten what GDBE 2015 is all about, here's the spiel:
"Our brewmaster Jef Versele crafted this exclusive 'Gulden Draak Brewmasters Edition' as a tribute to his grandfather 'Jozef Van
Steenberge' and the 230th birthday of the brewery.
His inspiration came from his numerous trips to the United States and his deepest respect for the Crafted Beer Culture."
"The Gulden Draak Brewmasters Edition is brewed just once a year and requires 7 months to complete its brewing and maturation process. 'You can't just shorten that period. But this is what we call a luxury problem in Belgium. It's worth the wait.'"
In true Belgian style, GDBE 2015 weighs in at a hefty
10.5% ABV
. So we'll be serving it up in small fancies or even smaller TeKu glasses. Judging by online responses to this beer, the wait will have been worth it but we'll see for ourselves 5pm Tuesday.
Chocolate Thunder™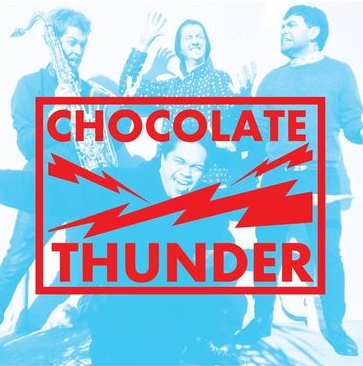 You may know our Tasi has the nickname Chocolate Thunder, with her famous Renaissance collaboration stout being named as such.
But it turns out there's a local funk ensemble competing for the name.
Chocolate Thunder
(the band) is returning to the HZ lounge this Saturday with a "sensuous jazz, funk, soul and fusion maelstrom that strikes without mercy where you least expect it."
From 9.30pm, Chocolate Thunder's sheer groovemanship will "make your body move and your flowers blossom."
The following people can expect a C & D letter from Tasi:
- Conway Jeune - Guitar, excellent vibes
- Bryn van Vliet - Saxophones, Vocoder, Wind Chimes
- Makura Tomoana - Bass
- Hikurangi Schaverien-Kaa - Drums
The funk kicks off at 9.30pm, and is free as always!
Non-Alcoholic? Not forgotten!
I recently took a couple of months off alcohol, which can be difficult in my line of work - especially while Beervana is on!
One thing you notice when you're off the beers is how cloyingly sweet and boring a lot of venues non-alcoholic ranges of drinks are. It's hard to 'socially' drink things like coke, which becomes sickening and boring very quickly. So I've made sure that Hashigo Zake has a great range of interesting non-alcoholic drinks to suit those of us not able to imbibe.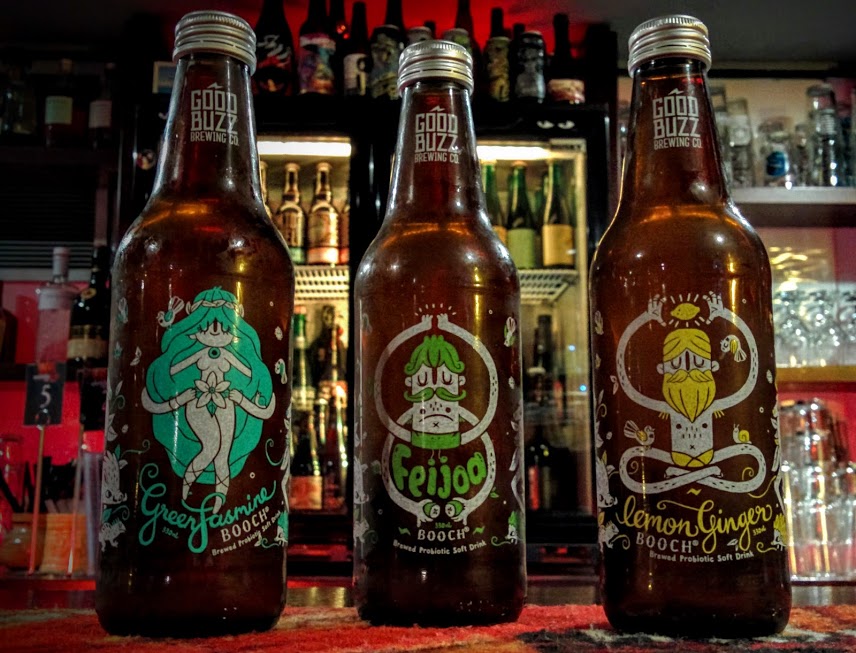 Good Buzz Booch
was one of the first alternatives we took onboard. It's a kombucha, which is tea fermented with a symbiotic culture of bacteria & yeast (SCOBY).
Because it is fermented there's only 5-7g of sugar per bottle, and the bacteria give it a tartness not unfamiliar to lambic lovers.
These are fermented in the bottle and as such a little bit of the SCOBY sits at the top of each bottle, kinda like a little sour jelly.
We're stocking
Green Jasmine, Feijoa and Lemon & Ginger
flavours.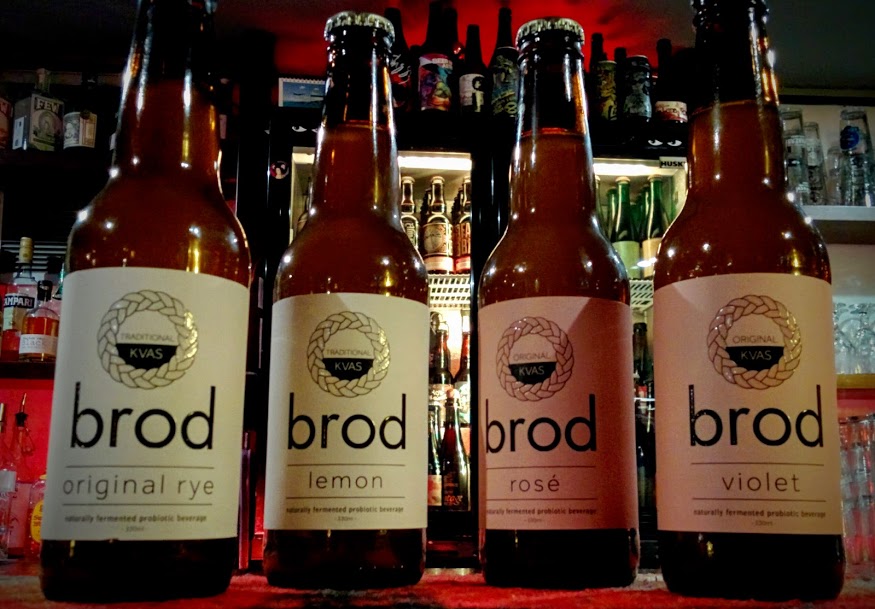 Brod Kvas
is the most recent addition to our non-alcoholic range.
Kvas is a traditional fermented Russian drink, kind of like kombucha but made with rye bread. In Russia it has been commercialised and many sugary versions exist, but more traditional kvas is home brewed all over Russia.
Brod is made by
The Kvas Company
in Christchurch, and is the first to be making kvas commercially in NZ. But they go all out traditional and even bake the rye bread used.
They're very small at the moment, with just tiny batches being made but we've got four flavours in the fridge now:
Original Rye:
Traditional, unadulterated Kvas.
Lemon:
Original Rye with heaps of lemon zest added for an awesome lemony bite.
Rosé:
With added rose petals and cardamom pods, this one tastes like a non-alcoholic witbier!
Violtet:
An exotic combination of the traditional kvas, lemon and lavender. Floral & aromatic.
Then of course there's the classic ginger beer, our
Gladstone's
is still fairly sweet but has the biggest ginger kick we could find in a stable ginger beer (ie. that won't explode).
Kereru have been keeping us stocked with their
Birch Beer
for years now. The distinctive 'root beer' taste of star anise and wintergreen isn't for everyone but will be familiar to those who love sarsparilla.
We've also recently discovered
Schneider Tap 3 Mein Alkoholfrei.
This is a alcohol free version of their Weissbier, with the classic banana yeast character albeit a lot sweeter due to the halted fermentation.
So if you're at HZ and can't have a beer, don't forget we've got you covered.
Beers You Can Drink That May Interest You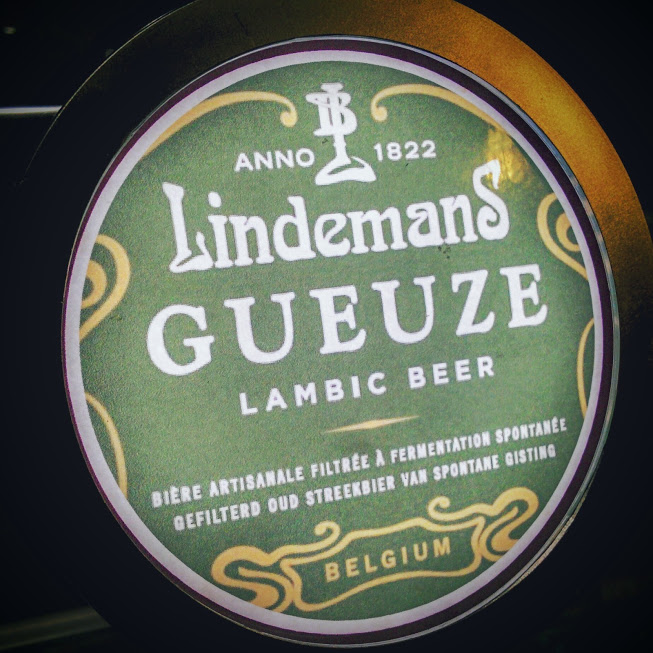 It's not often you can get legit Lambic on tap, let alone in a full sized 473ml US Pint.
Lindeman's excellently balance Gueuze is on tap now and a we're pouring it by the pint.
It's certainly sour, with the distinctive Lambic bacterial character coming through. The tartness only serves to make it more refreshing, and at 4% this is a great session beer.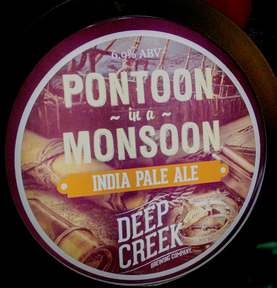 After last week's hype around Deep Creek's insanely bitter Hoppy McHopface IIPA, it's good to see they can brew balanced beer too!
Along with our (now extinct) keg of Hoppy McHopface we also grabbed a keg of Deep Creek's flagship IPA
Pontoon in a Monsoon
which is on tap now.
It's got a nice round malt base, hinted at by its beautiful deep amber colour. The hop aroma is huge with a big hit of Nelson Sauvin and Centennial. It all comes together in a beautiful balance, making it very drinkable for its 6.9%.
Following our keg of Lindemans Gueuze goes, we've got an exciting leftover from Beervana's Oregon bar coming on -
Ecliptic Ultra Violet Blackberry Sour.
"UltraViolet is brewed with Oregon Blackberries, soured in the brewhouse and fermented with Belgian yeast. The result is a tart and crisp sour ale, with ripe blackberry flavors radiating through it like cosmic rays traversing the universe."
Keep an eye on your apps for this one popping up.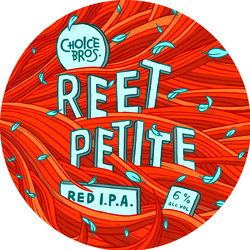 We've got the newest batch of
Choice Bros'
Red IPA
Reet Petite
hitting the taps shortly.
Choice Bros had this batch brewed out at North End, and seriously upped the ginger this time round.
What was a tiny hint of ginger in the first batch is now much more recognisable in the latest version.
Reviews of this latest batch are so far very positive, so we're looking forward to this coming on soon.