TEDx Wellington Livestreaming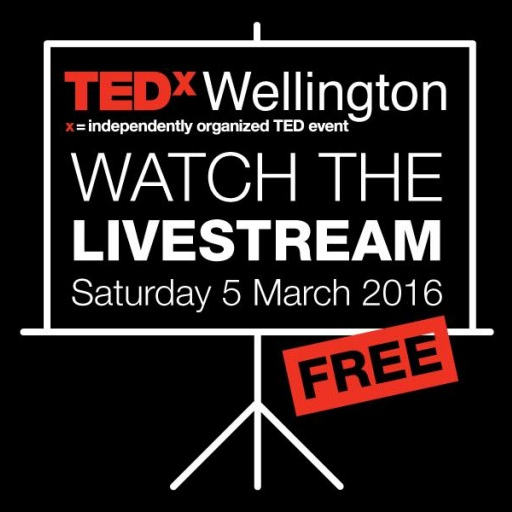 I love the TED talks format of presentations. So when I saw that an independently organised TEDx event was happening in Wellington - and was to be streamed for free online I was stoked.
I also thought it would be a good test of our sweet fibre optic internet.
This year's TEDx Wellington is changing up the TED formula.
They're not sharing the location, speakers/performers, exact number of tickets or even the programme for the day.
Why? The organisers explain,
"It's an experiment. A journey. An attempt to explore the 'what if' question whilst banking in some of the trust from the previous years events. We believe in the adventurous side of our community and it seems they like the idea as well"
Tickets to attend the actual event have sold out, but the organisers are making a live stream available for everyone from 11am-6pm Saturday.
We'll be playing the live stream in the red room this Saturday from opening (12pm) till 6pm.
The session times are 11am-12.30pm, 1.30pm-3pm & 4pm-5.45pm.
Come Along and watch for 10mins, or the whole day.
The Cosmonauts Return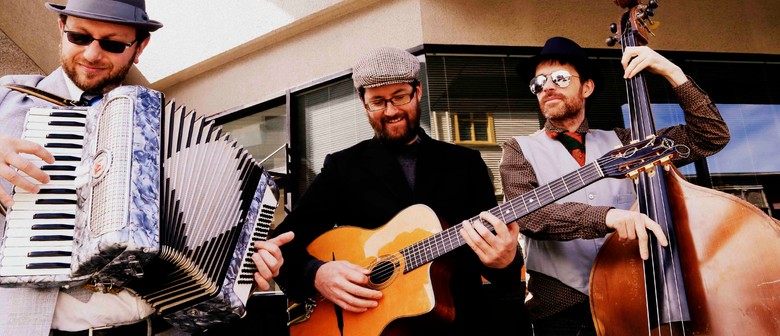 Russian Cosmonaut Mikhail Korniyenko has just returned to Earth after a 1 year stay on the International Space Station.
Sadly after a year of microgravity, he's not quite strong enough yet to join
The Cosmonauts
playing the HZ lounge this Saturday.
The Cosmonauts play a high-energy blend of Soviet Folk with Italian Chanson and 19th Century Balkan Pop. Our music man has condensed this to 'Gypsy Jazz' on the chalk board for succinctness. The Cosmonauts are Frankie Curac on accordion, AJ Jensen with guitar and Andrew Laking playing double bass.
The Gypsy Jazz starts at
9.30pm this Saturday
, and won't cost you a thing. But we hear beer and gypsy jazz do go well together...
Double Sour NRT!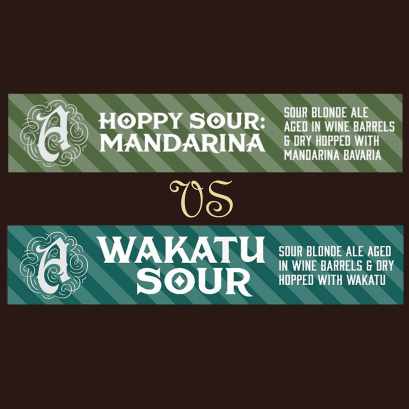 Back in December we hosted a hoppy sour showdown between Almanac's pioneering Simoce Sour & Citra Sour (which are both coming back on tap this weekend).
With this week's new arrivals from the West Coast, we've now got two more hoppy sours to pit against one another - but this time they're not US hops.
This time it's the citrusy new German hop
Mandarina Bavaria
going up against NZ's own
Wakatu
(previously known as Hallertau Aroma).
This Tuesday only
we'll be serving up both of these groundbreaking beers side-by-side in TeKu glasses for $20. Last time they sold out after just a few hours, so come on down Tuesday or you'll most likely miss out.
If you're wondering what they'll be like, the brewery has prepared detailed descriptions of both:
Hoppy Sour: Mandarina:
"Mandarina Bavaria hops are Germany's answer to the bold, vivacious US varieties found in West Coast-style brews. This hop is the daughter of Cascade and Hallertau, combining characteristic New World citrus flavors and aromas with the subtle spice of German noble hops.
We blended our wine barrel-aged sour blonde ale with foeder-fermented brett saison to craft a complex base of stone fruit, oak, and earthy funk to compliment the tangerine and lime-like character of Mandarina. Each sip teases a new flavor, from grass to grapefruit to peaches and finishes crisp and dry."
Hoppy Sour: Wakatu:
"Wakatu is a New Zealand-born hop prized for its floral and citrusy aromatics. This relative of classic Hallertau hops is light on bitterness and often used in clean, German-style lagers.
This hop finds a perfect mate in our sour blonde base beer, combining with the tropical fruit and funk to create a tart ale with hints of lemon, pineapple, and tangerine, a dry white wine-like finish, and the subtle taste of key lime pie."
Both hoppy sours are tapped at 5pm Tuesday. See you there.
Fresh From the West
It's less than a week away now, so this is your last reminder of our new shipment tasting on
Wednesday the 9th of March at 6pm.
We'll be tasting the following beers:
- Speakeasy Popgun Pilsner
- German Pilsner in a can, brewed in San Fran (4.7%)
- Modern Times Funky Universal Friend W/ Pinot Noir
- Brett Saison with Pinot Noir Must (7.2%)
- Modern Times Funky Universal Friend W/ Pinot Grigio
- Brett Saison with Pinot Grigio Must (7.2%)
- Modern Times Mega Fortunate Islands
- Imperial Hoppy Wheat Ale (8%)
- Karl Strauss Six Suits A-Hangin'
- Belgian Brown aged in French oak barrels (8.5%)
- Modern Times Devil's Teeth
- Imperial Stout/Old Ale with Coffee (10%)
- Almanac Truthful Statement
- Dark Sour Ale Age in Bourbon Barrels with Cherries (9%)
Secure your spot in the tasting now at
cultbeerstore
, or over the bar next time you're in.
Fresh in the Fridge
If you can't make it or can't wait for Wednesday's tasting, we have some featured beers in the fridge already - and a few other newbies.
Pop Gun Pilsner, Truthful Statement and Peach de Brettaville
are already here waiting for you.
Along with the other new bottle additions of
Karl Strauss Tower 10 IPA
plus
Mosaic Session Ale
and
Maui Mana (pineapple) Wheat cans
to top it off.
We've only got a limited amount of space in our fridges here, but there's plenty of space up the road at Beer Without Borders' chilled warehouse. You can purchase the full range of new arrivals over on
Cultbeerstore
now - you can even avoid freight charges by selecting to pick up from HZ (HZ pickup not available for smaller orders).