Immediately below...
The Big Announcement
Capital Takeover
Needs More Brewery Launch
Saturday Funk
Get your X-ale tickets soon!
The Big Announcement
Thank you to all who participated in our annual survey, this year's turnout was the largest yet!
The major winners are… Drumroll please…
Favourite Overseas Brewery: Rogue
Runner up: Ballast Point
Your Beer of 2013: Liberty C!tra
Runner up: Funk Estate Super Afrodisiac & Panhead XPA
New Zealand Brewery of 2013: Liberty & Garage Project
Runner up: Panhead
Most Promising New or Emerging Brewer: Panhead
Runner up: Baylands
There's too many results to go over in a single email so please head
here
for the full results and dissection. As Stephen Fry would say, we think they're quite interesting.
Congratulations to all winners, but especially to Liberty Brewing who came out 1st equal for brewery of 2013 and whose C!tra IIPA took out Beer of 2013 and best IIPA for the third year running! You guys sure love your C!tra...

There is no trophy for these results, except the love and respect of all who took part. Nawww.
Capital Takeover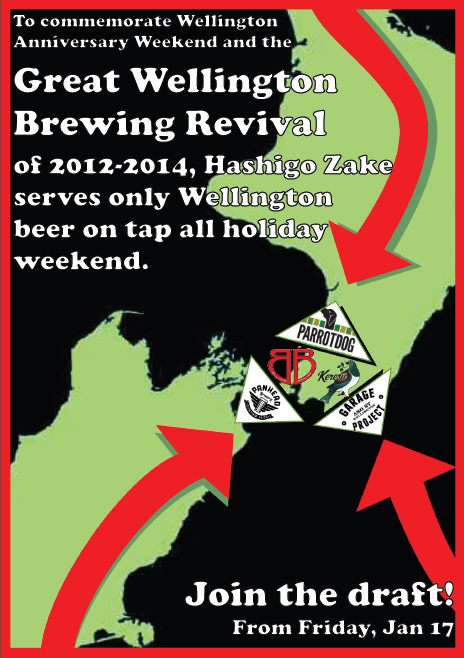 As mentioned last week, we're dedicating our taps to beer brewed in Wellington over the upcoming Wellington Anniversary long weekend.

From tomorrow until Monday, our taps will only pour beer brewed in Wellington including a few new and exciting examples such as Garage Project VPA (relaunching for 2014), ParrotDog ClippedWing Session Ale, Kereru Maidstone Vienna Lager and a new Pilsner from Baylands Brewery "Party Pils".
There'll also be plenty of Wellington classics from breweries such as Panhead, Remedy, Fork & Brewer and North End.
Needs More Brewery Launch
Our wholesale arm, Beer Without Borders have been very busy sourcing excellent new breweries to import.
We experienced Michigan's Lakefront beer for the first time on Tuesday, and next Tuesday we can sample the offerings of Almanac Brewery from San Francisco.
Almanac's offerings are a bit more out there, with
Golden Gate Gose
(a salty wheat beer),
Single Source IPA
(with hops sourced from a single hop garden) and
Bourbon Sour Porter
. These beers promise to be an exciting experience for even the most seasoned palate.
Saturday Funk
This Saturday from 10pm Nick Granville is back, delivering funky tunes with Lauren Ellis on Drums and Ali Isdale on Bass.
Unsurprisingly, entry to this funky gig is free. You should be spending your hard earned money on good beer anyway.
Get your X-ale tickets soon!
At the time of sending only one third of X-Ale tickets remain, almost guaranteeing a sell out. If you're holding off buying your tickets for any reason, I recommend getting them asap, as it's highly likely they'll all be gone soon.
Get them here!
If you need any more convincing, here are a couple more beers to look forward to:
- Mikkeller It's Alive White Wine Barrel Aged with Mango
- Mikkeller/3 Floyds Boogoop
- Nøgne Ø Underlig Jul Spiced Ale


We've got a few locally brewed extreme ales lined up too, but still have to confirm they'll be ready by X-Ale before we announce… Maybe next week...