Pathway to Hoppiness... Festivals... HopStock... Music... New Release Tuesday... Fame...
Pathway to Hoppiness
The next Craft Beer College tasting is just nine days away and, unusually for one of these events, it's not yet a sell-out. The tasting will act as a primer on the role of hops in beer and the current "hop obsession" and will be enhanced by the presence of Jos, Pete and Phil of Garage Project.
The Pathway to Hoppiness takes place at Hashigo Zake at 2pm on Saturday the 13th. Contact CBC at info@craftbeercollege.co.nz.
Festivals
Will there be anyone left in Wellington this Saturday? For the first and hopefully the last time, Wellington's beer lovers face a difficult choice between a winding ride over the Rimutaka Hill or a short flight across the strait in a small plane, followed by a regionally focussed beer festival.
Far be it for us to recommend one event over the other, but we do understand that the Greater Wellington Brewday in Martinborough will benefit from the use of some very handy festival furniture.
HopStock
Speaking of festivals, HopStock is the name of a new initiative coordinating the release of multiple new wet-hopped (or green-hopped, or fresh-hopped) beers in Wellington bars. It starts next Wednesday and lasts three days. Over that time we'll be serving the new Renaissance Benelux Ale while other insanely fresh, wet-hopped beers will be on tap at other bars around town.
Rest assured that we'll be repeating our practice from previous years of scooping up whatever other wet-hopped beers become available. We'll aim to put a number of them on tap once at a later date.
Music
This week Carlos Navae and his band return for an evening of loosely Latin, possibly danceable, eclectic music on Saturday night from 10pm.
New Release Tuesday
This weekend we officially enter a period of "daylight squandering", during which morning people have the luxury of natural light while normal folk huddle in permanent dusk and cold under streetlights.
Which somehow makes next Tuesday the ideal time to scurry underground to try an Imperial Stout from a tropical country. So we look forward to releasing Jungle Beer's Kiasu Stout. It goes on tap at 5pm.
Fame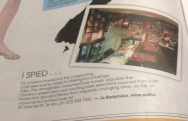 Our secret is out and thanks to the Herald a million Aucklanders have now heard of us. And if we'd sat down to pen a boastful description of ourselves we couldn't have come up with anything finer than Jo Burzynska's inspired précis.
Any regular customers concerned that we'll be overrun by beer commuters popping down from Ponsonby and Remmers for an evening of multi-coloured ales from monumental bottles can be consoled by the Herald's cunning ploy of inserting a Christchurch area code in front of our phone number.