Appy Days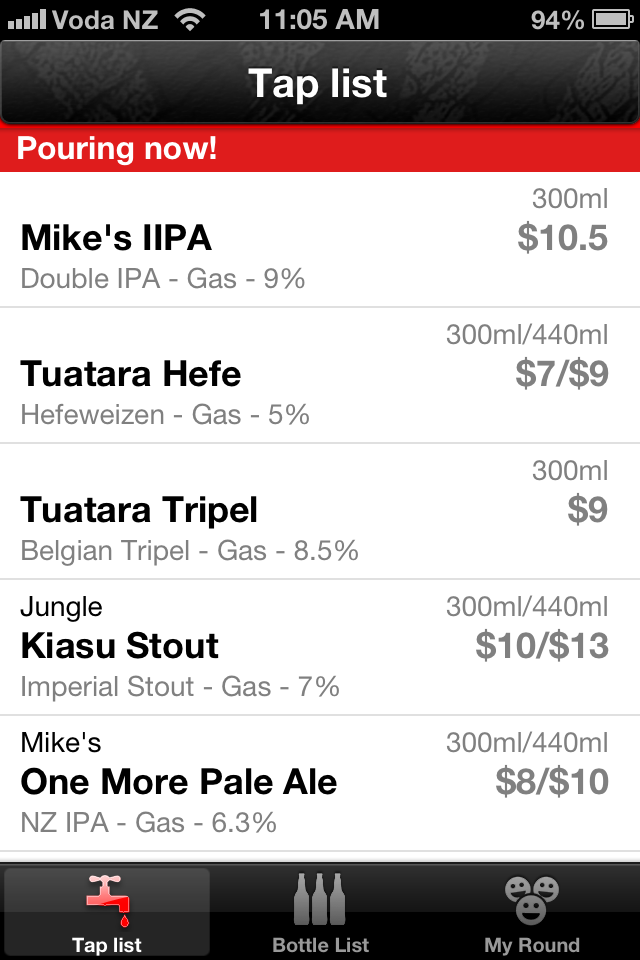 Phil Murray of Brewaucracy Brewing in Hamilton has come up with the first ever Hashigo Zake app for the iPhone. We're indebted to Phil who took up this challenge voluntarily and has done a nice job. To install his free app, just search Hashigo Zake on Apple's App Store.
So the circle is complete and we now have a full suite of Android, Windoze and iOS apps. iPhone users scanning the QR code beside the bar will no longer be rick-rolled!
New Release Tuesday

For the first time ever we're featuring a beer from Nelson's Golden Bear as our new release. Although we may be stretching the definition a little as this beer was once, very briefly, on tap at the Golden Bear Brewery.
It's a beer that the brewery owner, Jim Matranga, describes as "not for the faint hearted". It was a collaboration made in November last year with Chris O'Leary of the $8M brewery, Emersons. It's a White IPA - perhaps the style of 2012-13 - with additions of with lemongrass and sage, and coming out at 7.6% ABV.
We don't have an official name for the beer - maybe it will be scribbled on the keg when it arrives - so for now maybe we'll go with Not For The Faint Hearted. It goes on tap at 5pm on Tuesday.
Hopstock
We're officially half-way through the new festival of Hopstock. Our part is to serve Renaissance's Benelux Pale Ale - a pale ale made with fresh hops and a blend of English and Belgian yeasts. It will remain on tap until some time tomorrow evening.
Don't forget that some time in the next few weeks we'll be putting as many of this year's wet hopped beers as we can muster on tap at once.
Live Music
We've had a last minute change to our musical offering this Saturday night. The unavailability of one member of Benny and the Jets has led to a reshuffle so the Jelly Rolls (with some of the same members as Benny and the Jets) slot in, bringing a blend of Harlem Stride, Boogie Woogie and Jump Jive.
The Jelly Rolls play from 10pm with zilch cover charge.
Cringe
I love the @hashigozake weekly email. Sometimes there is something that makes me cringe but there is always something that makes me laugh!

— Yeastie Boys (@yeastieboys) April 4, 2013
That tweet revealed that this email sometimes includes content that makes someone at Yeastie Boys cringe. This is highly disturbing and we wish we knew what the offensive content might be so we can eliminate it. Perhaps someone can enlighten us. The best explanation wins a bottle of Rex Attitude. Runner-up gets two bottles of Rex Attitude.
Speaking of Yeastie Boys' most notorious beer, fans of it may be interested to learn that we are currently arranging a new order from the Nøgne Ø brewery and when it arrives (which won't be until June) it will include bottles of their beer made from only peat smoked malt. Nøgne Ø chose to call their Rex-equivalent "Almost Undrinkable" and Kjetil has confirmed that it was very much inspired by Rex Attitude.
Great IPAs
In our in-box this morning... a link to this article in renowned online magazine the Huffington Post, called Great IPAs To Drink Before You Die. As well as classics like Ballast Point Sculpin and Green Flash West Coast IPA was 8 Wired Hopwired - one of only three from outside the US.