A Wild Flight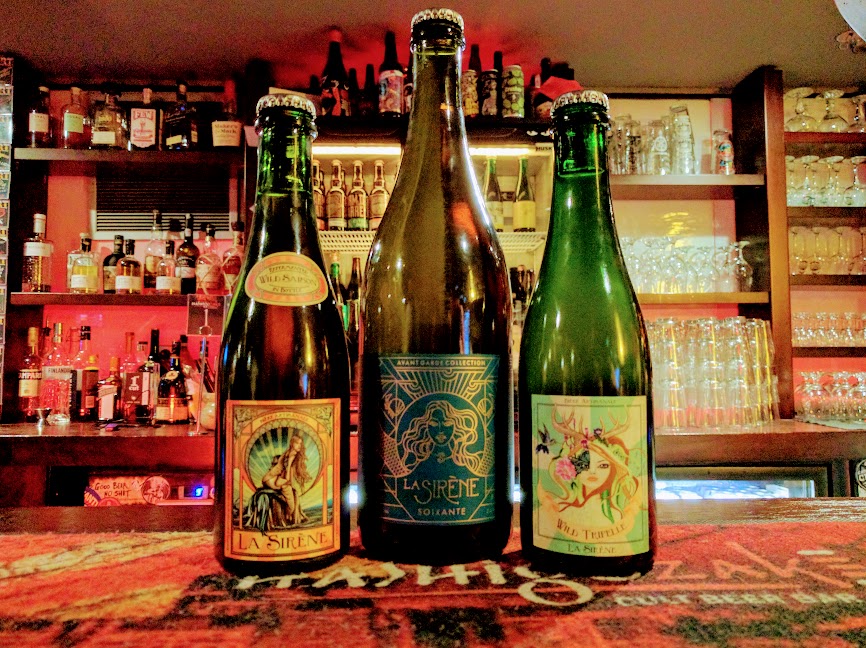 La Sirène love a wild ferment. That is, leaving their beer open to the air and allowing whatever microorganisms are around get in and do their thing.
They do this at the brewery by transferring the wort from the boil into a 'coolship' instead of chilling it with a heat exchanger straight away.
A coolship essentially
a wide, shallow pan
that holds a few thousand litres of beer. This gives the airborne bacteria and yeast plenty of surface area to work with, and lets the beer cool quicker.
This method of fermentation is risky and doesn't always yield the right mixture of microbes, which is why La Sirène pour a significant proportion of their batches down the drain. But when it all works out right the results can be spectacular.
This
Saturday from midday
we'll be showcasing three of La Sirène's wild beers in a
3 x 100ml bottle-pour flight for $14.50.
The beers are:
Avant Garde Collection Soixante 6%
To say overt is an understatement – perhaps the opposite of the provision beer. There are no subtleties with the Soixante, just pronounced wild yeast wet hay & horse stable characters. This beer will polarise yet delight for some.
Wild Tripelle 8%
Built upon a Belgian style Tripel base, we allow the yeast to slowly ferment the wort after natural innoculation and as a result the beer initially has strong citrus & funky lemon notes aromatically then leads to a full bodied creamy mid palate and finishes dry and lingering with a memorable, malty & wild ale finish.
Wild Saison 6.5%
Fermented and aged with wild Brettanomyces yeast, this is probably Australia's truest expression of 'the funk'.
Wild Tuesday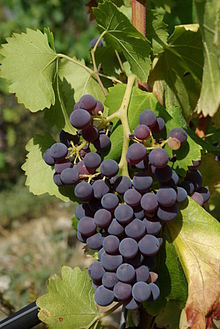 Keeping with the theme of wild beers, next week's New Release Tuesday is another spontaneously fermented beer from La Sirène.
Vin Folie Grenache
was initially an enigma to us - when we saw our single 20L keg arrive, we quickly googled it for more info. Surely with a name like that this is an exciting beer!
However every search we did just came back with various wine portfolios. As it turns out this beer is so rare there is no record of it anywhere online - not even Untappd.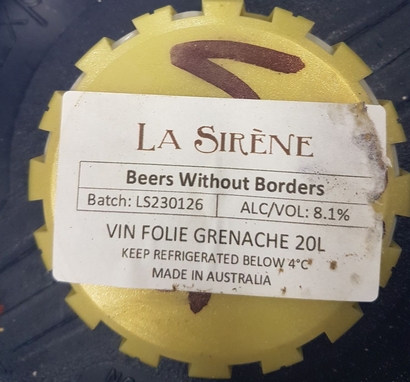 Thankfully an email to La Sirène head brewer Costa quickly shed some light on what we had, and it definitely lived up to expectations, he said:
"The Vin Folie Grenache (ABV 7.6%) is a
100% wild fermented Farmhouse Ale Co-
fermented with South Australian Grenache grapes
. It was like doing 'a ferment within a ferment' and the result is a pink stained wild yeast focused ale that has juicy Grenache grape characters with a funky and raw mid-palate and very dry finish that blurs the lines between wine & beer. Refreshingly well-attenuated and juicy."
This might be your only chance to try this incredibly intriguing beer, as only the single 20l keg made it to NZ.
We tap Vin Folie Grenache at 5pm Tuesday.
Santa's Coming!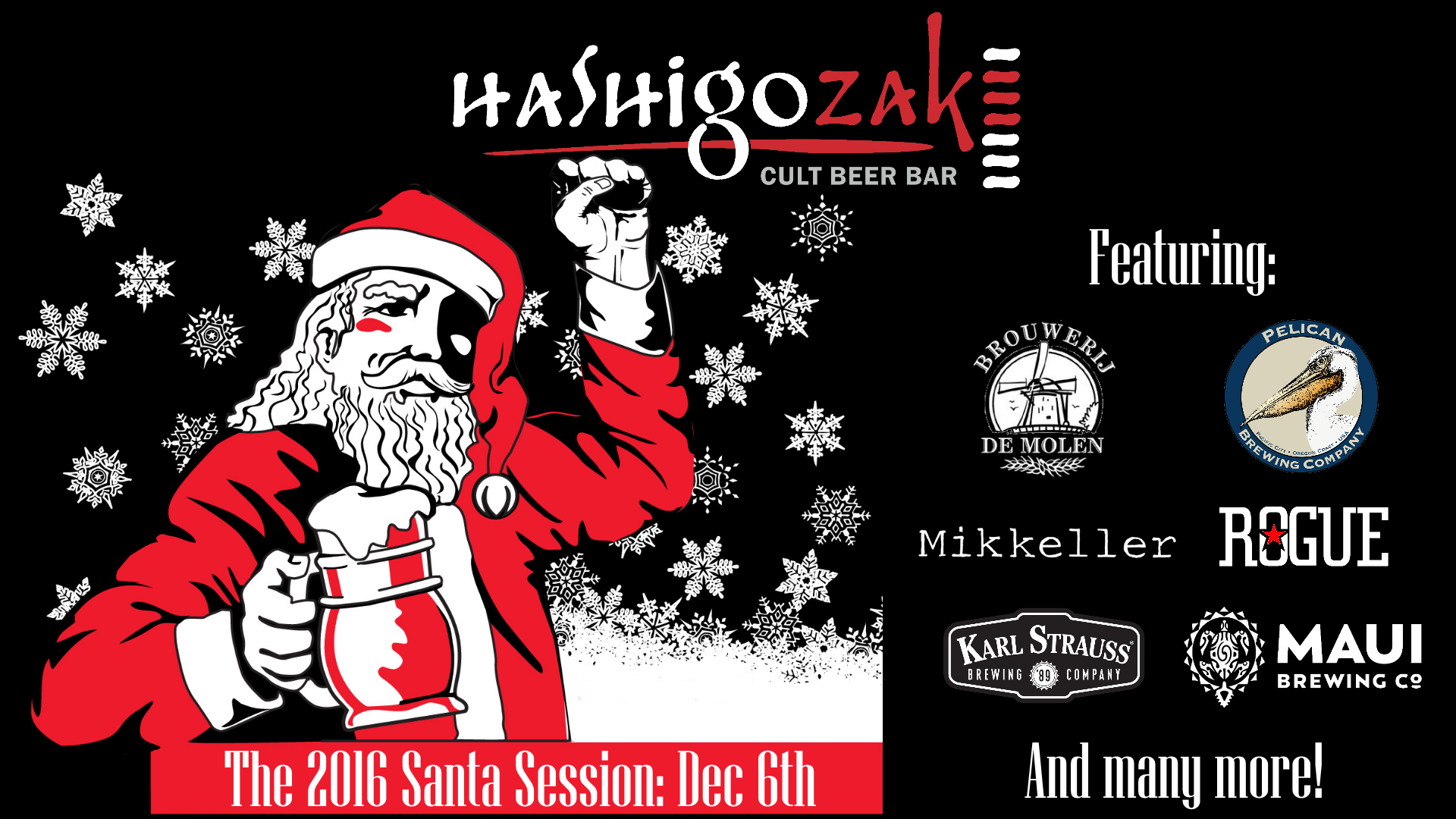 Long term readers of this newsletter will know exactly what Santa Session is, and exactly why you need a ticket to this year's session on
Tuesday December 6th
.
So if that's you here's the link to secure your spot.
If you're not familiar with Santa Session, read on.
Santa Session is a pretty simple event. Our goal is to move through plenty of stock that has outstayed its welcome. On the first Tuesday of every December we set up a pouring station away from the main bar and stockpile a wide variety of bottled beer. We rotate through these the evening goes on, so you get a huge variety of beer.
Ticket holders are welcome to come back to our pouring station over and over again and get their glass refilled with whichever beer we're pouring at the time.
Some of the beer may be slightly past its best, some of it you may not have heard of and some will be absolute gems that we simply have too much of.
The Santa Session bar is open from
6.30pm to 9pm
, and all you need pay is the ticket price. It's also our way of celebrating the end of the year with SOBA members, so we offer them a $10 discount.
This year we'll have beers from the likes of
De Molen, Mikkeller, Pelican, Maui, Karl Strauss
and many more.
If that's convinced you, head over to
cultbeerstore.co.nz
to book or do it over the bar (
$35 each or $25 for SOBA members)
.