Ramen, Fresh Hops, Tomorrow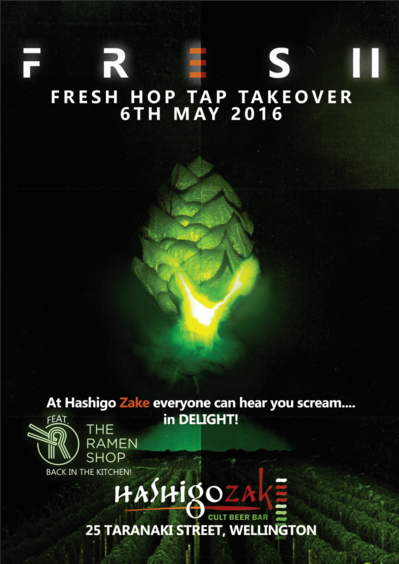 You know what you're going to be drinking in tomorrow's fresh hop takeover, now find out what you'll be eating.
Ramen shop have sent through their menu and it's looking mouthwatering.
From 5pm
tomorrow Ramen shop is taking over our little kitchen, and serving up:
Kimchi
$5
Sesame Crisps
$4
Mixed pickle
$6
Shoyu Shittake Ramen
$12
Ramen Additions:
24 hour pork belly
$3
Egg
$1.5
Pickled Shiitake
$2
Nori
$2
Spring onion
$2
Bean Sprouts
$2
Chilli
$2
I'm almost looking forward to the Ramen more than the beer... Almost.
Speaking of the beer, here's a quick reminder of what's coming on tap
From midday tomorrow:
- Eagle Brewing
Fresh Hopped SIPA
- Hop Federation/Epic
Fresh Hopped Sarah IPA
- Hop Federation
Fresh Hopped XPA
- Webb St Brewery
Freudian Sip
- Sprig & Fern
Harvest Pilsner
- Panhead
Fresh Hopped Vandal
- Wild & Woolly
Mulligan Sour
- Mike's
Hopstock & Two Smoking Barrels
- Kereru
Fresh Hop Special Bitter
- Twisted Hop/Laboratory
Wet Weekend Fresh Hopped Motueka IPA
With
ParrotDog Moa
and
North End Forty South Green Hop Reserve
waiting in the wings for something to run out.
Remember,
fresh hop beers from midday and Ramen from 5pm.
See you all there
Double Barrel Reserve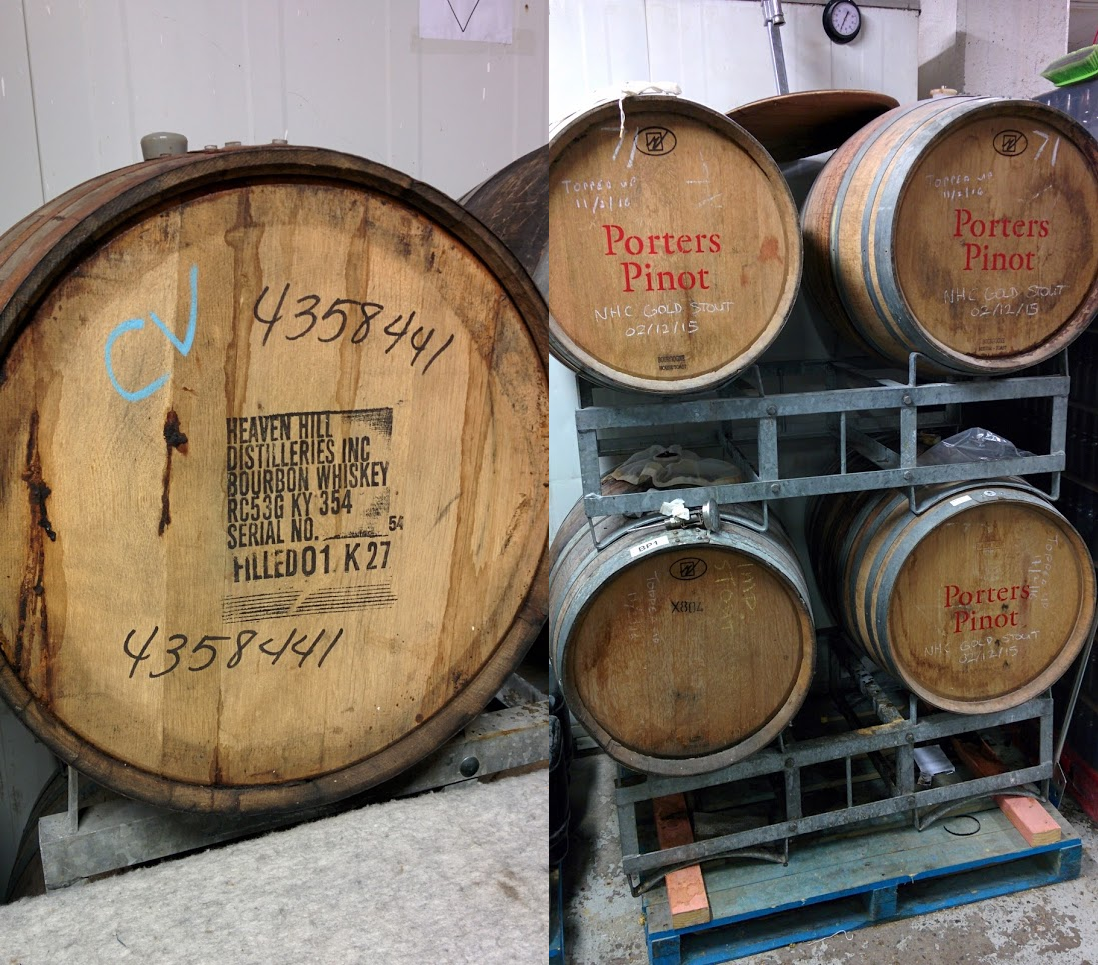 You might know
Te Aro Brewing Co
, they're the on down Tory St oppiosite The Warehouse.
It's a relatively small, 1000L brewery jammed in beind a homebrew shop, but they're putting out some of the most consistently great beers in Wellington.
And just because they're small(ish) doesn't mean they can't have a barrel aging programme.
Yesterday we visited Te Aro Brewing, where Tasi brewed her
Staffie Series Beer
on their 100L kit.
While we were waiting for the mash to do its thing, head brewer Karl gave us a "tour" of their barrels.
They're doing some pretty exciting things with brettanomyces and bacteria in those barrels, but also have a few non-infected barrels on the go. Those ones are ready for harvest, and you get to reap the rewards this Tuesday.
A few months ago a
9% imperial stout
was brewed, and then split into two different types of barrel - one
Porters Pinot Noir barrel
, and one
Heaven Hill Bourbon Barrel
.
After a sample we thought both of these would be brilliant on handpump, so this Tuesday we'll have
beer from both barrels on handpump side-by-side
.
So you can geek out and compare the two different barrel characters you'll be able to grab a
TeKu of each for a special price
.
We start pumping at 5pm Tuesday.
Tasting Report: Five Courses of Sour Beer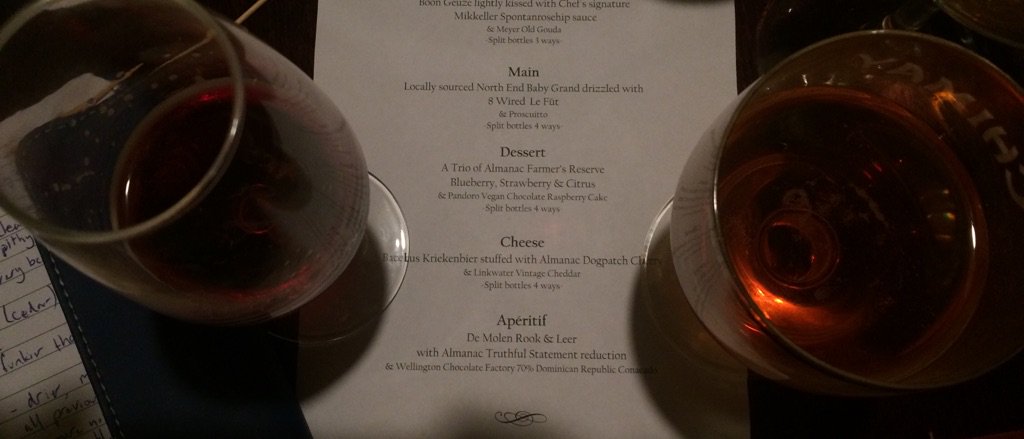 Last night's sold out Sour Tasting went down a treat with all who secured a spot. Luckily for our Proprietor Dominic a couple of people pulled out sick, meaning he could participate instead of watching from the sidelines.
Dominic enjoyed it so much he even wrote a review so everyone can know what they missed out on:
When our taste buds are conditioned to treat sourness (like bitterness) as a warning sign, grasping the beauty and complexity of sour beers is a challenge. So last night's tasting of no fewer than eleven sours was especially daunting, like a rollercoaster ride through beer's underworld.
Was our trepidation justified? Of course not. In fact one of the surprises of hours of sours is how quickly beers with low pH become normal. One flight in and we're distinguishing beers by how dry, tannic or funky they may be, rather than pursing lips and gasping.
Flight one was traditional – an authentic geuze from Boon and a "rosehipped" lambic from Mikkeller. Dirty funk versus perfume and tannins.
Flight two gave us two local gems – a cedar-y Flanders red from 8 Wired's foedres (
Le Fût
) and North End's beautifully balanced
Baby Grand.
Anchoring the tasting was a flight of three of Almanac's Farmers Reserve beers – wild fermented, barrel-aged blond ales infused with strawberry, blueberry and citrus fruits respectively. But this was no fruit salad. Instead the beers varied subtly in their acidity, levels of tannins, texture and the nuanced effects of their thoroughly integrated fruit notes.
Flight four was a pair of cherry beers. One a fully-fledged genuine Belgian Kriek in the form of
Bacchus Kriekenbier
, which stood out as being by far the sweetest beer of the night, but was also notable for the pronounced almond character extracted from the cherry stones. Alongside it – and wildly different - was another Almanac fruit beer in the form of
Dogpatch Sour
– a Flanders red that had eight months in barrels with sour cherries.
We finished with a couple of sour stouts. One was
Rook & Leer
from the Netherlands' De Molen. It's an overloaded and confusing beer - an imperial porter made with beech smoked malt, aged in whisky barrels with brettanomyces and made once only, back in 2011. It's sour, smoky, roasty and kind of bewildering. By contrast Almanac's
Truthful Statement
, an imperial stout aged in bourbon barrels with cherries and orange zest, is no less complex than Rook & Leer but somehow infinitely more restrained and balanced and on some of our short lists for best beer ever.
Accompanying each course were morsels of carefully selected food matches, from chocolate cake to prosciutto, all helping to stimulate the palate but also cushion it from the wild ride it was taking.
The X-Ray Catz - Red Hot Rockabilly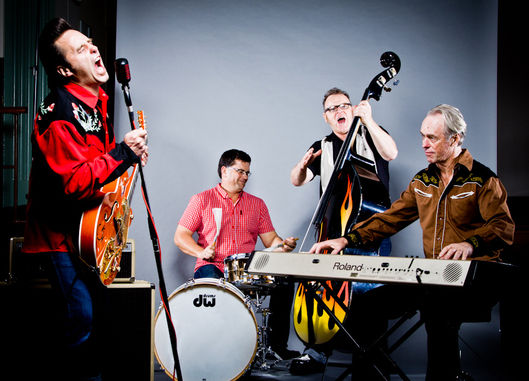 The hugely entertaining X-Ray Catz are back this Saturday, and we're expecting them inject a huge dose of energy into the bar with their good time rockabilly/surf/swing and classic rock 'n' roll.
The Catz kick off at
9pm
this Saturday,
and as usual
there's no door fee
, so come on down and experience the brilliant X-Ray Catz.
Unlucky Day for Outdated Beer Law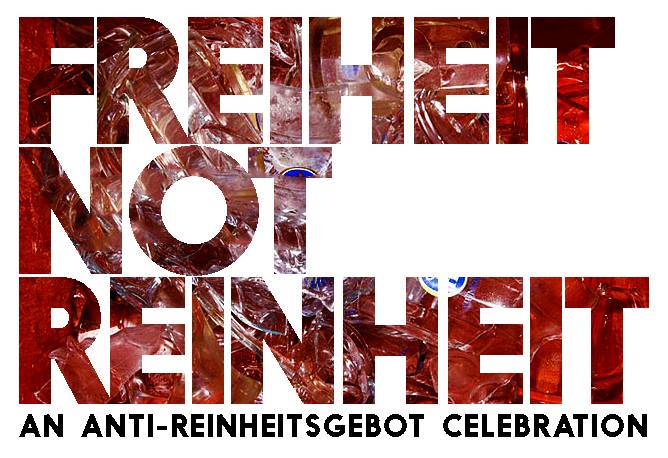 Next week's Friday is the 13th of May. An unlucky date for some, but for us an unlucky day for the Reinheitsgebot.
That's because we're launching two German brewers into New Zealand who thumb thier noses at the ridiculously outdated beer "purity" law.
Freigeist Bierkultur & The Monarchy.
Next Friday we'll have
three beers on tap
from these two rebellious brewers.
Namely:
The Monarchy Methusalem
(10% sour/strong /hoppy altbier)
Freigeist Geisterzug
Gose
(5.2% salty gose)
Freigeist Abraxxxas Lichtenhainer
(6% smoky sour ale)
Also on tap and in a show of solidarity with her countrypeople, Annika from Tiamana has brewed a special beer aiming to break ALL the rules of the current beer law that she considers shackles to creativity.
There are also some exciting beers arriving in the bottle, which will be in the fridge for the first time on the 13th like: Freigeist
Geisterzug Gose,
Freigeist
Geisterzug Gose Rhubarb
, Freigeist / 2cabeças / Teresa's
Eau De Janeiro
(gose with mango) and The Monarchy
Preußen Weiße
(spiced wheat beer).
Ryan from BwB will be drawing on his family's German ties to bring some delicious German snacks to our menu as well.
The protest kicks off next Friday, you have till then to think up some witty chants.