Hopstock Is Here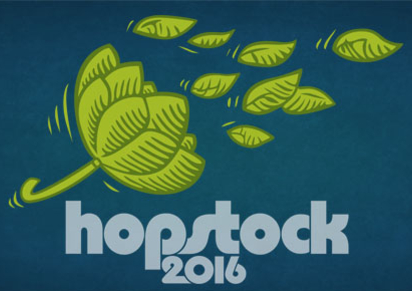 Wellington's six day long fresh hop pub crawl kicked off yesterday, giving us our first taste of our Hopstock beer:
North End Forty South Green Hop Reserve.
We weren't disappointed. FSGHR has the juicy, fruity, super resinous aroma and flavour that you can only get from green hopped beer.
The rich malt base makes for a full on beer, but that amazing hop character keeps it all in check.
After trying it on
both tap and handpump
, my favourite is neither. Instead you've gotta try a 50/50 blend to get the best of both worlds.
Come on down and have a taste, and 'till Monday we'll stick a stamp in your
trail card
.
Apparently around 75% of last year's fully stamped cards won prizes, so make sure you grab a trail card from the bar or print one off.
Farmhouse Funky Tuesday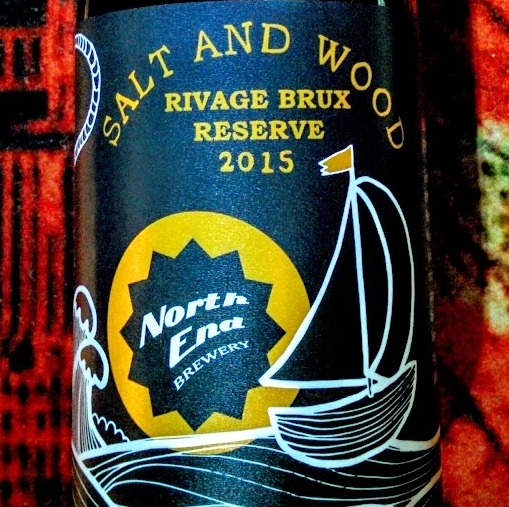 North End's Rivage Brux Reserve
was brewed in very limited quantities, so to see it on tap is indeed a rarity. In fact, this year's vintage has only been on tap once before to our knowledge.
So naturally we jumped on the opportunity to have this outstanding barrel aged farmhouse ale on tap for NRT.
"Farmers across Europe used to brew beer from the grain grown on their land. Rustic and robust, these farmhouse ales incorporated all manner of wild, tart and funky yeast characters.
Rivage Brux starts is life as a spicy, tangy dry farmhouse ale style ale before being
aged for 12 months in French Oak sauvignon blanc barrels
.The result is a lightly tart, dry, fruity beer that's perfect for the dinner table."
Brewer Kieran has confirmed that this is your very last chance to try the 2015 vintage of Rivage Brux on tap.
Don't miss out when it starts pouring
from 5pm this coming Tuesday
!
Live in the Lounge: JB3 Trio
This Saturday at the slightly earlier time of
9.00pm
, JB3 are funking up the lounge.
Jake Baxendale, Shaun Anderson & Daniel Hayles will be cranking out the Boogaloo and New Orleans Funk from 9 till 11.
Best of all, this funk comes free with
no door charge.
New from Oamaru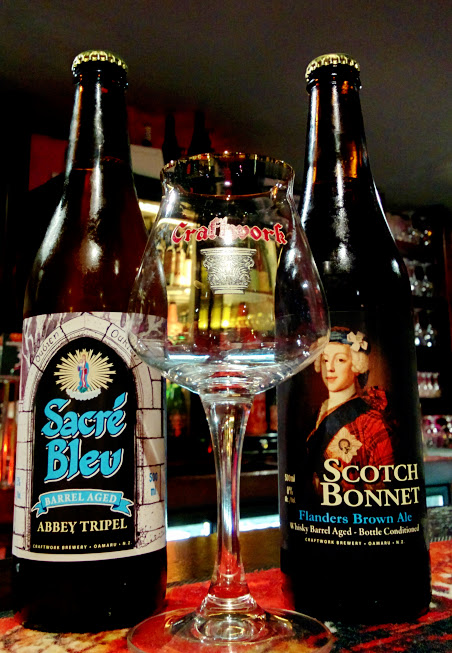 Those brilliant Belgian beer brewers from Oamaru have been at it again on their wee 100L system.
Craftwork
have released a couple of new barrel aged brews in very limited quantities.
Scotch Bonnet
is a slightly tart Flanders Brown ale that has been aged in a whisky barrel from Dunedin's extinct distillery. After cracking a bottle last night I can confirm that it is beautifully complex, yet amazingly balanced.
Sacré Bleu
is Craftwork's 'Good Lord Gold' Abbey Tripel which has been aged in an oak quarter cask for six months.
That time in oak has really made a mark on the Tripel, adding a big oaky vanilla note that works to balance the big sweetness that comes with a Tripel.
We've got
just a dozen of each
(well, eleven now that I've had one of each...), so come on down and make sure you don't miss out on Oamaru's finest.
Five Courses of Sour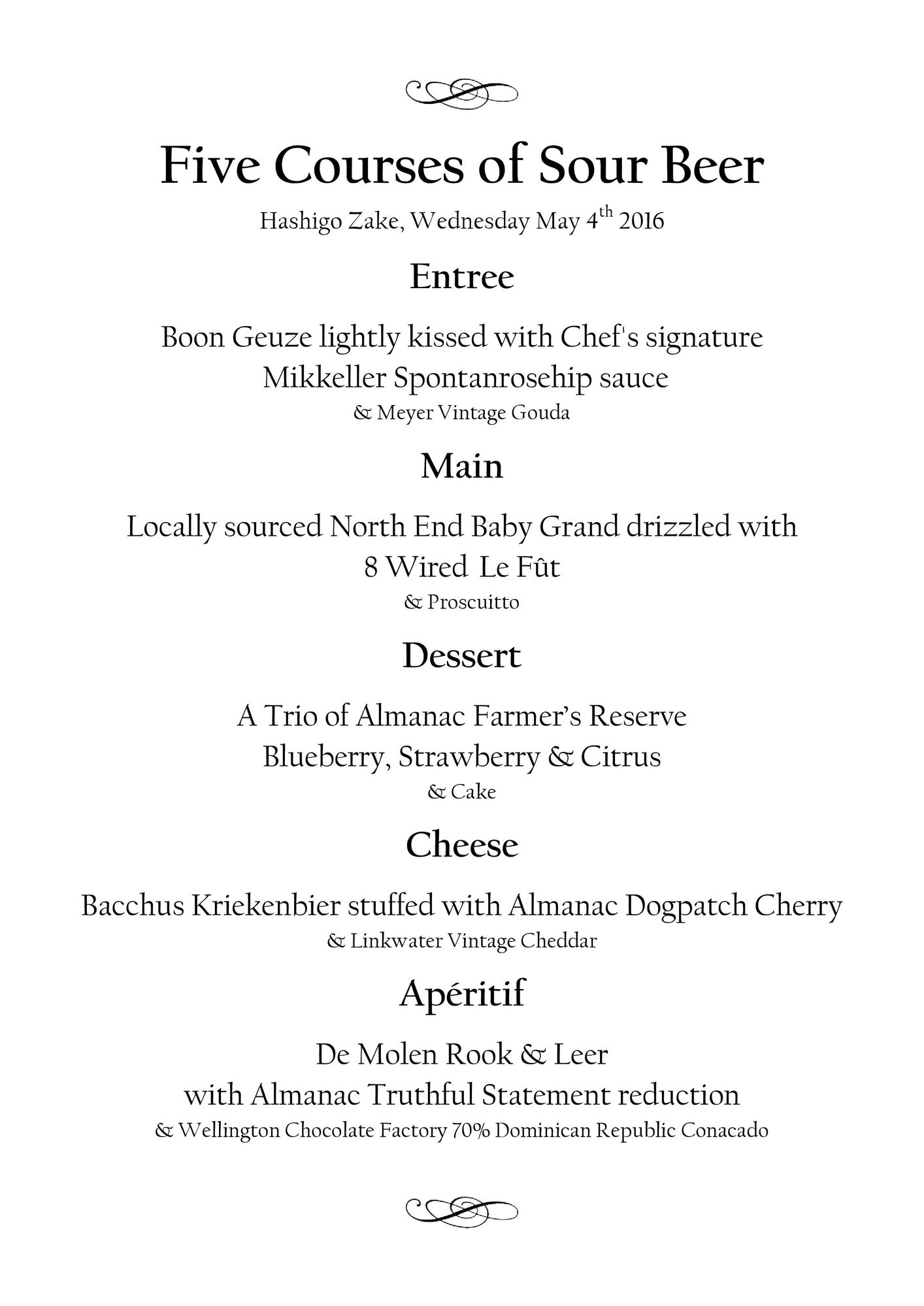 In the past few years we've amassed quite the collection of sour ales from all over the world. Some of these are almost all gone - and not likely to return. Some are fresh in from up-and-coming US brewers, some are from Belgian brewers who mastered sour beer centuries ago. Encouragingly more and more are coming from New Zealand brewers.
To highlight the differences and similarities in the incredibly broad category that is 'sour beer' we've put together a tasting of
five courses of sour beer
for your enjoyment, featuring
eleven different sour beers
from near and far.
Even better, we've sorted a little pairing for each round to spice things up a bit. You can check out the matches in our witty menu to the right.
Please note, this is NOT a beer & food tasting and we strongly recommend eating dinner beforehand! (don't take the 'menu' seriously....)
It all goes down in the lounge on
Wednesday May 4th,
and will set you back the meagre sum of
$55 per person
. That'll get you a taste of:
Boon Geuze
Mikkeller Spontanrosehip
North End Baby Grand
8 Wired Le Fut
Almanac Farmer's Reserve Strawberry
Almanac Farmer's Reserve Blueberry
Almanac Farmer's Reserve Citrus
Bacchus Kriekenbier
Almanac Dogpatch Cherry
De Molen Rook & Leer
Almanac Truthful Statement
There are just 20 places for this tasting, so make sure to book your spot on
cultbeerstore
or over the bar!
May 6th