After a holiday break, our weekly news email is back, albeit a day late. Yesterday I was down in Christchurch enjoying the beery pleasures of The Laboratory and Pomeroy's. Expect future updates on Thursdays as usual.
Boogie with the Disco Echidna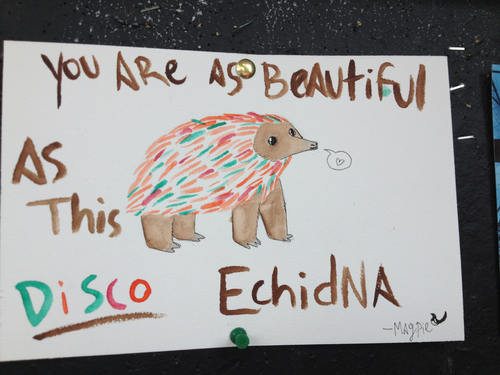 It's become a tradition for Wild & Woolly head brewer Llew and his partner Sarah to do an "open till close" at Hashigo during the holiday season.
This generally involves hanging out at the bar all day, playing board games and talking beer with the bar staff.
I was lucky enough to be working during this year's open-close, and got chatting to Llew & Sarah about an interesting new Wild & Woolly beer coming up.
To grow up enough Saison yeast for a full-sized batch of Cucumber saison, a small batch of saison had to be brewed.
But in classic W+W style, Llew decided to brew a 50L batch of saison and blend that with pineapple juice to add extra fermentables and fruity flavours.
This pineapple saison didn't yet have a name, but to continue with the W+W wildlife beer naming tradition we needed to decide what kind of animal a pineapple saison would be.
In the end we settled on the echidna, as pineapples are spiky just like echidna - but more fun, like a disco.
Thus,
Wild & Woolly Disco Echidna
was born.
Llew describes the beer:
"Disco Echidna is actually a cross between a saison and a funky pineapple-juice cider.
It's got a huge nose of pineapple and other tropical fruit, both from the juice that makes up 50% of the fermentables and from the Galaxy dry hops. The pineapple juice still shows strongly in the flavour, but the yeast character is stronger here than in the aroma, giving plenty of earthy saison-y funk.
It's easy drinking, lightly tart, very dry and super-refreshing. Should appeal to lovers of good beer and cider alike."
We're tapping our one keg of Disco Echidna at
5pm this Tuesday.
Don't miss out - only 100L was made and we've got just a single small keg!
Live in the Lounge: Rhino Boogie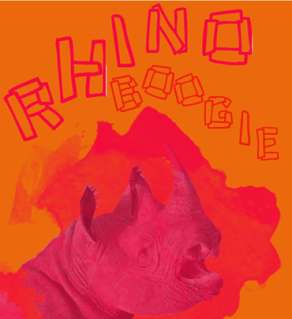 Rhino Boogie return to the HZ lounge tomorrow night, with their unique mix of live performance mixed with the turntables of Uncle Silverback.
The band themselves have promised to "go deep with live n sweaty funk, hip hop, free jazz dance music" which sounds like fun.
They kick off at
9.30pm in the lounge
, and as the band says "free entry, satisfaction guaranteed"
Head of the Cobra!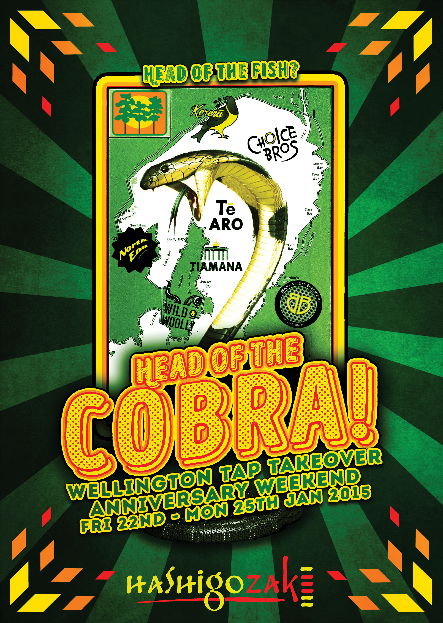 Just a week or two back at work and we're quickly heading for another long weekend.
It's become a tradition at Hashigo to do a bit of a 'Welly brewer' tap takeover each Wellington Anniversary Weekend, and this year is no different.
When we started doing the Welly takeover, it was a struggle to get just 8 locally brewed beers to fill our taps. Each year it's become easier to do, and this year we can be extra picky.
We've decided to mainly focus on some of the newer or smaller brewers in the region like
Choice Bros
(
brewery coming soon
),
Tiamana, Wild & Woolly, North End and Baylands.
We've got some special beers coming on over the weekend, like Choice Bro's
Peanut Butter & Jelly
beer '
On the Brain
' & Red IPA w Ginger
Reet Petite.
Tiamana has the German styles covered with
Witzig Wheat
and
Pilzki Pilsner.
Wild & Woolly is brining the weird with
Lavender Bllonde and Wild and Cucumber Saison
(collab with
Knave brewing
, aka Jesse from R & V).
We'll be filling in the gaps over the next week, including the sour tap and handpumps.
The Wellington goodness will last from Friday next week right through to Monday. So come on down and drink local.