Bigger is Better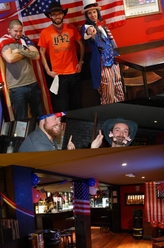 Dominic's witty and entertaining assessment of our July 4th celebrations last week were pretty much spot on. But it seems he just can't get into the 'murica mindset leading up to American Beer Day.
Clearly, on this day more than any other day, bigger is better.
When we held our first celebration of US brewing all those years ago we had 5 US beers on tap and put up a few streamers and balloons.
The following year set us on an upwards trajectory when had US beer on all 8 taps, US flags, more streamers, balloons, po' boys and warm apple pie.
Then it was more beers, more flags and american BBQ meat. Last year we plastered the walls with stars and stripes, filled the bar with balloons and even had a US beer on handpump.
So, what can we do this year? The only thing we can do: go bigger!
The Hurricanes and Highlanders gave us some assistance with that, we'll be showing the rugby grand final coverage from 7pm.
As usual we're giving Uncle Sam
ipecac
to decorate our walls with even more red, white and blue - but that's all by the by. The main show is the beers.
We've now got access to a huge range of small 20L american kegs thanks to Beer Without Border's well timed US shipment, that arrived last week.
The smaller keg size means the tap lineup will evolve throughout the night. We'll be featuring fresh imports of old classics combined with beers we've never had on tap before.
We'll be starting off with the following lineup:
Almanac Saison Dolores
Ballast Point Longfin Lager
Ballast Point Indra Kunindra
Speakeasy Prohibition Ale
Almanac Farmers Reserve Strawberry Sour
Ballast Point Sculpin IPA
Speakeasy Blind Tiger IIPA
Coronado Barrelman's Brown
Most of those are just wee kegs, so waiting in the wings will be:
Modern Times Lomaland Saison
Almanac Honey Saison
Coronado Golden Pils
Ballast Point Fathom IPL
Coronado Stupid Stout
Ballast Point Victory at Sea
Karl Strauss Off the Rails
Almanac Golden Gate Gose
Ballast Point Big Eye IPA
Almanac IPA
Gigantic IPA
Speakeasy Double Daddy IIPA
Rogue Mocha Porter
So, there's little chance of us running out of great beer this Saturday.
The Fire Truck is taking over our little kitchen from 5pm and will be plying you with an amazing looking american inspired menu: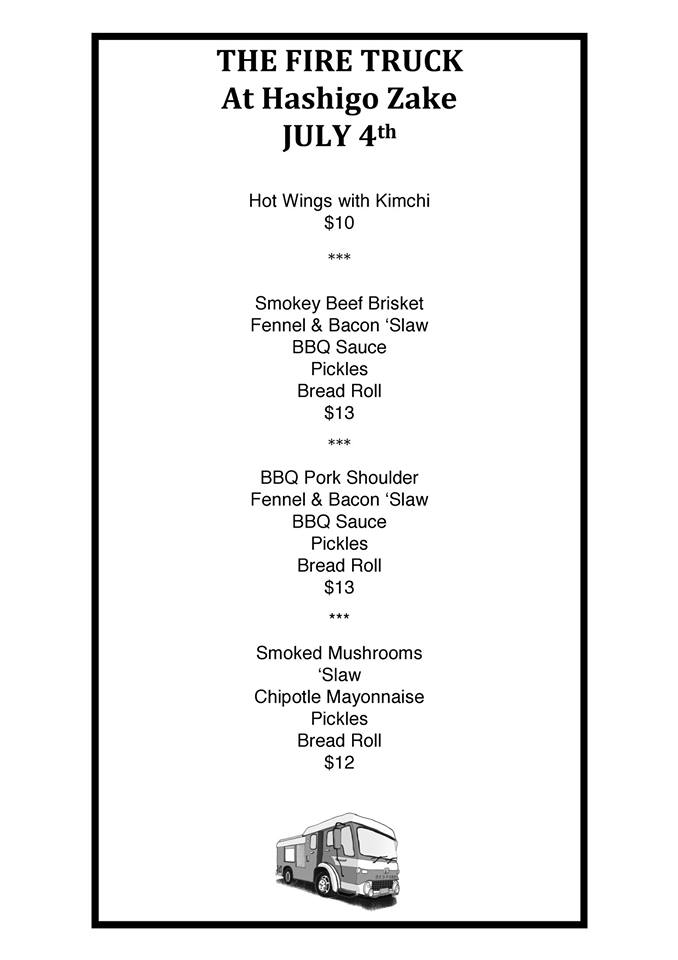 After the big game
The X-Ray Catz
will rock(abilly)ing out in the lounge, to help you celebrate the Hurricane's victory.
Their high energy rockabilly. surf, swing and classic rock 'n' roll starts a little later than usual at 10pm.
So in summary: US beers on tap from midday, Fire Truck food from 5pm, rugby grand final from 7pm, X-Ray Catz from 10pm. Should be a good Saturday.
Choka Partywave Brah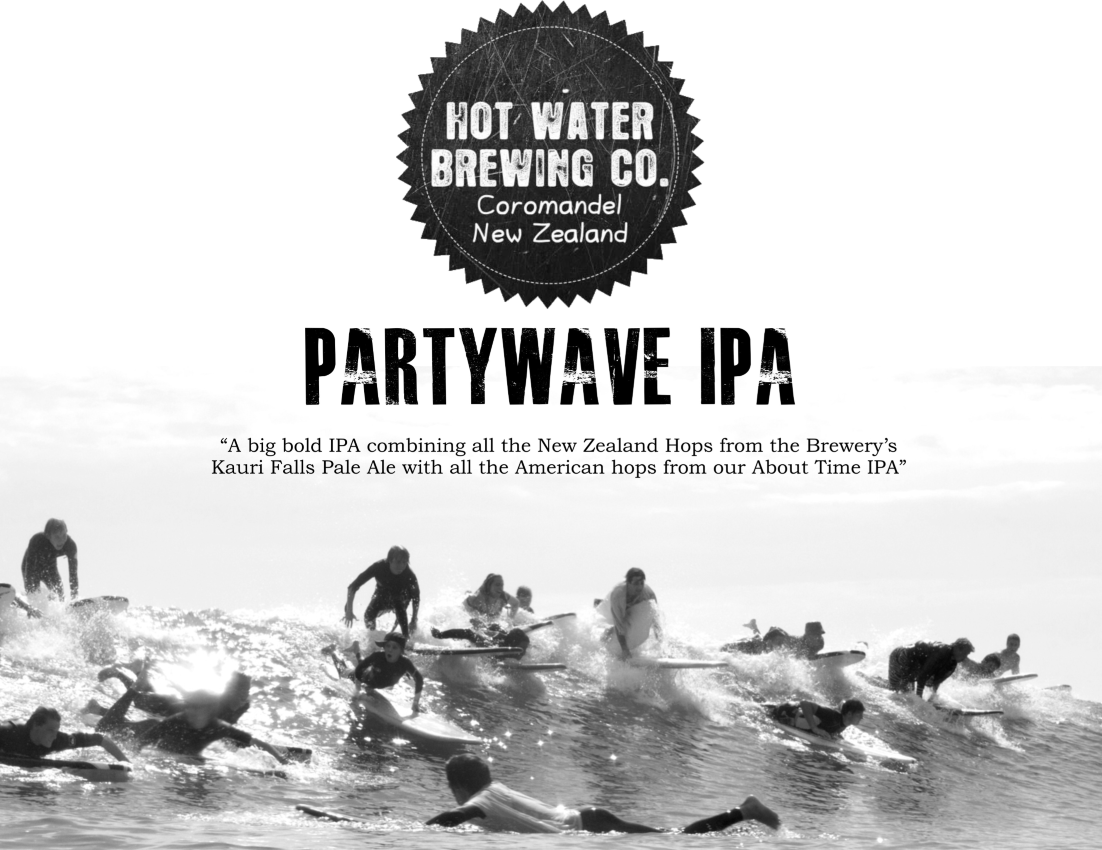 Hot Water head brewer Dave is a pretty understated guy.
Instead of brewing a crazy, adjunct-filled, gimmick beer for GABS; he just brewed a normal IPA.
Partywave IPA is made with malt, hops, yeast, water and nothing else - and is one of the best IPA's you'll try this year.
It turns out combining the hop bills from his Kauri Falls pale ale and About Time IPA yields a damn good, balanced, fruity, delicious IPA.
We're tapping our keg at
5pm this Tuesday
, see you there.
Ya Gotta Be Fresh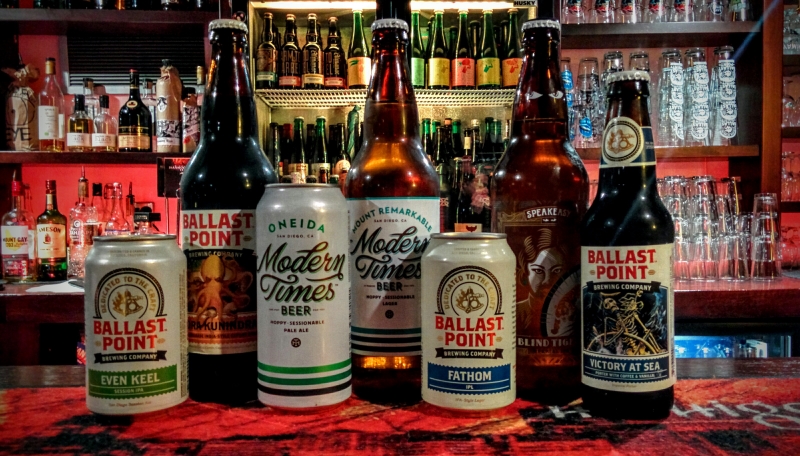 The very same shipment that had allowed us to go nuts on the 4th also contained quite a few new bottles and cans.
New to our fridge are: Modern Times Oneida Pale Ale, Mount Remarkable IPL and Ballast Point Fathom IPL (in cans!).

Restocked are: Ballast Point Indra Kunindra, Even Keel cans, Blind Tiger and small Victory at Sea.


Have Reached Peak Hop?
The very latest shipments in from the USA had plenty of new brews to showcase - but not so many of them were hoppy pale ales...
Maybe this is a sign of changing times in the states... or maybe we just wanted a theme to tie together this eclectic mix of excellent beers that just arrived fresh from the states.
Clickbait title aside, on
Wednesday July 15th at 6pm
we'll be holding a tasting consisting of:
Modern Times Mount Remarkable IPL
Modern Times Oneida American Pale Ale
Speakeasy Blind Tiger
Rogue Pumpkin Saviour
Coronado Señor Saison
Almanac Farmer's Reserve Strawberry
Rogue Sriracha Stout
Ballast Point Indra Kunindra
You can book your place to taste over at
The Cult Beer Store for just $40.
The tasting kicks off at 6pm and will just have light snacks provided - so eat dinner beforehand!