B-Side Beer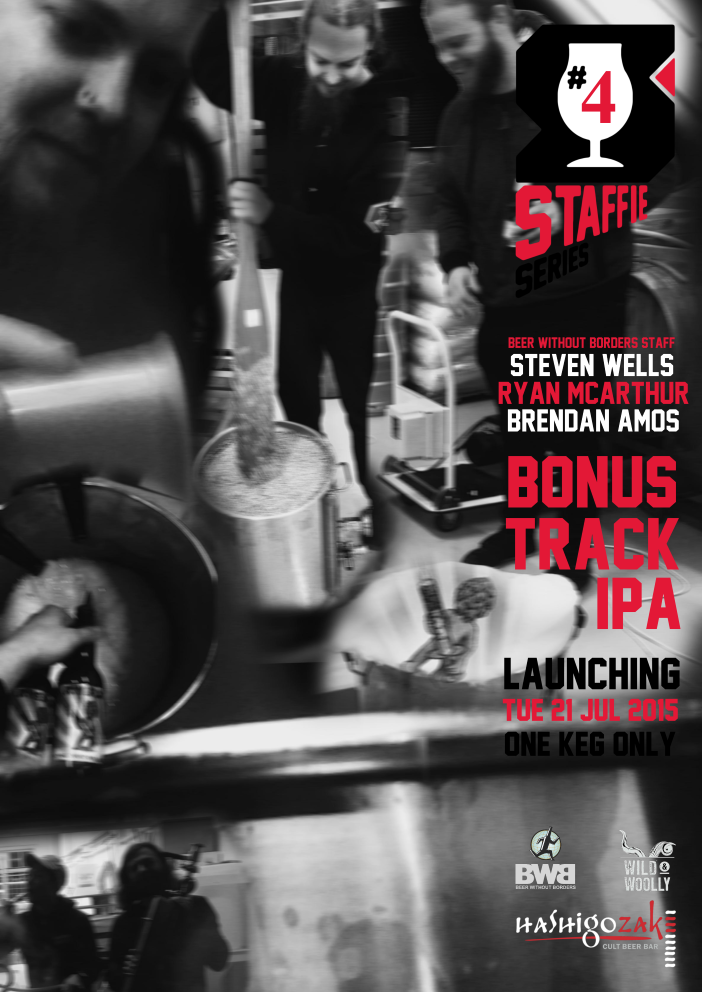 Sometimes beer gets old. The vast majority of beer styles are meant to be drunk fresh, so when you're a beer distributor with full cases of beer that's past it's best you have some choices to make.
You could flog it off for cheap - but that just puts sub-par beer in the hands of your customers and drags the brewers name through the mud.
You could dump it down the drain, essentially the same as burning cash.
Or, you can have some fun with it.
Faced with this conundrum Beer Without Borders staff chose option number three, which we're including as the fourth beer in our Staffie Series.
When a particularly nice rye IPA became too dated to sell, the BwB crew thought "why not make an IPA out of IPA?"
Llew at
Wild and Woolly
brewing is a big fan of crazy ideas like those, so agreed to make it happen at his Mount Cook Brewery.
So a few weeks back Ryan, Steve and Brendan lugged cases of old rye IPA to Mt Cook, where the bottles were emptied and the beer boiled to drive off the alcohol.
Once the beer had cooled to 70 degrees Celsius it was then used in place of water to mash in on a 50L batch of IPA.
Using beer as mash water means you've already got plenty of residual sugars and IBU in the beer, which is then built on by the additional hops and malt. The hops chosen to supplement the Ella already in the mash beer were Cascade, Mosaic - and even more Ella.
After a long but successful brew day and incedent-free ferment, the beer came out at
5.2%
. Though I'm informed by Llew that it tasted more like a 9% IIPA when he dry hopped it. This is most likely due to the huge IBU and increased residual sugars from the IPA mash in.
Steven, Ryan and Brendan settled on the name
Bonus Track IPA,
which I think nicely captures the idea of giving this old beer another chance to shine. We'll be launching Bonus Track this coming Tuesday at 5pm. Just under 50L of this beer was made, so make sure you don't miss out.
Fresh from the States: Mark Lockett Trio
A different kind of US import will be at HZ this weekend in the form of hard swinging Jazz from NYC based drummer/composer Mark Lockett.
Mark is fast making a name for himself on the New York scene and is currently working with heavyweights Joe Cohn, Danny Walsh, Joel Frahm, Ratso Harris and Orlando le Fleming.
In the HZ lounge he'll be sharing the stage with Richard Thai (sax) and Tom Callwood (bass), playing some originals and having fun with classic standards.
It all kicks off at
9.30pm and won't cost you a thing.
Your Very Own Right Hand of Doom
This Saturday from 6pm to 8pm we'll be running 6 simultaneous silent auctions for two bottles each of a very special beer. Dominic put together a great summary of this event over at
borderpost
: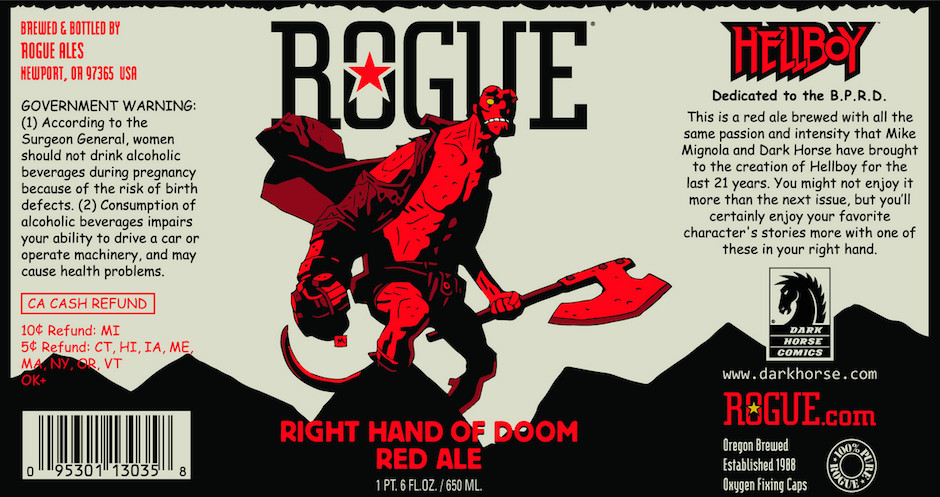 "Rogue are renowned for special releases that are connected to people or things that don't actually have much to do with brewing.
There's Sriracha Stout and the Voodoo Doughnut beers, of course, but also multiple beers made in collaboration with Chef Morimoto, Captain Sig's Northwestern Ale and the precedent-setting PDX Carpet IPA.
There are so many that Rogue themselves sometimes overlook the significance of some of them. Right Hand of Doom is a case in point.
After going to the trouble of brewing what we're confident is an awesome Red IPA as a tribute to a legendary comic and getting glorious screen printed bottles made, they made a single batch and declined to sell it in more than a few markets.
Word that a Hellboy beer existed reached New Zealand and Beer Without Borders got requests to stock it. But they weren't able to place a full, commercial order of this beer. Instead they got friends at the brewery to sneak a few bottles on top of the most recent shipment.
..Bottles that are now being distributed in the most judicious way possible. And what we've come up with is a fundraising auction.
So at 6pm on Saturday, July 18, at Hashigo Zake, we'll auction twelve bottles of Right Hand of Doom.
Six silent auctions for two bottles each will run simultaneously from 6pm to 8pm. With the help of
Faction Comics
all proceeds of the Right Hand of Doom auctions will go towards helping a New Zealand comic book artist get to the San Diego Comic Con in 2016. The largest convention of its kind in the world."