Townshend Takeover Tomorrow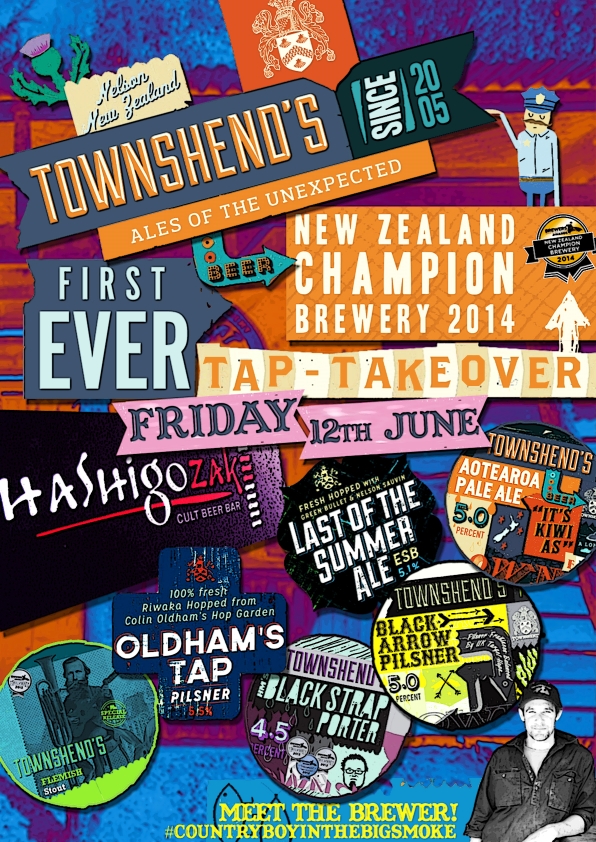 Don't forget that we have New Zealand's champion brewer (
BGONZA's 2014
) visiting tomorrow, and he's bringing nine of his beers with him.
Martin Townshend of Townshend Brewery should be arriving at around 5pm, and we'll be tapping his beers from midday:
On tap:
Last of the Summer Ale fresh hop ESB
Oldhams Tap fresh hop pils
Aotearoa Pale Ale
Black Arrow Pils
Black Strap Porter
Blue Shadow Dry Stout
Flemish Stout
On pump:
Donelan's IPA
Sun Kisser Golden Ale
Personally I'm quite looking forward to trying his fresh hop beers and sour stout.
Most importantly, Martin Townshend himself will be in attendance and fielding all your questions and admiration.
Chocolate Thunder
No, Tasi's amazing chocolate beer isn't back. Chocolate Thunder is also a sensuous Jazz/Funk/Soul/Fusion band who share its name and are playing the HZ lounge this Saturday.
Chocolate Thunder are a "maelstrom that strikes without mercy where you least expect it. Sheer groovemanship to make your body move and your flowers blossom. Gird your loins, people!"
Conway Jeune – Guitar, excellent vibes
Bryn van Vliet – Saxophones, Vocoder, Wind Chimes
Makura Tomoana – Bass
Hikurangi Schaverien-Kaa - Drums
Chocolate Thunder start at 9.30pm, and are free as always.
Staffie Series #3
You might not have seen Tristan behind the bar in a while. He's been off on a big trip to the Middle East for a couple months.
But just before he set off, Tristan popped down the Occasional Brewer and made 30L of one of his favourite homebrews for our Staffie Series of beers:
Silk Road Spiced Amber Ale.
If you've forgotten, the Staffie Series are beers brewed by our multi-talented bar staff, most of which are also homebrewers. So far we've had my own Beeetnik IPA and Chris's Citron Fest Saison.
Tristan's Silk Road features a mixture of cinnamon, ginger, cloves and orange zest on a rich malty 7.5% amber ale base. The melange of Gladfields malts used such as 'Shepherd's Delight' and 'Aurora' really stand up to the spices.
The unfermented beer tasted amazing with the spices, fruit and malt nicely balanced. During the weeks Tristan was away we fermented the beer, and gave it plenty of warm and then cold conditioning to help the spices meld together with the base beer.
Silk Road has been conditioning for two months now, and is ready to pour just in time for Tristan's return.
Tristan will tap Silk Road at
5pm on Tuesday the 16th of June.
Only 30L was brewed so don't miss out!