OREgasmic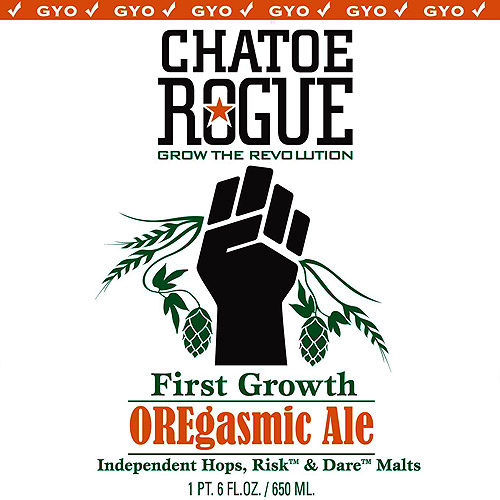 In Rogue's apparent drive to become its own nation, self sufficiency was an important step.
At Rogue Farms in Tygh Valley, Oregon Rogue grows almost everything that goes into their beers. Hops, barley, rye, pumpkin, jalepeno, marionberries, hazelnuts, honey... You get the picture.
All beers in the 'Rogue Farms' range use only ingredients grown by Rogue. The pale ale of this range is
OREgasmic Ale
, a simple beer to show off Rogue's hops and barley without anything getting in the way.
It features Dare™, Risk™ & Maier Munich Malts; Rogue Farms Revolution™, Independent™, Newport™, Freedom™ & Liberty™ Hops™™™™; 'Free Range Coastal Water' & Rogue's proprietary Pacman Yeast.
We've had the odd bottle of this one in the fridge, and now our first ever kegs have arrived from Oregon on Tuesday in Beer Without Borders' latest shipment.
So on Tuesday at 5pm we'll be tapping the first keg of Oregasmic Ale, and you can experience Rogue's terrior.
Double Drums
Because one drum kit is never enough, this Saturday night our lounge will house two.
Nick Granville's Double Drum Funk
features both Lance Philip and Richard Te One on the drums, with Ross McDermott on bass and of course Nick Granville with guitar.
Double drums should make for a fun night, with the music kicking off at
9.30pm Saturday
, with no charge as usual.
The Three Dimensions of Hopwired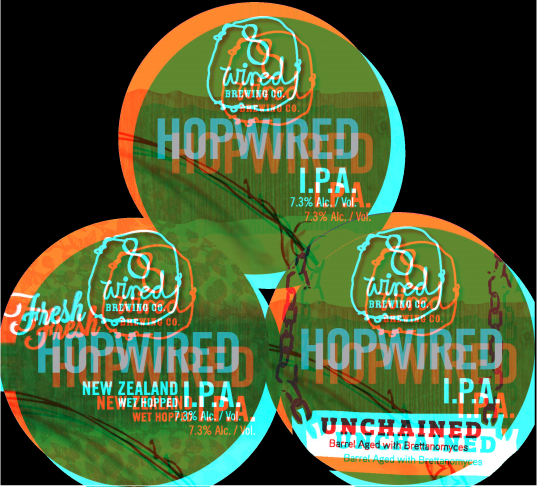 Back in March, I attended the Marchfest beer festival in Nelson.
Marchfest is my favourite beer festival to attend in NZ. Partly because I don't have anything to do with organising it, but mostly because it's an incredibly well run event that showcases brand new beers from the Nelson region's brewers.
With their move from Blenheim to Warkworth this year was 8 Wired's final year at Marchfest, and they went out with style.
Easily the most challenging beer of the day (ignoring the red onion stout...) was
8 Wired Hopwired Unchained
, a barrel aged version of Hopwired with various bacteria and wild yeast thrown in.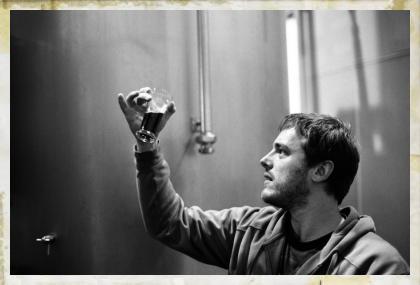 Only one barrel of Hopwired Unchained was filled back in 2013, when a batch of Hopwired was made for 'wort kits' (for home brewers to ferment at home).
It was lucky then that I ran into 8 Wired brewer Søren Eriksen at Marchfest, and managed to put our name on one of the few kegs of Hopwired Unchained remaining.
Of course since then,
Fresh Hopwired
has been released, along with the second Warkworth-brewed batch of plain old normal Hopwired.
That makes three different versions of Hopwired all out at the same time, which just begs for a side-by-side comparison.
We are happy to oblige. On
Friday the 29th of May
we'll have all three versions of Hopwired on tap.
We'll be offering tasting flights of all three for a special price, so you can see how the fresh and the funky compare to the original.
Sriracha Beer!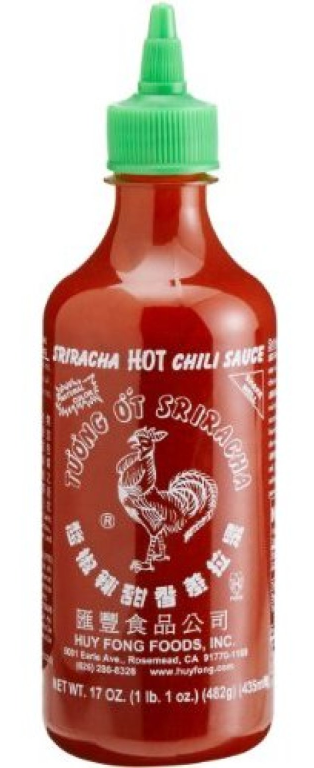 You've probably heard of
Sriracha Sauce.
Its ability to improve almost any food has made it
famous on the internet
and is available at almost every Asian takeaway in the U.S.
Huy Fong Foods
is largely responsible for Sriracha's popularity in the U.S. - their sauce's distinctive red hue and green cap make it the most recognisable hot sauce in the world. If you've seen it on the shelves in supermarkets, it was probably a knock-off brand - as the proper Huy Fong 'cock brand' sauce is hard to come by in NZ.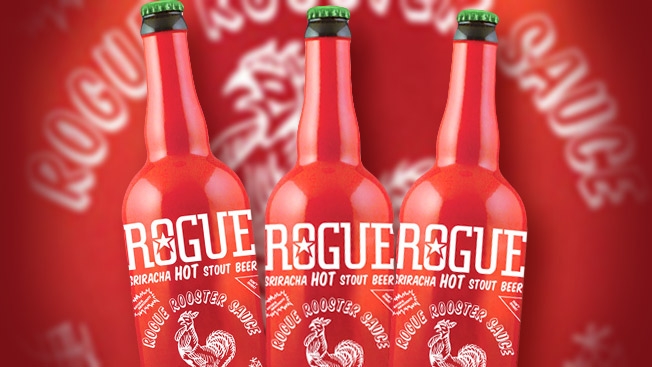 Rogue has managed to strike a deal with Huy Fong Foods to turn this iconic hot sauce into a beer.
Speaking to a visiting Rogue brewer last week, I found out the unique Sriracha flavour is imparted to a base beer of Shakespeare Stout by adding both the liquid sauce and powdered Sriracha at various stages of brewing. A long period of R & D went into getting the flavour right, until Rogue Sriracha HOT Stout was released.
It comes in a distinctive red 750ml bottle with a green cap to mimic the hot sauce. The label features the proud rooster, and copies text from the hot sauce bottle with subtle changes (eg. "shake well" changed to "don't shake").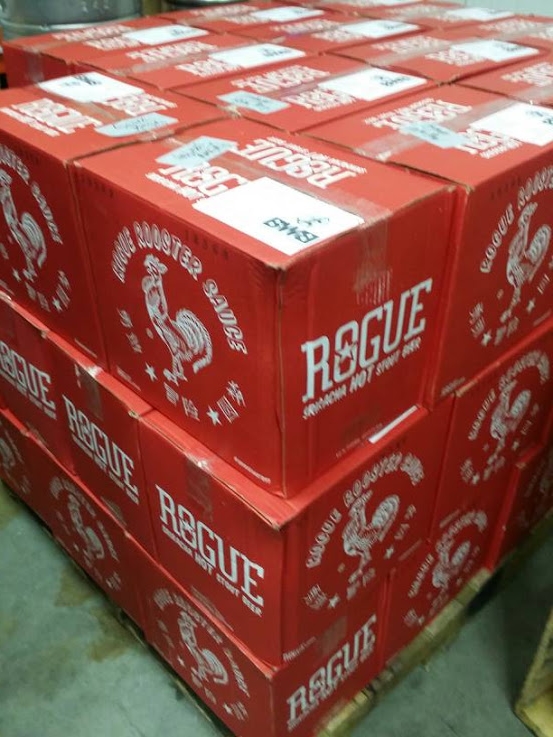 Beer Without Borders has finally secured this in-demand beer, with an entire pallet of it showing up in this week's Rogue container.
To coordinate the launch of Sriracha Stout nationwide the beer will be embargoed till
Saturday May 30th,
when bars and bottle shops nationwide will unleash the rooster.
At Hashigo Zake we will be pouring glasses of Sriracha Stout from midday on the 30th. We have even sourced proper Huy Fong Sriracha Sauce to rim your glasses with (if you want), and you can match your beer with a special
Sriracha Beef Pie
.