Kegs for Christmas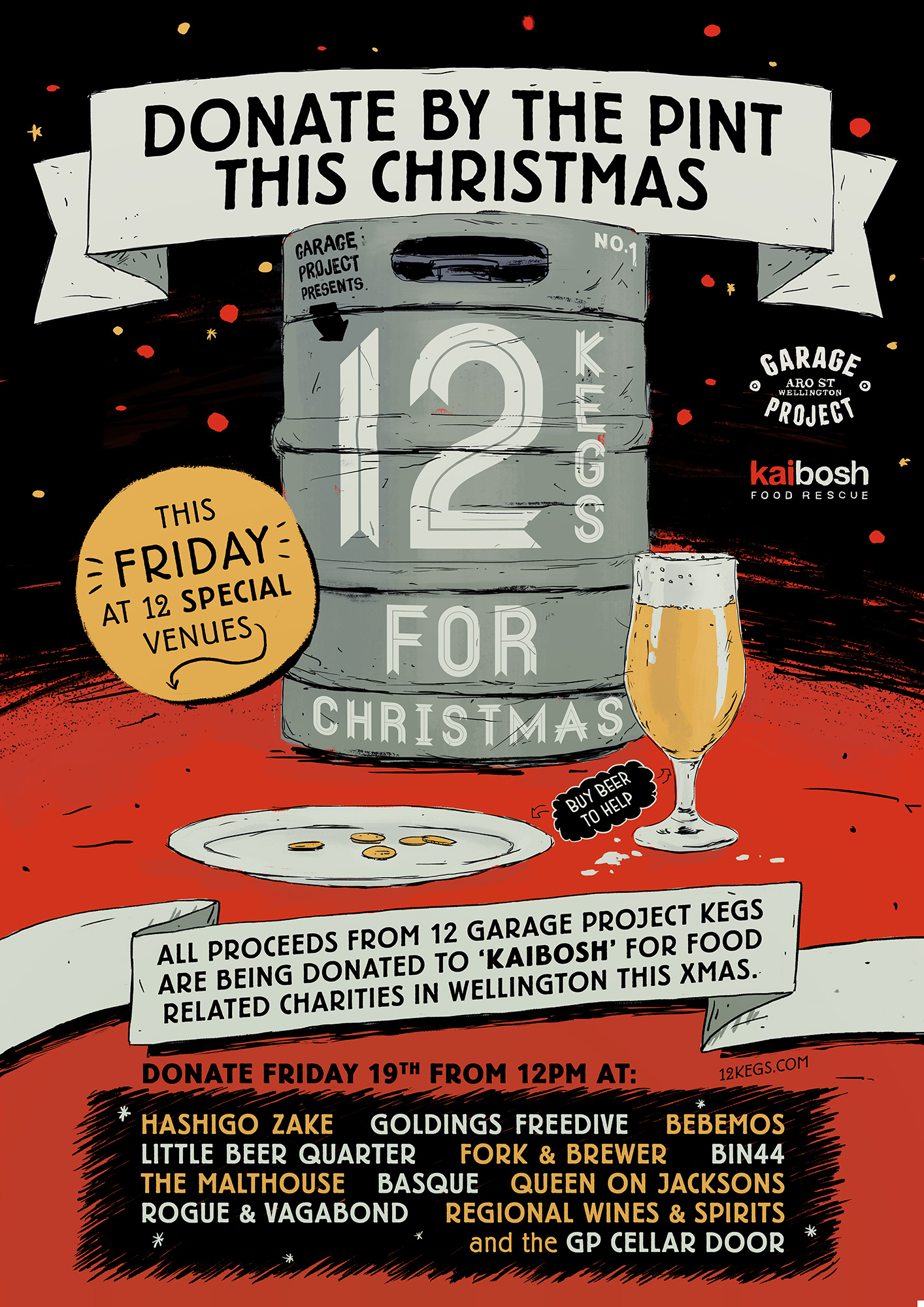 For the last two years we've collaborated with Garage Project to raise money for charity leading up to Christmas.
Basically Garage Project donate a keg to us, we sell the keg and donate all proceeds to a charity.
This year Garage Project have raised the bar and are expanding kegs for Christmas to "12 Kegs of Christmas."
Twelve Wellington beer bars are participating in the event tomorrow, with each bar hosting a different Garage Project Keg, whose proceeds will be donated to food charity
Kaibosh
.
We've drawn the recently re-released
Summer Sommer
as our charity beer. anyone buying a pint of this pohutukawa honey infused golden ale will essentially be making a donation to Kaibosh.
So from opening tomorrow you'll be able to come and get in the charitable spirit by drinking a pint.
Legendary Trio
Anyone who attended the Pacific Beer Expo after party will remember the amazing band
Spitfire.
They entertained an enthusiastic crowd with unique and jazzy versions of a diverse array of music from Katy Perry & Brittany Spears to Star Wars classics.
Spitfire consists of the well known Ed Zucullo, Myele Manzanza and Justin 'Firefly' Clarke.
The fun kicks off at
10pm Saturday, and is free
as always.
Sort-of-New Release Tuesday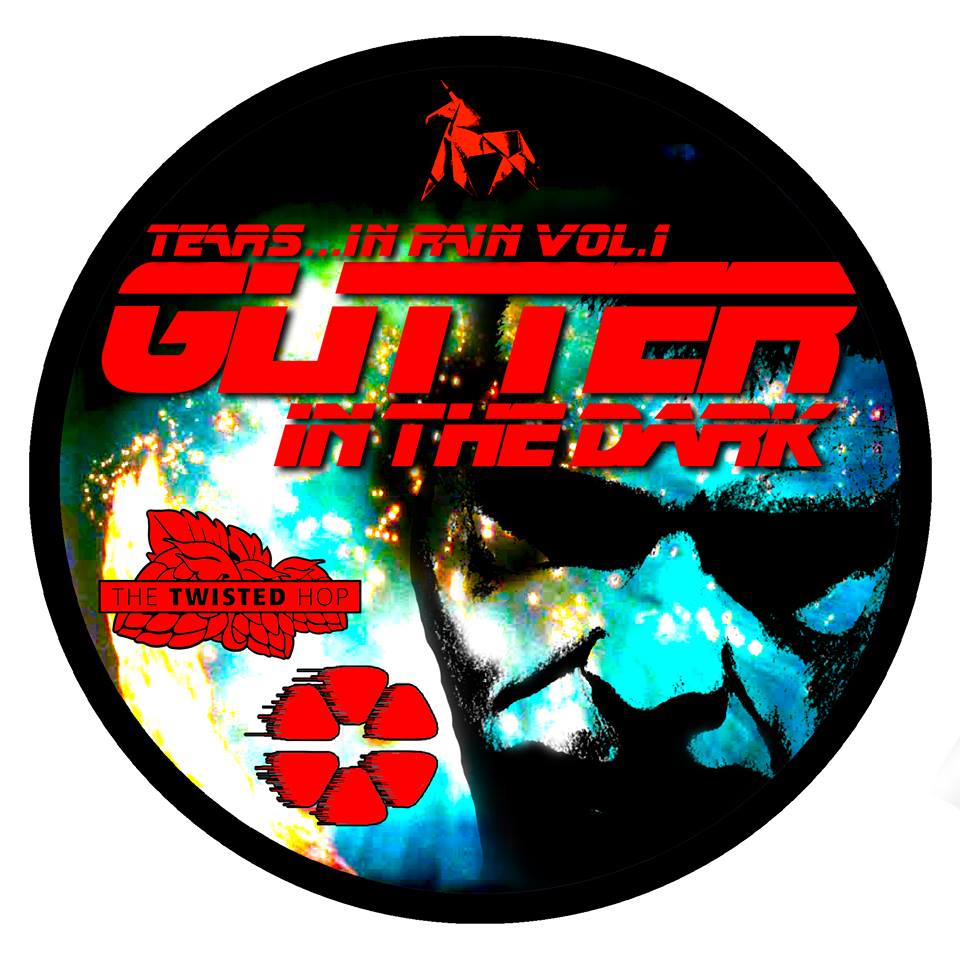 As we approach the end of the year the new beers at our disposal tend to dry up a little bit.
We're stretching the definition of 'new' this Tuesday, with a beer you may recognise from PBE.
Ryan of Beer Without Borders fame traveled to Christchurch a couple of months ago, and put down a unique collaboration with
Twisted Hop.
It's full name is:
Tears... In Rain Vol. 1: Glitter in the Dark.
After brewday no one really knew what style this menagerie of malt and hops was going to fit into.
After tasting it for the first time it was clear that this was the most confusing beer in the world. But it was great.
We tried and fit this bizarre beer into a pre-defined slot, but it was a lost cause. In the end Ryan created a new style just for this beer: "
Ameribelgian Scotchbock IPA
."
We served Glitter in the Dark at PBE from a cask in the British style, as most of the batch went into casks for a 'less cold, less fizzy' serving. A few small kegs were also filled and carbonated for the more familiar 'cold and fizzy' serving style. We'll be tapping one of these rare kegs on
Tuesday at 5pm.
Come find out what the hell an Ameribelgian Scotchbock IPA tastes like. Bonus points if you get the film reference in the name.
Blended Weasels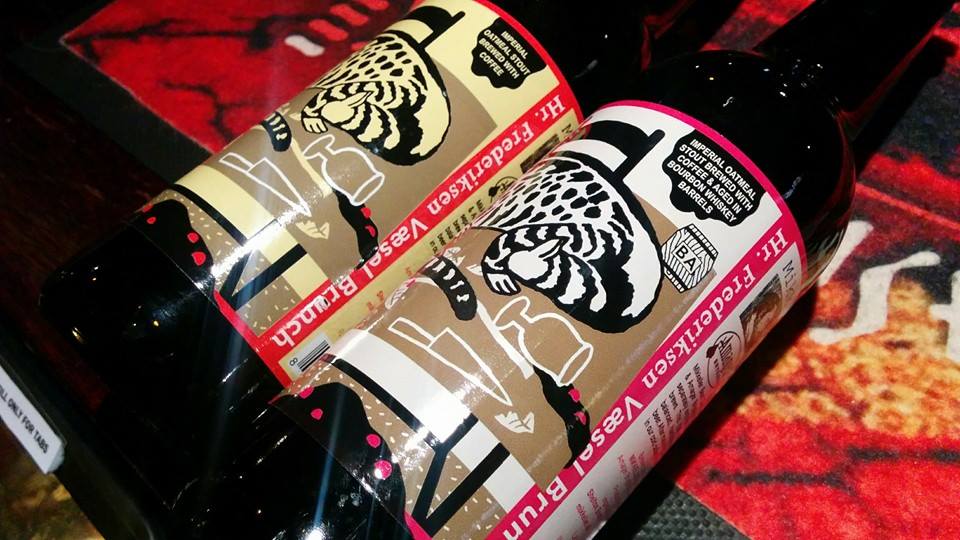 This Saturday we'll be serving two types of blended weasel by the glass.
Mikkeller
has teamed up with fellow Danish brewer
Amager
to create a monster blend of an imperial Stout:
H.R. Fredriksen Væsel Brunch
.Unsurprisingly, it's a blend of Amager's H.R. Fredriksen Imperial Stout, and Mikkeller's Beer Geek Brunch Weasel Coffee Imperial Stout. They also threw some in Bourbon Barrels, as you do in Denmark.
We thought it might be interesting to see how the bourbon version compares to the standard version of this
10.7%
imperial stout.
So this Saturday we'll be pouring
125ml
glasses of both the standard and bourbon versions for
$8
.
Fill ya Boot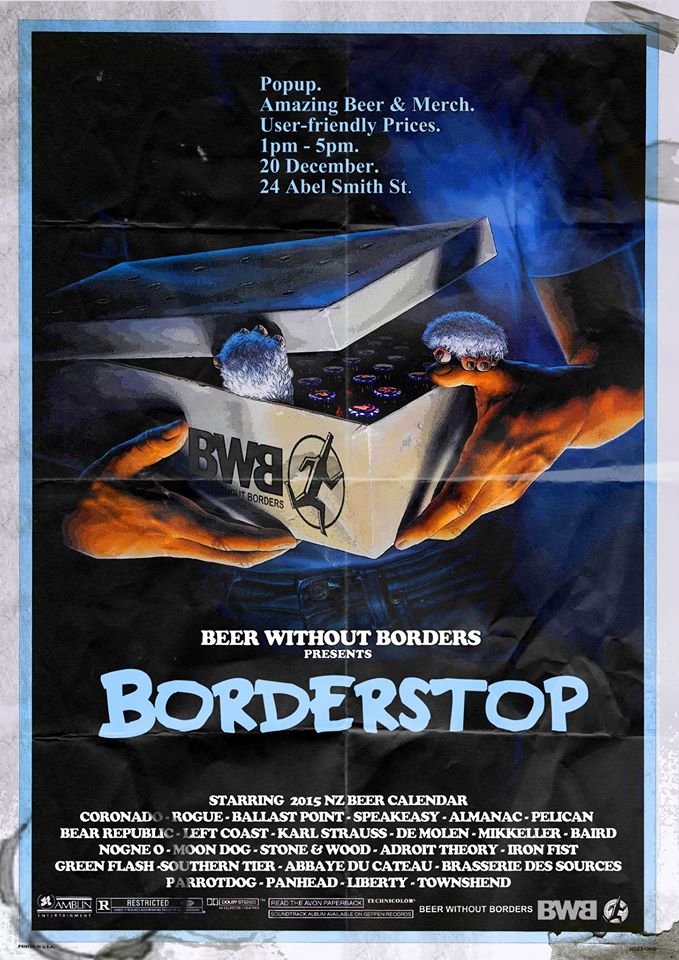 Every year around Christmas we get requests from customers to buy beer in bulk for their festivities. In the past we've sorted these out on a case-by-case (get it?) basis, but that was before our wholesale subsidiary Beer Without Borders existed.
The guys up the road have managed to obtain a special license from the council to sell cases of beer directly from their coolstore at
24 Abel Smith St
on
this Saturday 20th of December only.
The cool store is just across the road from plumbing world, next to the Smith & Smith glass.
Here's a FAQ from the last
Border Post
to answer the quesions you're bound to have:
To be clear to everyone interested, here is a little FAQ about what will go on on the 20th.

What's it all about? This is an experiment in beer retailing, based on our observation that we get a lot of requests to sell people good beer by the case in the run-up to Christmas.
Will there be samples? No.
Will there be spectacular discounts? Hmm... depends on your point of view. We're in a position to find some middle ground between wholesale and retail pricing. Given that most liquor retailers aren't making the kinds of margins that you might think, these differences may or may not get you excited.
What will be for sale? Potentially anything in our rather large portfolio. But we'll present a short list that we think will interest people the most.
Will it be cases only? No, we'll offer half cases, with the condition that you buy two half cases of products that come in the same format… so imagine your two favourite IPAs just there, together in the same carton looking up at you, asking you to take them home for Christmas….
When and where? At our Wellington warehouse at 24 Abel Smith St, Wellington, from 1pm to 5pm. We have quite a large forecourt, so you can drive up, park and walk on up to our desk, where we'll take your order then duck into the cool store to collect it.
Will we tidy the forecourt first? Probably.
Will there be eftpos? Yes.
Will there be anything else for sale? Yes, a little… some fantastic glassware, reusable 20L pubkeg outer shells (hundreds of potential uses) and one or two other goodies that will make perfect Christmas gifts for the beer geek in your life. And if they're back from the printer we'll have copies of the 2015 Craft Beer Calendar for sale.
A Run of Sours
I love my sour beers, so I'm pretty excited about a few beers we've got lined up to come on tap soon.
8 Wired Rastafari Unchained
is the first in the run, and should make it on tap tonight. It'll be followed by the sour brown ale also from 8 Wired;
Rewired Unchained.
The third in line was a bit of a surprise for us, when we uncovered a keg of
Good George Gose
up at the cool store.
This one was brewed as a festive beer for Beervana, in the uniquely salty Gose Style.
It's made with lime zest & juice, horopito and Marlborough sea salt and fermented with both their house ale yeast and the souring bacteria Lactobacillus.