Cork and Wire... NHRT... Riding for Cancer... Music This Saturday... Food This Friday...
Cork and Wire
Our own General Manager has taken off for some R and R in the US. Before leaving he did some serious string pulling to secure tickets to the Great American Beer Festival for himself and his travelling companion. The GABF might be huge, but tickets to it sell out in minutes and preferential buying rights are kind of priceless.
So while Dave embarks on a frenzy of envy-inducing beer experiences, those of us left here feel we have a need and, indeed, an obligation to turn the tables on him and create as many individual events as possible to make him wish he'd never buggered off. We'll start with our first ever "Cork and Wire" tasting – a tasting of beers so fancy they come with corks instead of caps.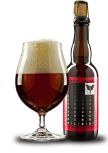 Please note that any suggestion that a cork closure somehow guarantees that a beer is special is made with tongue in cheek. We're all for judging a beer on the content of the bottle (or can) rather than the detail of the packaging. It's just that we have a bunch of beers from Adroit Theory that are amongst the best packaged beers we've ever seen and they're begging to be showcased in a tasting.
We'll supplement these Adroit Theory beers with some of the finest cork closed European beers we can get our hands on. For instance an archaeological dig recently uncovered a small number of bottles of Chimay Grand Reserve bottled around the turn of the century.
The Cork and Wire Tasting takes place at 6pm on Wednesday the 17th of this month. Places are limited as the beers themselves are scarce! Book here.
NHRT

Next week's new release gives our customers a chance to taste not only a new beer, but a new hop. Garage Project have been collaborating in some kind of top secret test programme with New Zealand Hops and Plant & Food Research to put experimental hops through their paces. Apparently there have been beers brewed that never left the brewery and the hop varieties involved have no name and are grown at Plant & Food's own garden rather than a commercial hop farm.
So on Tuesday evening at the usual time we will put on Hop Trial 1, which is a 7% single-hopped IPA. That's about all we can say, except that the site www.hoptrial.co.nz will be live some time in the near future with more information.
Riding for Cancer
Founding Hashigo Zake staff member and Funk Estate brewer Shiggy Takagi is taking on the Ride to Conquer Cancer this November. There is more information about Shiggy's own effort and the event in general here. To give his fundraising a boost he has dug into Funk Estate's stocks and is donating beer that we'll be putting on tap this Saturday, with proceeds going to the Shigster's fundraising.
On offer will be Funk Estate's Parleyer Pilsner, So'phisticuffs IPA and their 2014 Brewers Guild Awards Festive Beer, called Jamber Ale, which is an amber ale brewed with Oat, Golden Syrup and Boysenberry Jam - more information here.
There are limited volumes of these charity beers (we have to try and make a dollar ourselves!), so we invite Shiggy's army of fans to come along at 5pm on Saturday and pat him on his lycra-clad erm... back... and have a drink.
Music This Saturday
Speaking of this Saturday, our late evening lounge music slot is being filled this week by a trio of musicians who are new to us as a group but very familiar from other acts that they have been part of. They're simply going by the moniker Zuccollo - Manzanza - Clarke (Ed Zuccollo keyboards, Myele Manzanza drums and Justin "Firefly" Clarke guitar). And they're threatening to play music from Britney Spears and Katy Perry to Ernest Ranglin and The Shadows.
Maybe Ed will bring his talkbox.
Note that this is a slight change from the previously announced Ed Zuccollo Trio, even though both acts are trios whose personnel include Ed.
Food This Friday
The Fire Truck is back this Friday, serving superior food truck food from 5pm.