Saturday Night... Is God An American?... Baird Tasting... Chocolate Thunder... Pacific Beer Expo News... On Tap Now... Stop Press... Stop Press 2...
Saturday Night
Our frequent practice of showing international rugby early on Saturday evenings gets sidelined, as it were, this week, by a different form of slipping, ball-dropping and general playing of the man. So for those who find watching election results more sport than sport, we'll be throwing our modest couple of televisions and our sound system over to election coverage on Saturday evening.
The exact makeup of our coverage is under discussion, but it may involve some hybrid of television pictures and an alternative audio feed.
Note that patrons in our lounge can remain oblivious to all this.
Is God An American?
How much information would you like about a beer before you drink it? For next week's New Release, we have an over-supply.
For instance, about the artwork, we are told:
Based on a Russian and Revolutionary motif, G/I/A/A resonates with the angry underdog, the 99%, the resilient downtrodden masses. Inspired by David Bowie's sardonic anthem, I'm Afraid of Americans, the artwork and style features a stark, red-and-black color scheme. It takes careful reading to decipher the text on the label, written backwards, top-to-bottom and bottom-to-top. Amid the confusion is stamped the lyric from Bowie's song that gives this beer its acronym name: God Is An American.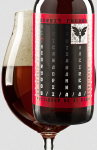 We also know that the recommended food match is, specifically, Pecan-Crusted Ripshin Pork Loin. The cheese match is Ossau-Iraty Sheep's Milk and the cigar match is Carlos Torano Master Maduro.
Now we realise that the appearance of a few bottles means that several of us have had the chance to preview this beer. And it's very, very good. It's an Imperial IPA, packed with Citra hops and aged on charred Ash wood that has been infused with vodka.
Nevertheless Tuesday represents this beer's first time on tap in New Zealand. Adroit Theory's God Is An American is on tap from 5pm on Tuesday.
Baird Tasting
As previously mentioned, the first shipment of beer to arrive from the new, improved, relocated and enlarged Baird Brewery gives us a chance to simultaneously (1) catch up on some new beers (2) evaluate the beers coming out of the new brewery and (3) compare beer from the old and new brewery.
This is happening on Wednesday September 24. Bookings for the Baird tasting can be made here.
Chocolate Thunder
We were somewhat puzzled and perturbed when we heard who is booked to play in our lounge this Saturday night. Several years ago one of our staff was given the nickname Chocolate Thunder and it has stuck. We've talked for years about a tribute beer (and in a sense, this is on its way). What we didn't expect was a tribute band.
Not that we believe Chocolate Thunder are aware that they share a (nick)name with one of our own staff. (Although "sensuous jazz/funk/soul/fusion maelstrom" could possibly describe Tasi.)
Anyway, on Saturday night, while we wait to learn what shaped beast will be (mis)leading the country for the next three years come along at 10pm and try out Chocolate Thunder the band. Chocolate Thunder the beertender may be on hand. And Chocolate Thunder the beer will be on tap in another month.
Pacific Beer Expo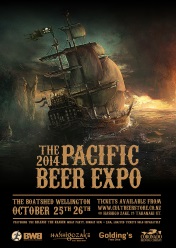 It's time for some more propaganda about the Pacific Beer Expo. Now it is becoming common at beer festivals to offer some kind of VIP ticket. Such a ticket might let you in earlier or give you a little free beer, or the possibility of getting to sit down. We've taken note and can now announce the Pacific Beer Expo VIP ticket.
Holders of Pacific Beer Expo VIP tickets get the following benefits:
A generous portion of complimentary food and beer tokens.
A souvenir branded cooler bag, doubling as a "goodie bag".
A souvenir TeKu branded glass. It's thought that this is the first time that the spectacular TeKu glass will have been made available in New Zealand.
A Coronado branded key ring/bottle opener plus other items of merchandise from breweries.
The opportunity to meet visiting brewer Bryan Baird, founder of the Baird Brewery in Japan.
Custom oxygen masks so that VIP ticket holders won't have to breathe the same air as other attendees.
Ok, so the last part isn't true. In fact none of it is true. Every ticket is a VIP ticket, with all of the aforementioned benefits (except for the oxygen mask). Why would we stage what we think is a special event with a great atmosphere and then offer an inferior experience to the majority of attendees?
About those tickets... they're now on sale here and at Hashigo Zake from 5pm today!
On Tap Now
Finally, can we draw attention to a couple of particularly rare and special beers on tap right now, but not for long:
Behemoth Brave Bikkie Brown Ale won the trophy for the best festive beer at this year's Brewers Guild awards. The theme this year for the festive beer category was to honour the Anzacs and the Anzac biscuit. This beer, with its intriguing syrupy coconut character was considered the finest example.
This week's new release - Nøgne Ø / Bridge Road Aurora Borealis 2 is still on tap but will run out soon. It's a boozy Belgian-y tripel packed with flavour and character from its time going half way around the world in a cognac barrel. This will probably be the only chance to try this beer outside the Pacific Beer Expo!
Stop Press
It looks as though Friday week (the 26th) will see us host the launch of a new beer by a sort of a new brewery - Lord Almighty Yakima IPA. Lord Almighty is a gypsy brewery started by Dan Lord, once of Funk Estate. Most of their beer is brewed and sold in the UK, and this is a precedent setting first New Zealand batch.
Stop Press 2
Speakeasy Brewery in San Francisco are sending one of thir brewers, Brandon Nash, to New Zealand. We hope to host an event with him at Hashigo Zake on the 28th. More info next week.