Five Years... New Release Toosday... Tastings... Music This Saturday...
Five Years
We have a bit of a tradition at Hashigo Zake of observing milestones late. Back in
2009
we traded for several weeks before having an official opening. We typically have our staff Christmas Parties in March. Our fifth birthday celebrations will be similar.
Yesterday was the anniversary of that official opening back in 2009. But with Beervana and the birthdays of several other prominent businesses going on in August and September, we decided to postpone celebrations until October. This way celebrations can also flow into the Pacific Beer Expo, making for a late October week long festival of revelry.
So happy birthday to us and all that, but please save the week of October 20-26 for the partying.
New Release Toosday
It is reasonably well known now that beer from many of Australia's best breweries was on a ship crossing the Tasman that suffered significant mechanical trouble and therefore missed this year's Beervana festival. But eventually the beer got to New Zealand and is making its way into the local beer supply.
As a result, we have a keg of a pretty special beer to be our new release next Tuesday. It's the latest in a series of collaborations between Norway's Nøgne Ø and Australia's Bridge Road. The idea is that each brewery makes a big strong beer (initially a Belgian Quad, now a Belgian Tripel), puts the beer in a barrel and ships it to the other, who bottles and sells it. The resulting beers were called Aurora Australia (for the Australian beer shipped to Norway) and Aurora Borealis (for the Norwegian beer shipped to Australia).
So on Tuesday our new release is
Aurora Borealis 2
. It's a Belgian Tripel transported to Australia in Cognac barrels. It will be on tap from 5pm on Tuesday.
Enthusiasts will have the option of having it alongside a bottle of the original
Aurora Australis
.
Tastings
This week Beer Without Borders took delivery of a new shipment from Japan's
Baird Brewery
. This shipment is pretty special, as it's the first from what is called the Baird Brewery Gardens Shuzenji. The new brewery is a massive step up in scale from the old one and is fitted out with some rather sexy German brewing equipment. Plus this shipment has several beers that are new to New Zealand. So it seems like a perfect time to revisit the Baird range with an exhaustive tasting of those beers that are in the country at the moment.
So we'll make this happen on Wednesday September 24, which happens to be a week after our "Cork and Wire" tasting built around the beers of Virginia's Adroit Theory Brewery. Incidentally the Cork and Wire tasting just sold out. Bookings for the Baird tasting can be made
here
.
Music This Saturday
If our booker tried to explain that he had a father and son percussion act lined up to play on Saturday we might have questioned his competence. But not when the father and son in question are Sam and Myele Manzana. The younger (Myele) is hot property and it seems like just last week that he joined Justin Firefly and Ed Zuccollo in our lounge to do things with Kraftwerk, Britney Spears and Lorde songs that their composers had never dreamed of. While the elder (Sam) has been entertaining Wellingtonians for at least 25 years now.
So we expect great things from
Sam & Myele Manzanza's Afrobeats
from 10pm on Saturday night. Please note that this is a change from a previously tweeted band announcement for this week.
Pacific Beer Expo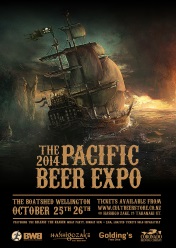 News is starting to leak out about this year's Pacific Beer Expo, now just six weeks away. And there is a lot of news to leak. From the festival glassware and goodie bag to the assistance we're getting this year from the current World Beer Cup Champion Mid-sized Brewery and the presence of a certain high profile brewer from Japan. There will be a lot of details coming out between now and Labour Weekend. Most of them will have to wait a few days until we get physical tickets to sell here at the bar. In the meantime, please take in the glory that is the 2014 Pacific Beer Expo poster - the work of Golding's Free Dive founder, Sean Golding.