The Ramen Shop... Music This Saturday... Southern Tier and Compass Sparkling Ale... Craft Beer College 200-level Series... New in Bottles... Finally...
The Ramen Shop
Cult popup restaurant The Ramen Shop pops down to Hashigo Zake tomorrow, for a Friday lunchtime special. Salarymen and OLs are invited to leave their sandwiches in their briefcases and come down for some hearty broth, noodles and assorted toppings from Wellington's up-and-coming ramen maestros.
Music This Saturday
Our musical programme took an unexpected turn this week, when we learned that our booker had signed a local jazz band featuring one of our own staff. Not that we didn't realise that Josh had another career playing Klezmer, Balkan and Gypsy Jazz, we just hope it doesn't interfere with his beer-related studies.
We're still working through some of the implications of this, not least of which is getting someone to cover his shift. But we ask customers on Saturday not to pass your empty glasses to the saxophonist.
In summary then, The Flying Gypsy Biscuits, featuring at least one accomplished bartender, play at 10pm on Saturday in our lounge, with the customary cover charge of $0.
Southern Tier and Compass Sparkling Ale
A couple of nights ago we brought a keg of Southern Tier Plum Noir pretty much straight from the wharf to have on tap as our Tuesday New Release. We've since had time to receive the rest of the order from Southern Tier that Plum Noir is part of. The order certainly impresses us, with the only downside being the sad news that Southern Tier have decided to suspend exporting and concentrate on markets closer to home. So this is, in fact, the last delivery of Southern Tier beer for the foreseeable future.
For one thing, we now have fresh stock of old favourites like their IPA, 2XIPA, Iniquity Black IPA, Unearthly IIPA and (drum roll, please) Crème Brûlée. And we also have one more new beer, in the form of Compass.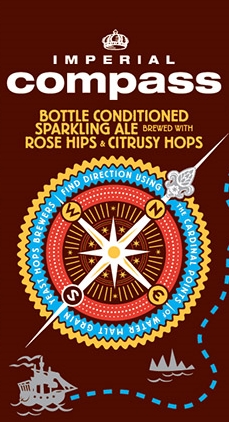 Compass is described as a "Sparkling Ale w/ Rose Hips". It may be the easiest drinking 9% beer ever made. It's made with pilsner malts and torrified wheat, giving it a malt profile not much different from a witbier. With hops chosen for citrus-like qualities and the addition of rose-hip, you'd swear that this beer was designed to be quaffable and refreshing, which it is, but at the end of the night you'll be glad we didn't serve it in pints. It's confusing the hell out of ratebeer but scoring highly nevertheless.
It's our new release next Tuesday, so will be on tap from 5pm.
Craft Beer College 200-level Series
The future of beer education kicks off on Saturday with Craft Beer College's first 200-level tasting.
We have a little insight into the selection of beers for the "Weird and Wonderful" Tasting and can vouch for the fact that it's going to be a great way to taste some of the planet's more successful experiments in brewing in one convenient Saturday afternoon.
To apply for a last minute enrolment, email craft beer college.
New in Bottles
We've had several interesting deliveries in the last week or two. First there was a long-overdue sailing all the way from Western Europe with multiple treats from Nøgne Ø. Treats such as:
Dark Horizon 4th Edition. Nøgne Ø's original ludicrously strong, coffee-infused imperial stout, now in a toblerone-type cardboard box.
Red Horizon 2nd Edition and Red Horizon 3rd Edition. The sake yeast-fermented red ale in distinctive tins.
Almost Undrinkable. Some troll left a bottle of Rex Attitude at the Nøgne Ø brewery a couple of years ago. This is their response.
Tindved - sour ale brewed with Norwegian malted barley, raw wheat and added juice from pressed sea buckthorn (tindved). Get some before sea buckthorn beers become passé.
Aurora Australis - a Quad brewed collaboratively at Bridge Road in Beechworth, Australia, then matured in red wine barrels sailing to Norway.
Along with the aforementioned Southern Tier order we picked up fresh supplies of a few core beers from Ballast Point and Green Flash, including Hop Head Red.
Meanwhile Garage Project have finally got around to bottling some of their legendary, Greg Broadmore-inspired Lord Cockswain's Courage. What made it into the bottles is a blend of the year-old barrel-aged beer that won a trophy at the Brewers Guild Awards last week and a fresh batch of the same beer. We gather from the beer's distributor that only a few cases of this beer were released to the market, so be quick.
Finally
Thanks and congratulations to everyone who made last week one long celebration of all the good things in the brewing industry. Of course the biggest winners were Renaissance Brewery, who took out the Champion Brewery Award, to go with a similar accolade from the Australian awards earlier this year. The great thing is that Renaissance would certainly make the short list for a "hardest working brewery" award too, so it's great to see the country's biggest gong go to someone we know deserves it. As happens most years.
But really the whole beer consuming public of Wellington and the visitors who made up the numbers deserve massive back-pats for showing that good beer is being created and consumed with imagination, enthusiasm and common sense by a growing number.