A Week Of It... GP2... Jed Soane's Third Exhibition... Reel Ale... Collaborative Launches... New Release Tuesday - The 8 Wired Mega-Mix... Liberty/Panhead Night... Music Nano-Fest... In other news... Craft Beer College 200 Level... Finally...
A Week Of It

On Saturday we begin a week of festivities around the annual events known as Beervana and the Brewers Guild Awards. We say a week, but really we mean two weekends and the days in between. Yes, we're defying the Guild and starting two days early on Saturday, rather than on the official Choice Beer Week start date of August 5th.
Why? Well for two reasons. Firstly if you fast forward to Friday and Saturday of next week, it's pretty hard to host anything else when Beervana is on. The night before Beervana is Awards night and the night before that is when the brewers get together at a secret location to have couple of jars. So if we want to host events involving our favourite brewers we really have to hold them pretty early in the week. Or simply start this weekend. The other reason is that Garage Project's second birthday happens to be this week.
There's more about most, if not all, of the events we're planning below. But we should add that this calendar of events has been like a greased pig when it comes to finalising the details, so they've been changing up until the moment this email goes out and may well change again.
GP2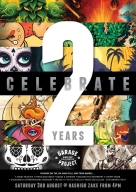 Garage Project turns 2 this week. We're celebrating it on Saturday.
For a brewery struggling to push product out the door at a rate that will satisfy anyone, it's remarkable what gems they were able to conjure for their own birthday. These aren't just words. We were genuinely surprised and amazed at the birthday list:
Angry Peaches
Pernicious Weed
Smoke & Mirrors
Bastard Rye Raspberry
Cherry Bomb
Cockswain's Extraordinary Ordinary - a new release that is a low gravity ordinary bitter.
Spezial K - also a new release - a keller bier to be served from a pitch lined barrel on the bar top.
Pils & Thrills
Chai Brown Stout - a new release and a collaboration with Moon Dog Brewery
We'll have all of these beers on tap by 4pm on Saturday. Possibly a little earlier for some of them.
We had previously announced a special food option to coincide with the festivities but that has fallen through. We apologise for any inconvenience, but trust that the occasion's other highlights will compensate.
Jed Soane's Third Exhibition
For the third time we're throwing our Red Room over to photographer Jed Soane. The theme of next week's exhibition is New Wellington Breweries. Although - let's face it - there aren't many old ones. Jed's put up a sneak preview here.
To add to the occasion of Garage Project's 2nd birthday, the exhibition should be ready for public viewing by 4pm on Saturday.
Reel Ale
So it might be stretching the point to call this a film festival and give it a pretentious title, BUT... we have legit, high quality copies of two recent and very cool documentaries relating to the beverage that we obsess about, and we're out to entertain you all as much as possible next week. So at 3pm every day from Monday to Thursday we'll be screening, alternately, Beer Hunter: The Movie and Suds County, USA.
For the sharp-eyed, Beer Hunter: The Movie is the very same film that is receiving its New Zealand premiere on Sunday night, courtesy of SOBA. The SOBA screening will be in a superior setting and it will be the local premiere so we encourage readers to go along and walk along the red carpet.
Collaborative Launches
We have not one, but three brand new beers to launch in the next few days that are the results of collaborations between New Zealand and Australian breweries. The first has already been mentioned - it was cooked up by Garage Project and Melbourne's Moon Dog way back in February when Josh and Karl from Moon Dog were over here.
The other two date from May, when a legion of New Zealand breweries infiltrated Australia. Fly By Night is a collaboration between ParrotDog, Two Birds and 3 Ravens. It's a Black IPA. We had hoped to have it here to launch on Monday but it looks as though it's not going to make it in time. So we're transferring its launch to Wednesday, by which time we hope that Jayne from Two Birds will be in Wellington.
Finally Wendy is the second collaboration between Yeastie Boys and Lobethal Bierhaus. There's no official statement on the beer's style but we understand that it will be a strongish porter with a secret ingredient that is a variant on another unconventional adjunct that Yeastie Boys have been using a lot of lately. Wendy was always going to be launched on Wednesday, because that's when they're launching it in Adelaide. And we believe the kegs will actually arrive in time.
New Release Tuesday -The 8 Wired Mega-Mix
We could never settle for any old new release next Tuesday. And after protracted negotiations (actually quite short negotiations with long periods of inactivity) we've come to an arrangement with New Zealand's champion brewer of 2011. Not only are we releasing 8 Wired's most challenging beer ever, we're going to dip into our own stocks and bring out some forgotten 8 Wired gems.
So on Tuesday we will be serving, in extremely small portions, Ice-Distilled Bumaye. A sample has gone to a lab to be tested, but this beer is estimated to be over 30% ABV.
To prepare everyone for this finisher, we will also be serving:
Mighty Imperial Ale
the newly released Barrel Aged Saison
a keg from the first commercial batch of iStout
the last known keg of Ø for Awesome by 8 Wired, Nøgne Ø and Renaissance
Liberty/Panhead Night
Liberty Brewing are in the process of converting Auckland's Hallertau brewpub into a much larger brewing facility for themselves and Hallertau to share. And Panhead are releasing the first batches of a range of beers from their brand new Upper Hutt brewery. But it's not that long since Liberty's Joe Wood and Panhead's Mike Neilson had day jobs and brewing was purely a hobby.
So on Thursday evening we hope to take advantage of a small window before the Brewers Guild Awards to celebrate their progression from home brewers to entrepreneurs. We'll pick a couple of kegs from our stash of great Liberty beers and will sneak two of Mike's first releases on tap as well. And we hope that in between grooming themselves and turning up at the Awards the pair will grace us with a walkabout.
Music Nano-Fest
As mentioned above, we're not just here to supply beer next week, we also want to provide entertainment. And as we've seen, there's often someone with an axe to grind after the awards are given out so on Thursday night it's fitting that we provide some sounds to soothe any savage breasts.
In fact we're providing live music every evening from Thursday to Saturday of next week, plus of course a performance this Saturday. So here's the lineup:
Saturday August 3, the Reuben Bradley Trio. Jazz,
Thursday August 8, the Tony Mad Trio. Texas Boogie.
Friday August 9, Darren Watson's Underground Blues Band.
Saturday August 10, the X-Ray Catz. Rockabilly.
The music starts at 10pm each night and there is no cover charge.
In other news... Craft Beer College 200 Level
It would be a travesty if the following news got lost amongst the fuss about next week, so we beg readers to hang in there.
We get occasional queries about the fate of the regular tastings that we used to run ourselves, often featuring the beers we import ourselves and usually happening about once a month. It would be fair to say that we ran up a certain amount of fatigue from running these events, and have recently concentrated our efforts on the New Release Tuesday slot while being kept increasingly busy with our importing business. Meanwhile Craft Beer College have emerged and are talking the art and promotion of beer tastings to another level.
So with a certain amount of encouragement from us, Craft Beer College have developed their repertoire of tastings and have just announced the 200-level series, taking place in the second half of this year. We think they will achieve a lot of what we used to try to with our own tastings programme and more. And they also look like a lot of fun.
The series features a glassware tasting, at which the claims of glassmakers about the difference a glass can make to the taste of a beer will be put to the test. And participants will get to keep not only the beers they drink, but the glassware they try them from. There will also be a couple of tastings dedicated to the exploration of styles that, shall we say, new beer drinkers might struggle with. All the details are here.
Finally
IPA Day? Every day is IPA Day.