Today... Tatsushi Collaborative Dinner... Garage Project Second Birthday... Wellington Brewing Photography Exhibition... 10,000 Pies and New Release Tuesday... Music This Saturday...
Today
Today's the Fourth of July. (Another June has gone by.) Our once-a-year opportunity to celebrate our favourite citizens of the world's one and only superpower - people like Jon Stewart, Daniel Ellsberg, Stephen Colbert, Edward Snowden, Sam Whitney... Not to mention the brewers who transformed the phrase "American beer" from a joke into an unstoppable movement.
So we've turned almost all of our taps over to US beer today and we think it makes for a compelling and varied line up and some pretty ostentatious tap handles. Specifically:
Speakeasy BIG DADDY IPA
Coronado FROGS BREATH IPA
Rogue JUNIPER PALE ALE
Rogue NITRO SHAKESPEARE OATMEAL STOUT
Ballast Point OLD BARMY APRICOT ALE
Rogue HAZELNUT BROWN ALE
Left Coast HOP JUICE IIPA
Coronado OLD BLIGHTY ESB
While regular customers will need little in the way of guidance regarding these beers, we must add a couple of comments:
Today marks the launch in New Zealand of San Francisco's Speakeasy brewery. We're confident that Big Daddy IPA will meet everyone's expectations of a great northern Californian IPA.
Rogue's Shakespeare Stout is nitrogenated rather than carbonated. Serving beer this way is new for us and this may be the first time that a nitrogenated stout has been dispensed from a key keg in New Zealand. We're looking forward to trying this famous oatmeal stout with the promised silky texture that should come from this particular treatment.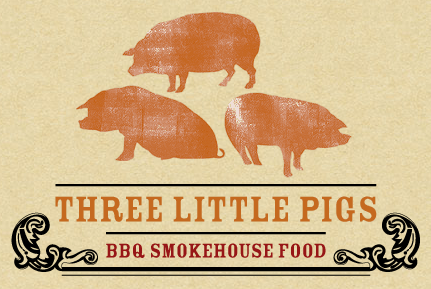 Better still, in something of a departure for us, we invited American-style barbecue specialists Three Little Pigs to set up in the nearby outside space that we, ahem, don't actually own, and serve their amazing food. From late this afternoon they'll be offering the following menu:
Pulled Pork Sandwich
Beef Sandwich
BBQ Tasting Plate
Tatsushi Collaborative Dinner
It is with great pleasure that we make the first of a number of announcements about what we'll be up to during the week of the Brewers Guild Beer Awards and Beervana.
Tatsushi is the new favourite restaurant of our in-house expert on things Japanese and food-related - Shigeo Takagi. He's worked with Tatsushi's founder, Tatsushi Mikuni, to come up with a menu matching the restaurant's food with fine beer, most of which will come from a fresh shipment from the acclaimed Japanese brewery Baird.
So on August the 6th and 7th we're proud to co-host a dinner at Tatsushi of Japanese cuisine matched with beer. Tatsushi is one of Wellington's littler eating places and there will be room for just 16 diners each night. So booking is essential. Get along to this page at the Cult Beer Store to book.
Garage Project Second Birthday
And it's with equally great pleasure that we make our second announcement regarding the week leading up to the Brewers Guild Awards and Beervana. On or about the 2nd of August it will be two years since Garage Project's Jos and Pete carried three puny cornie kegs of beer, brewed on their pilot plant, down the stairs to Hashigo Zake. Though the token volumes of beer lasted about 45 minutes, that launch event signalled the return of commercial brewing to Wellington.
Who'd have thought that in just two years they would be rapidly growing out of a brewery 50 times bigger than the one those beers were brewed on? And more significantly Wellington has been transformed into a thriving brewing centre instead of just being the place where the rest of New Zealand sent the beer they couldn't sell to their own locals.
To commemorate their second birthday Garage Project are venturing into the deepest, darkest recesses of their Aro Street site to dig out some kegged treats. We'll be putting them on tap at 4pm on Saturday August 3.
Wellington Brewing Photography Exhibition
Finally we can announce a third component of our Beer Week celebrations. Photographer Laureate of the New Zealand Brewing Industry, Jed Soane, will use our Red Room for the third time to exhibit a collection of his photos, this time showcasing the booming Wellington brewing industry. The exhibition will go up on the afternoon of August the 3rd, in time for the Garage Project 2nd Birthday celebrations starting at 4pm. They'll be up until the 11th.
10,000 Pies and New Release Tuesday
A quick query against the database behind our till system revealed that we're closing in on 10,000 pies served at Hashigo Zake. We're extrapolating that we'll pass the 10,000 mark next Tuesday.
Anyway, to celebrate 10,000 pies fittingly we've asked our own Sam Whitney to come up with a once in a lifetime pie filling that will go on sale next Tuesday, along with De Molen Pijl & Boog, a strong Belgian Ale that we just received from the Dutch brewery. Our commemorate pie will be the most decadent pie that we could conceive of without actually barrel-ageing the filling, incorporating oysters, mushrooms and truffles.
Pie and Pijl go on tap at 5pm next Tuesday, the 9th.
Music This Saturday
Appearing for the first time this Saturday are The Sly Collective - a new collaboration between Wellington musicians Ashton Sellars (Brockaflower), Ayrton Foote (The Bandits), Adrian Laird (Wellington Mingus Ensemble), Richard Thai (The Bandits) and Thomas Friggens (John the Baptist) paying homage to Jazz Fusion greats such as Herbie Hancock and John Scofield.
They're on from 10pm on Saturday night, with the traditional non-existent cover charge.