The Latest from Tauranga
Last month we managed to acquire a keg of Fitzpatrick's New Zealand Pale Ale, which confirmed what we already believed - that the Tauranga nano-brewery is destined to make some great beer.
Next week we're putting the brewery's third beer (that we and Untappd know of) on tap. In fact it's going to be our official new release. It's an Imperial Porter that Craig Fitzpatrick says is modelled on the great Gonzo Imperial Porter from Flying Dog. This isn't a complete surprise given the way Craig talked up Gonzo after he had been a steward at the 2009 Brewers Guild Awards. (Gonzo took away a gold medal.)
In Craig's words it "weighs in at 75 IBU... has a heap of Cascade and Centennial. Finished full bodied at 1.022 and 8%."
Fitzpatrick's Imperial Porter goes on tap on Tuesday at 5pm.
SOBA Winter Ale Festival
The lineup at SOBA's Winter Ale Festival is actually looking pretty stellar, and we say this not only because a few of the goodies are coming from Hashigo Zake's own stocks. For one thing it looks like it will be the first time any of us can sample the output of Mike Neilson's new Panhead Brewery. And then there's the infamous Super-Afrodisiac from Funk Estate. Not to mention new beers from Baylands and Garage Project. In fact it could be the most stellar lineup of festival beers outside of the Pacific Beer Expo.
Any tickets that are left are at http://www.soba.org.nz/shop/2013-mid-winter-ale-festival.
More Beer Week Events
Plans for week starting on August the 3rd are evolving. Today we can announce a few more details:
As we did last year, we'll be extending our usual Saturday night musical offering to include the Thursday and Friday. So we'll have live music from 10pm on the 8th, 9th and 10th of August. Specifically:
On Thursday the 8th it will be the Tony Mad Trio.
On the 9th we host the always popular Darren Watson's Underground Blues Band.
And on the 10th we'll host the X-Ray Catz.
Since the season of beer events once again clashes horribly with the Wellington Film Festival, we're coming to the rescue of those frustrated that they can't quite enjoy both simultaneously by hosting our own nano-festival of beer related documentary films. And yes, we have the perfect name for this event: Reel Ale.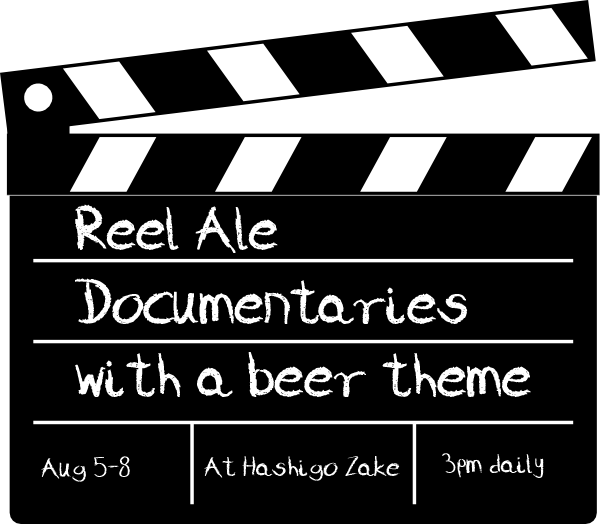 Reel Ale will kick off at 3pm on Monday the 5th. On that afternoon we'll host New Zealand's second official screening of Beer Hunter: The Movie, the recently completed documentary profiling the late, great Michael Jackson. We'll rescreen Beer Hunter on Wednesday the 7th.
On Tuesday the 6th and Thursday the 8th at 3pm, we'll be screening Suds Country USA. This film is all about San Diego and its recent brewing history. We think this is an interesting documentary for a couple of reasons. One is that it features a lot of our favourite breweries. But for anyone enjoying the current resurgence in brewing in Wellington the parallels with what went on in San Diego are glaring. So watching Suds County USA is weirdly like watching present-day events but presented as history.
The even better news is that these will be no dodgy hand-held captures or torrented screeners. Both films are legit copies that we have the right to screen publicly.
Finally we can elaborate a little on what we're up to on Saturday August the 3rd. Not only is Jed Soane's exhibition of photography of Wellington breweries opening at the same time as we celebrate Garage Project's second birthday :- between 4pm and 7pm we'll have Vicky from the Dumpling House on the premises, frying and selling her full range of dumplings on the spot.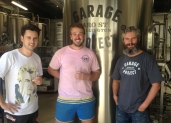 Also, it looks as though one of the goodies that Garage Project will offer up for their birthday will be a collaboration brewed when Josh and Karl from Moon Dog visited Wellington back in February.
Remember to go to http://hashigozake.co.nz/beerweekevents.html to see our calendar of events during Beer Week.
Music on Saturday
In true Wellington fashion our music this Saturday comes from another permutation of some of the same musicians we've seen in different combos over the last year or so. So from 10pm it's Nick Granville playing guitar, James Illingworth on keyboards and Lauren Ellis on drums making up Granville, Ellis and Illingworth.
Behemoth Celia Wade Coffee Brown Ale
Last year Andrew Childs devised Celia Wade Coffee Brown Ale as part of Wellington In A Pint. The beer was one of the competition winners and a batch was brewed. The competition may have been consigned to the recycling bin of history, but the beer remains part of Andrew's plans for world domination. Nor has he let being turned into a temporary Jafa stop him from revisiting his very Wellington creation.
So... now operating under the Behemoth brand, Andrew returns in 2013 with a new edition of Celia Wade Coffee Brown Ale. And the new version gets a launch at Hashigo Zake on July 25 - a week tonight.
In the interests of balance in an election year, we invite any brewers out there to be inspired by the candidacy of any other mayoral contenders.
Old Friends in New Packages
Anyone who has been pining for Rogue's Double Dead Guy should be advised that it has returned in a new form. It's now labelled XS Dead Guy and comes in the same magnificent resealable ceramic bottle as beers such as Old Crustacean. And anyone purchasing the bottle for consumption on the premises may ask to get the empty bottle rinsed and put in a paper bag to take home and put whatever you like in.
Finally, Liberty's New Zealand IPA, Sauvignon Bomb, which was a huge hit when Joe brewed a small amount a few months ago, hits the market properly this week, with kegs and bottles becoming generally available. We'll have bottles in our fridges by knock-off time tomorrow and should have it on tap some time soon as well.