Craft Beer College Exam... Voodoo Doughnut Beers... Princess Lost... SOBA Winter Ale Festival... More Beer Week Events... Next Week's New Release... Music On Saturday...
Craft Beer College Exam
The Craft Beer College's "Exam" takes place on Saturday. We use inverted commas because final / lolly-scramble / game / tasting might be a better description. Beers will be served and questions asked that are intended to reveal who has been paying attention during previous tastings. But the event can also be seen a chance to sample some pretty tasty beers AND pick up some very nice swag. In fact some of that very swag will come from our own collection of brewery-sourced glassware, attire and, maybe, prophylactics.
To join in the mayhem, contact Craft Beer College by email.
Voodoo Doughnut Beers
In all the excitement surrounding the Fourth of July last week we may not have made it clear that some of that day's tap offerings came from a very large shipment of Rogue beer that had just arrived. There are more treats to elaborate on from that shipment, starting with not one, but two beers inspired by doughnuts from Portland's Voodoo Doughnuts.
A while ago we were lucky enough to get a supply of Voodoo Bacon Maple Ale. That proved popular and sold out, so now we've not only been resupplied, but have gone one better and got a supply of Voodoo 2 - Voodoo Chocolate, Banana and Peanut Butter Ale.
Rogue's mastery of, ahem, unconventional methods of brewing and packaging will also be enjoyed by anyone ordering Chipotle Ale soon in the near future. Insist on drinking from the correct glassware!
Princess Lost
From a couple of nights ago there is a massive hole in Hashigo Zake's personnel. Our very own princess is to return to Japan. Rei was with us back on opening night on September 10, 2009 and apart from the occasional absence while she holidayed in her homeland, she has been an incredibly popular member of staff ever since. As someone who claims to not actually like beer, Rei has been a complete anomaly amongst our staff, but employed an encyclopaedic recall of beer descriptions and some degree of personal charm to more than compensate. She will be missed.
Any regular customers wanting to farewell Rei can come along next Monday evening and get in the queue to buy her a plum wine.
SOBA Winter Ale Festival
The SOBA Winter Ale Festival is approaching quickly. July 20 is just nine days away. SOBA's ruling elite are crowing about how good the lineup is going to be, especially since it includes a couple of goodies from Hashigo Zake's own stash. Specifically :- Moon Dog Dasher's Envy (a Christmas beer, which is appropriate for a winter festival) and De Molen Hel & Verdoemenis (meaning Hell and Damnation, which is kind of puzzling alongside a Christmas beer).
Tickets are at SOBA's website.
More Beer Week Events
Last week we announced a few of our Beer Week events, starting with the Garage Project Second Birthday Celebration on Saturday, August 3. Now it turns out that August 3 is two days too early to be considered part of the Brewers Guild's Choice Beer Week, which leaves us with no choice but to label our agenda simply Beer Week. Sigh.

As some of you are probably tired of hearing, Melbourne celebrated Good Beer Week back in May. (Is this a good time to mention that Good Beer Week ran for nine days?) Anyway, some of our brewing friends made good use of their time in Australia. ParrotDog took advantage of the chance to team up with 3 Ravens and Two Birds to brew a beer they called Fly By Night. It's a Black IPA made with, naturally, Falconer's Flight hops. And a handful of kegs from this batch are on their way to us.
Yeastie Boys meanwhile made a second visit to the fabulous Lobethal Bierhaus in the Adelaide hills for a second collaboration there. (The first, a moderate strength golden bitter called Bruce has become a hit in Adelaide and is permanently on tap at the Wheatsheaf.) This year they've gone for a darker, stronger beer with a twist that might just still be a secret. It's to be called Wendy, named after the other bulldog of Lobethal's owner/brewer Alistair.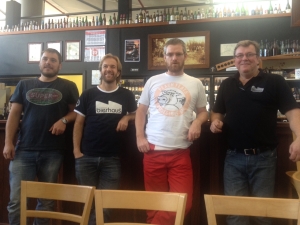 From left, 8 Wired's Søren Erikson (just a visitor that day), Sam Possenniskie, Stu McKinlay and Lobethal's Alistair Turnbull.
The following announcements might just be subject to change as both beers still have to be extracted from Australia:
On Monday, August the 5th we'll launch Fly By Night. And on Wednesday, August 7th we'll launch Wendy.
By the way, we're also taking advantage of this order of Wendy to bring over a pallet-load of other Lobethal beers, which is pretty good news, we believe.
To view the full range of events at Hashigo Zake between the 3rd and 10th of August follow this link.
Next Week's New Release
This week's new release was from De Molen which may have alerted some of you to the fact that a new shipment has arrived from the Dutch brewer. So we're gonna ride this wave and make next week's new release a De Molen beer as well. It's Lentehop, an IPA fermented as a lager, which some people therefore dub an India Pale Lager.
The arrival of this shipment also means that we have some pretty extraordinary bottled beer to sneak into the fridges as and when we can make space.
Lentehop goes on tap at 5pm on Tuesday.
Music On Saturday
This Saturday harmonica virtuoso Neil Billington returns with his band for two hours of Chicago blues. From 10pm and at no charge.