Last Week... New Release Tuesday... Carlos Navae... C!tra...
Last Week
Last week's edition of this email had a higher read count than any previous week. This would appear to indicate that a few people forwarded it around. Did we say something controversial?
Speaking of last week and controversy, here's some news that may surprise a few. For three years we've tried to persuade our regular customers to patronise our business over Sevens weekend (or "Munter Halloween" as it has become known) while trying to persuade "irregular" customers to stay away. After last weekend it's clear there's no point. When you combine the reduction in trade with the increased stress on our staff, property damage suffered, increased security costs and above all the feral behaviour visited on us no matter what we do to keep it out we really are better off closing our doors. Considering that we make a point of staying open on days when others don't bother, such as Boxing Day and New Year's Day, it takes a lot to rob us of the desire to open for business. But that's what Munter Halloween does.
So next Munter Halloween we'll be recommending that Wellingtonians do as we will:- bolt the door and get out of town.
New Release Tuesday
Next week we return to the fertile ground that is the catalogue of Dutch brewer De Molen, this time to try their Amarillo Imperial IPA. This comes with a pretty big reputation and stylistically should be right in the sweet spot for many of our customers, not to mention staff. And there's just the one 30L keg, so we recommend not waiting to see if it lasts until Wednesday.
As usual our new release will go on tap at the user friendly time of 5pm on Tuesday.
Carlos Navae
After a suspiciously long absence the Mexican born and raised singer and guitarist returns on Saturday evening. The Latin entertainment starts at 10pm in the lounge.
Now is probably a good time to remind you that as well as our usual Saturday night musical performances, we're branching out during the week of February 18-23 (Monday - Saturday) and hosting a fringe show. It doesn't mean we'll suddenly become a temporary theatre, simply that at 9pm each night our lounge will host Adam Page and James Nicoise performing We Built This City, their re-telling of the history of 80s music. Admission is by koha, or, for some of you, free!
On Saturday the 23rd this all adds up to a pretty heady lineup with We Built This City at 9pm, followed by Darren Watson's Underground Blues Band.
C!tra
It's been a long time between drinks but it's likely that Liberty C!tra will be back next week. This time it will be in same 500ml bottle that Liberty's three previous large scale batches (Yakima Monster, Yakima Scarlet and Alpha Dogg) have gone into.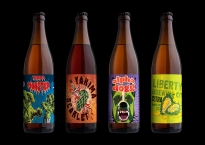 Finally, participants in the world's hippest industry conference will no doubt be looking for a bar with complimentary wifi and a 21st century internet connection next week. And to make Web Stock attendees even more at home, we look forward to securing some of Garage Project's contribution to Web Stock - a beer they're calling API. Maybe we'll get in special glasses to serve them in.