24 More... The X-Ray Catz.... Japanese Cuisine and Beer... 2012 Pacific Beer Expo Tickets... On Tap Now Or Soon... Shame...
24 More
In season after season of 24, Jack Bauer would take more physical and emotional punishment than any human could bear and still come back for another year. (Actually this is an assumption from someone who stopped watching after he survived a nuclear explosion.) But it would contradict everything we understand about a 24 episode series if Garage Project's incredibly successful 24/24 programme didn't make it back for another season.
So with the smugness of a television executive with a guaranteed ratings winner, we would like to announce that next week sees the first instalment of Garage Project's 24 More. Yes next Tuesday from 5pm we'll be partying like it's 2011.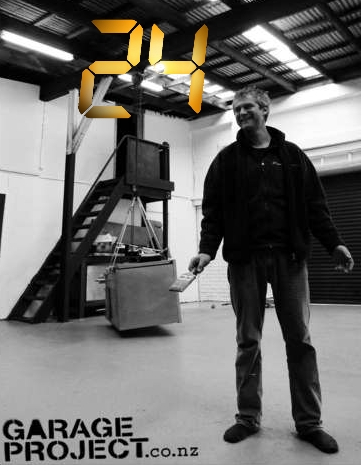 What beer could live up to the anticipation of another 24 experiments from Aro Valley's biggest brewery? Should we expect an ice-distilled, saffron-infused buckwheat quadruple IPA? Or a squid-ink and pepper pilsner?
As it happens 24 More kicks off with a 3.8% Bitter. But it's no ordinary bitter. Well, technically it is an ordinary bitter, but with some uncommon variations. For one thing it was brewed in public on a Sunday afternoon at Moore Wilsons. And some "local" ingredients were added in the form of water from Moore Wilson's own well and everyday groceries such as orange peel and marmalade.
And since this beer was brewed in public, it will be served in theatrical fashion - gravity-dispensed from a firkin on our bar-top.
So Moore Wilson Orange Marmalade Bitter goes on tap in the New Release Tuesday (formerly 24/24) slot at 5pm on the 11th.
The X-Ray Catz
New Zealand music legend Dave Mason returns on Saturday night at 10pm to play more rockabilly with the X-Ray Catz. If you'd told us three years ago that we'd not only host a rockabilly band at Hashigo Zake but welcome them back you'd have been laughed off the premises. Instead we're looking forward to it.
Japanese Cuisine and Beer
We feared that five days lead time wasn't enough for this event and so it proved. So late last week we decided to give ourselves and Shinobi Sushi an extra week before throwing open the doors to Wellington's most adventurous diners.
The rescheduled Japanese Cuisine and Beer starts at 6pm next Monday and places can be booked at Shinobi Sushi on Vivian St, here at Hashigo Zake or from our web store here.
2012 Pacific Beer Expo Tickets
Tickets for the Pacific Beer Expo went on sale on Saturday and have been selling pretty steadily since. The Saturday session has been particularly popular which prompts a couple of comments:
If you want to book for Saturday don't take too long.
Don't forget it's a long weekend so there's no need to fear the Sunday session!
The Pacific Beer Expo takes place on October the 20th and 21st, from 2pm to 7pm at the Boatshed on Wellington's waterfront. Tickets can be bought at Hashigo Zake or from the Cult Beer Store.
On Tap Now or Soon
As promised a few luxury leftovers from Beervana are finding their way to our taps. One of the most interesting is on right now. 8 Wired Festivus 2012 is a feijoa lambic. There are hints of the Mussel Inn's Lambagreeny - their magnificent but rare feijoa gueuze - though Festivus 2012 is probably a lot less sour.
Also coming up is the little that was left after Beervana of Feral Karma Citra. Festival patrons left little to pick over from the two Feral beers offered, but fans of what is probably Australia's best brewery can take heart. A handful of other Feral beers came over too and we'll be putting some on tap soon. (And keeping a little for the Pacific Beer Expo!)
We also snapped up what was left of Beervana's supply of the Bridge Road/Nøgne Ø collaboration called India Saison. Now we've been selling bottles of this beer that originated at Nøgne Ø. But this keg is from a Bridge Road batch. Completists should know that an upcoming shipment of beer from Nøgne Ø will include kegs of their version of this beer.
Ryan Sullivan's Imperial Stout from Moylan's came on tap over the weekend. For a multiple award winning brewery Moylan's tend to leave people divided. But we can assure patrons that this Imperial Stout is one of their exceptionally good ones. If in doubt, ask for a taste.
In anticipation of the arrival of an enormous order from San Diego's Coronado Brewery, we'll soon be putting on the very last keg of Idiot IPA in New Zealand.
Shame
Last Saturday was pretty eventful here for all sorts of reasons, not least being an amazing gig by Darren Watson's Underground Blues Band. But all the fun went out of the evening when an opportunistic thief nabbed the skateboard of one of our staff. It didn't take long to find raw footage of the act thanks to our security cameras. This was uploaded to youtube and propagated by social networking leading to some fairly strong clues about the identity of the thief. Meanwhile the staff at a local skate shop got in touch to say that the thief had sold them the board. (Or tried to - this part isn't entirely clear.)
So it looks as though the goods in question may well be returned to their rightful owner and we thank everyone who helped spread the word over recent days about the theft and the footage. It's not entirely clear whether complete justice will be done, and the story isn't over.
Now we at Hashigo Zake need to be tolerant and patient (it's part of the job) and don't want to be vigilantes. But when the safety or personal property of staff or patrons are threatened we will energetically use whatever tools are at our disposal, including shaming perpetrators, to claw back some of what we lose to petty (or not so petty) crimes.