Our Precious... Benny and the Jets... Pacific Beer Expo Update... Fact Checking...
Our Precious
Back in May beer writer Geoff Griggs described a trip to the Pelican brewpub in Pacific City Oregon that he made with 666 brewer Graeme Mahy in April this year. In that time Pelican's Head Brewer Darren Welch and Graeme worked together on a pale ale made with New Zealand hops. Geoff commented "most likely none of us will get to sample the finished beer."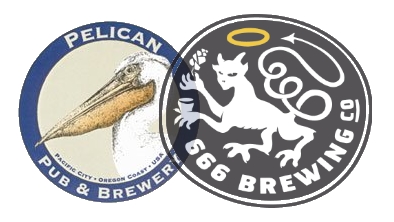 Has New Zealand's most respected beer writer ever been more wrong? Little did Geoff realise that his and Graeme's movements were being tracked by a posse from Hashigo Zake, who snuck into Pelican a few days after them, sampled Our Precious from the fermenter, sent kegs to the brewery, cajoled the staff there into filling them, then needed two attempts to collect those kegs as the freight truck couldn't handle the dodgy road out to the beachfront brewery.
The beer has taken a long time to reach New Zealand but it has remained cold this whole time and we're crossing our fingers that it hasn't aged too quickly. In the short time before it ran out at the brewpub it was said to have been the fastest selling seasonal they had ever had. So we'll have great expectations when we put Our Precious on tap next Tuesday at 5pm. Here is Pelican's own description of the beer:
Golden-colored and medium-bodied, Our Precious features a hop character bursting with fruity Kiwi hops, balanced by a malt backbone of Pale Ale, Melanoidin and Caramel malts.
But this isn't the first time that we at Hashigo Zake have stuck our beaks into the business of collaborating breweries. Earlier this year we loaned kegs to Yeastie Boys that enabled us all to sample Bruce, their collaboration with Adelaide's Lobethal Bierhaus. And last year of course we carted Nøgne Ø's Kjetil Jikiun around the country on a tour that yielded Summer Sommer (with Garage Project) and Ø For Awesome with 8 Wired and Renaissance. To celebrate this recent spate of international collaborations we'll put some of our remaining stock of Bruce and Ø For Awesome on tap alongside Our Precious. So next Tuesday you'll be able to come down and sample three examples of New Zealand breweries collaborating with foreign brewers.
Benny and the Jets
Another precedent was set last Saturday night during our weekly musical slot: the band didn't show up. Of all the possible outcomes from our ongoing experiment with live music, a no-show by the band wasn't one we'd considered. We'd give everyone in the bar on Saturday their money back but no-one had actually paid to be there. All we can do is apologise to anyone reading who was disappointed or inconvenienced by the lack of a Latin Jazz band on Saturday night.
A quite powerful tale has emerged for why the band couldn't show up on Saturday but it's not the kind of story that should be discussed publicly. Maybe it will be told one day.
This week we have a new act (for us) in Benny And The Jets. Rather than an Elton John tribute act, we're promised "a night of funk classics and heavily groovilised '70s TV themes. Loads of fun guaranteed to get you up and shaking it."
The shaking starts at 10pm and there will be no cover charge. And for anyone made nervous by the thought of a live band and who hasn't been present for one of our late night gigs, please be assured that if you're not in the room where the band are playing your Hashigo Zake experience is not actually changed much - conversation and even occasional sports viewing are still possible on the other side of the bar.
Pacific Beer Expo Update
Planning for the Pacific Beer Expo is in full swing and we can announce another detail or two.
We first brought in some beer from Left Coast earlier this year. Our first order was small - just a mixed pallet of bottles of four beers - the classic, but by US standards understated, IPA called Trestles, a Black IPA called Wedge, Voodoo Stout and a ferociously hoppy Imperial IPA called Hop Juice. We thought that the beers and their beautiful silk-screened bottles were a hit so when the time came to reorder we went hard.

We now have kegs of most of the range. In particular we have lots of Hop Juice. We look forward to unleashing Hop Juice on festival goers who haven't been lucky enough to try it yet.

(Customers coming in to Hashigo Zake in the next few days might like to look out for a foretaste of Hop Juice coming on tap.)

We had our first taste of beer from Doctor's Orders Brewing just a few weeks ago in the form of their White IPA called Plasma. At the Pacific Beer Expo we'll unleash their next offering, a weizenbock called Defibrillator.
Finally we can announce a component of the festival that isn't a drink (or food). It's a travel agent. Beer Tours NZ is a new venture by Auckland travel agent Glen Armstrong. He's developing actual, structured beer tourism for the New Zealand market and will be present at the festival to field queries. And coincidentally his facebook page features a photo of the Pelican brewpub.
Tickets for the event are still on sale here at Hashigo Zake or at the Cult Beer Store.
Fact Checking
Congratulations to Pete Gillespie on another appearance in the media, this time on TVNZ Breakfast this morning. It's at http://tvnz.co.nz/breakfast-news/growing-business-garage-project-video-5094840. And once again the story was told by a reporter who didn't giggle and snigger all the way through it. A little fact checking wouldn't have hurt though. ("Saturday night" at some "local bar"??!!)
Speaking of fact checking the US presidential campaign has only two years to go. No, sorry, I'm told that's seven weeks. It reaches what may be its peak in a couple of weeks when Fox News rantperson Bill O'Reilly faces probably the finest spokesperson that normal, rational people have ever had - Jon Stewart - in a live debate. The event is being streamed live on the interweb at 1pm on a Sunday (New Zealand time) and it seems like a perfect event to apply our ridiculously fast internet connection to. So who fancies some politics and craft beer on a lazy Sunday afternoon?