Modest Mouse... Music... De Molen and Amager... On Tap Now or Soon... A Plug... From Our Foreign Correspondent...
Modest Mouse
We mentioned a couple of weeks ago that we'd sent our own Steven Wells to Dunedin as part of our programme of getting our staff onto the floors of some of New Zealand's finest breweries. In this case Emerson's were the recipients of some donated labour.
But rather than just put Steven to work carrying sacks of grain and cleaning the mash tun with a toothbrush Richard was kind enough to involve him in designing a pilot batch of a new beer. That beer's time has come and so we're in possession of a number of kegs of Mild as a Mouse. It's a mild in style and is intended for our hand pumps. So on Tuesday our new release will be the first ever Emerson's/Hashigo Zake collaboration.
As usual the first glass will be poured - this time by its assistant brewer - at 5pm.
Music
We're unlikely to ever be a full-time music venue, but we're taking small steps towards having a regular, credible musical presence at Hashigo Zake. As you may be tired of being told, we're in the middle of a season by our good friend and favourite South Australian Adam Page with his trio of Counts. That's Counts. And the second to last date of this memorable residency takes place at 10pm on Saturday.
After Adam Page and the Counts finish their run on Saturday the 23rd, we're planning to turn the 10pm Saturday slot into a regular, rotating gig. We'll announce more details over the next couple of weeks, but all the signs are that there will be another reason to come down for serious beer on Saturday evenings.
De Molen and Amager
A few places remain for our tasting next Wednesday (the 20th) of brand new imports from De Molen and Amager. This week's launch of De Molen Bed and Breakfast should have made a few curious, although it may have put one or two off as well.
Bookings can be made at the Cult Beer Store, at http://www.cultbeerstore.co.nz/collections/frontpage/products/de-molen-amager-tasting. Note that signing up here will get you on our list for the evening, but no physical tickets will be issued.
On Tap Now or Soon
As usual there will be no shortage of rare and/or interesting offerings on tap now or in the coming days.
As promised last week, Yeastie Boys Her Majesty 2012 is on tap right now. And as promised it's an extravagant twist on a Scottish/Scotch ale.
Also still on tap is this week's new release - De Molen Bed and Breakfast, for anyone wanting a potent dose of coffee with their pale ale.
Some returning favourites in the form of Invercargill Boysenbeeryand Mata Brown Boy.
From Norway's Nøgne Ø (and in collaboration with Japan's Tamamura-Honten brewery) comes Not So Mild Ale, which is a mild ale, regardless of what the name suggests.
And to appease the inner hop-head in all of us, a keg of Green Flash West Coast IPA shall be consumed.
A Plug
From what we're told, this year's SOBA Winter Ale Festival barely needs any promotion and it looks certain to sell out again. This may be because the lineup this year will be the best yet. And it will include one or two from our own cellar.
Sadly we have to avoid calling it the Matariki Winter Ale Festival this year, lest an opportunistic wine company comes looking for royalties.
For more details, go to http://www.soba.org.nz/wellington/soba-winter-beer-festival or buy tickets from http://www.soba.org.nz/shop/winter-ale-festival-ticket.
From Our Foreign Correspondent
It's a pleasure to see Yeastie Boys earn some well-deserved attention for their stunning showing at the recent Asian Beer Awards in Singapore. It was a fascinating event and something of a reunion for several figures from the New Zealand brewing industry, who were participating as judges and/or entrants, including Leon Mickelson, formerly of Hawkes Bay Independent Brewery, Colin Paige, once of the Wellington Brewing Company and Mac's and Gareth Hughes, the General Manager of Moa.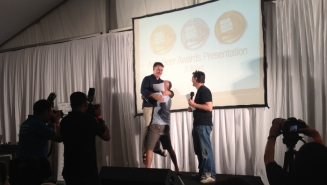 The awards ceremony was an interesting and quite casual affair, with many of the New Zealand contingent making it on to the podium and medals going to generally sublime but at times ridiculous beers. The full results are here.
Yeastie Boys are one of a handful of New Zealand breweries being imported on a tiny scale into Singapore. A new company called The Beer Bach is responsible for a lot of this - their stall at last weekend's Beer Fest Asia is pictured. We wish Melissa and Shem well.