New Events... New Beers... New Menu Items... Easter Trading Hours... 250...
New Events
New Event 1
Our first new event is quite experimental, while continuing our recent dabbling in the challenging world of food and beer matching.
We've been inspired by the exquisite and distinct new offerings from The Prodigal Daughter. (See below for a couple of new menu items based on her products.) On May 10 we're going to construct a tasting around the concept of Beer and Antipasti. We're looking for combinations of craft beer and gourmet Italian nibbles. There's an element of chance about pairings like these, but we know that the ingredients will be pretty special. See http://www.cultbeerstore.co.nz/products/beer-and-antipasti for bookings.
New Event 2
The part-time chefs on our staff are now locked in a rivalry to produce the most stunning beer-themed meal that can be conjured in our micro-kitchen. Last week Sam raised the bar and now Shiggy is developing a menu for another five course extravaganza scheduled for June 14. Shiggy wants this meal to have an Asian theme, and he was brought up in Japan and Thailand, so we can expect some pretty clear influences.
New Event 3
The next date on our calendar is June 21, which happens to be the winter solstice (give or take a day). It's also a few days before SOBA's 2011 Winter Ale Festival. So that night we'll host a dedicated Winter Ale Tasting.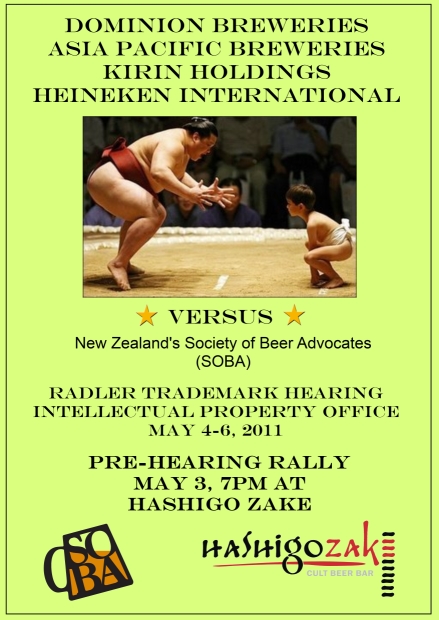 And an Event Reminder
As discussed at length in recent dispatches, we're greatly looking forward to SOBA going toe to toe with the most expensive lawyers that DB and their Corporate Masters can find budget for. It's a mystery to most of us why the makers of products such as Tui, Heineken and Tiger haven't conceded graciously on this one - perhaps an expert in corporate manipulation of intellectual property could come along on May the 3rd and explain.
New Beers
Speaking of DB and the manipulation of intellectual property law, the mega-brewery did have the good grace to relinquish one trademark (that they had stopped using). So for a year or so it has been "legal" to make or import a beer in the style of a Saison.
Which is great news because the 600 litre batch of Saison (or Sa!son) made at Invercargill was one of THE beers of 2010. Last year's experimental beer is this year's official autumn seasonal. Now a keg of this beer is on our premises and may well be on tap by the time you read this. Get in before the proprietor drinks it all.
Did we mention our single keg of 8 Wired Barrel Aged Big Smoke Porter? It's on tap now.
Last year Croucher Brewing made a Christmas beer - a big, warming, spiced beer. Just the thing for the cold, northern hemisphere Christmas. In Wellington's climate we thought Easter would be a more fitting time to serve it. Look for it on tap over the hot cross holiday weekend.
New Menu Items
We've found what might be the perfect accompaniment to the big macho, hoppy beers that too many of us are addicted to. Courtesy of the Prodigal Daughter we have access to rare and exquisite Italian cherry chillies. After soaking in olive oil and garlic they are overflowing with enough flavour to jolt the most desensitised palates. For just $5 you can chomp your way through a small bowl of these.
We're then taking the thoroughly infused olive oil that the cherry chillies have been stored in, adding garlic and sea salt and making the sharpest, tastiest bruschetta you've ever tried. Again it's $5 for a small plate.
Easter Trading Hours
On three days a year we're required by law to remain closed. Two of those three days are this weekend. And remember that being closed on those days means closing by midnight the night before. So here's the full rundown:
Thursday: open from midday until midnight.
Friday: closed all day.
Saturday: open from midday until midnight.
Sunday: closed all day.
Monday: we open one hour late, at 1pm, as it's Anzac Day.
We won't be applying a surcharge on Monday. In fact being a Monday, we'll be offering our standard discount to members of SOBA. And we endorse the views of Wellingtonista on the subject of surcharges:
Surcharges must be clearly indicated BEFORE you order food, not after. This is the same for credit card charges (some places claim extra card charges on public holidays). Feel free to tell any infringers of this that it breaches the Fair Trading Act and that you'd be happy to report them to the Commerce Commission.
250
We now have 250 subscribing to this email. Congratulations to you, the old-school readers of this email, who receive a far better class of glib propaganda than our facebook followers.