More on the Radler Trademark Hearing... Sexual Chocolate... Other Treats... Tastings... For Sale...
More on the Radler Trademark Hearing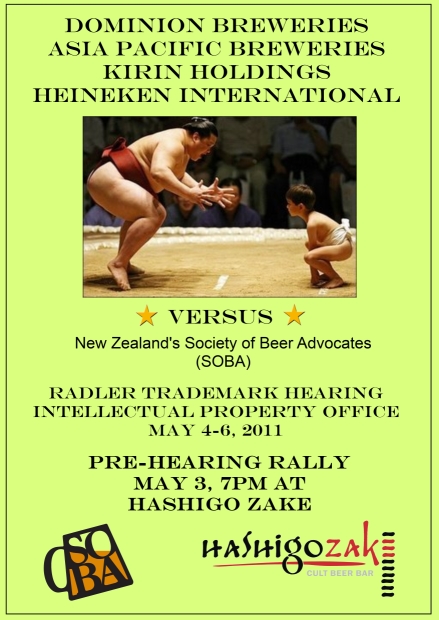 A couple of readers have suggested that there has been a tone of premature triumphalism in previous messages on the subject of the upcoming Radler Trademark Hearing. If that is how the messages have been perceived then that is unfortunate. Because while there is as-good-as universal agreement about who is in the right in this dispute, it would be foolhardy to rule out the possibility that a colossal multinational corporation will conjure some kind of legal travesty and win on the day. So any self righteous confidence in our tone should simply reflect our belief in the rightness of SOBA's stand, not certainty regarding the outcome.
That's one reason why we want to celebrate being on the right side before the hearing itself. Plus of course we don't know when the adjudicating body will deliver its decision.
Sexual Chocolate
Joseph Wood at Liberty has a new creation. It's actually a collaboration with home brewer Barry Hannah. We're not sure which of them came up with the name and how much significance it has. But we have confidence that this "intercontinental brown ale" will be as much of a hit as Liberty's West Coast Blonde series. The first keg went on last night, Wednesday.
Other Treats
We've been lucky enough to have a steady supply of Mike's Imperial IPA since the middle of last year. But interruptions to that supply are becoming more common and the next keg to go on could be the last for a while.
Those who enjoyed Yeastie Boys Hud a Wa on the handpump have just a day or two to wait for it to be on tap.
Our last keg (for a month or two) of Green Flash West Coast IPA is on tap now.
There's more of the Sprig and Fern's absurdly aromatic Harvest Pilsner on tap over the next day or so, along with their Doppelbock.
Tastings
The first Beer & Food Dinner masterminded by our own Sam Whitney took place on Tuesday and was every bit as successful as we expected. Our only regret was that we couldn't fit any more of you in, but we are truly constrained by a kitchen that is little more than a glorified cupboard.
Similar events will follow. It's just a matter of juggling the ideas of Sam and Shiggy and fitting them in with the other tastings we have in mind.
The long awaited Sour Beer Tasting is next week. We know that some of you appreciate that this will be the tasting equivalent of heli-bungying without a helmet and have signed up accordingly. A few places remain for those still wondering whether you're made of the right stuff. Details are here.
We are working on our tasting programme for May and June. Without spoiling the surprise we can promise more extreme beer, more food and something seasonal. Watch this space.
For Sale
Want to own your own working piece of Hashigo Zake? We've upgraded the "naughty fridge" - the one with all rare and expensive bottled beauties behind the bar. You can bid for the original on trademe.