Unplanned Bathroom Renovations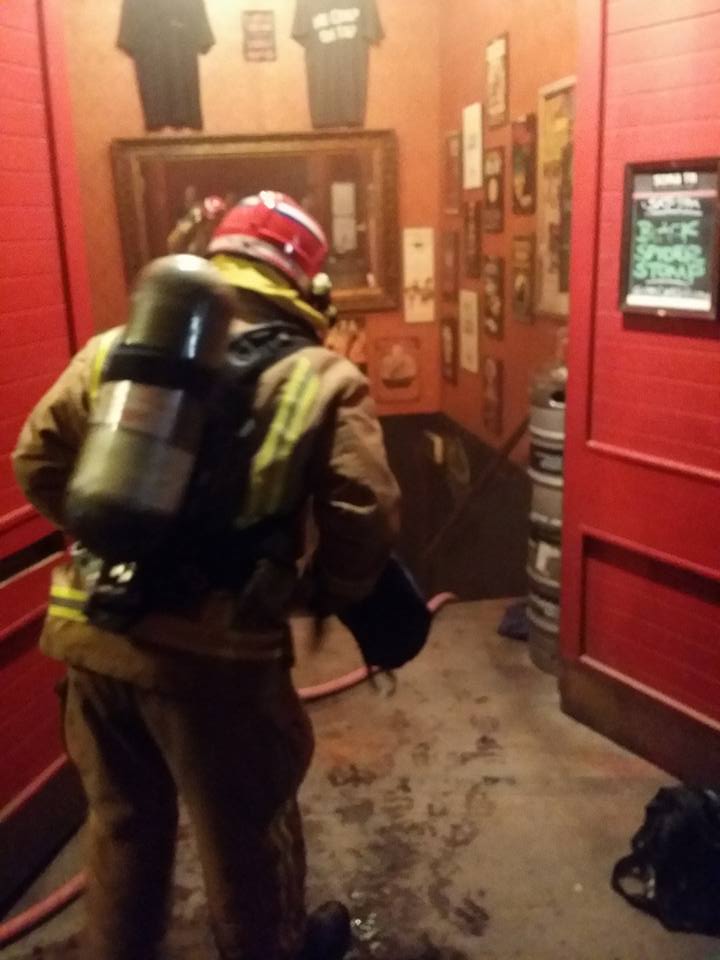 You may have heard we had some drama at the bar last Friday night.
Don't worry; we're still open for business
for this crazy Beervana week! Albeit with a slightly altered toilet arrangement.
At around 11pm on Friday Night our staff began to smell smoke. This is usually a sign that someone has forgotten about a garlic bread in the oven. This time however, the smoky smell was coming from the male toilets.
Upon opening the toilet door our staff were greeted by a wall of thick, black smoke.
The fire had clearly progressed beyond a fire extinguisher's capabilities, a quick evacuation ensued and the fire brigade were called to combat fire.
Thankfully our amazing fire fighters are situated just up the road, and turned up quickly to put the fire out.
After the carbon monoxide had cleared we were allowed back in, to survey the damage and give statements to police.
The fire investigator found that the fire was deliberately started, by setting a paper towel dispenser alight. Paper towel dispensers don't just spontaneously combust, meaning this potentially life-threatening fire was a malicious act of arson.
As you can see on the left, the male toilets are well and truly out of commission until a full rebuild is carried out. However we are lucky to have enough other toilets in the bar to continue trading. So when you visit this week you'll notice we now have three all-gender toilets.
Please bear with us as we rebuild from this act of vandalism, and we'll have things back to normal as soon as possible.
We also invite anyone with insight into who might have been in or near Hashigo Zake and behaving suspiciously at around 11pm on August 5th to either get in touch with us or call the Police and mention file 160806/5526.
Even Light Can Not Escape 8 Wired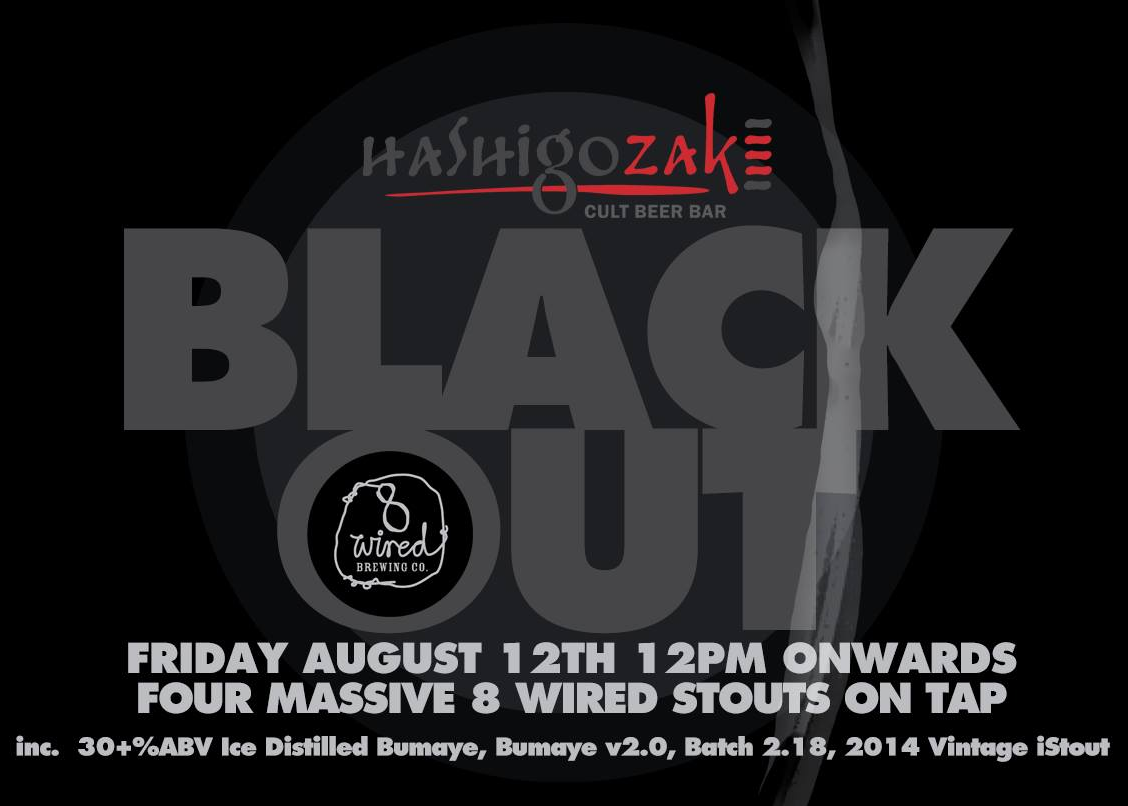 Today is the
8 Wired Blackout
, and we now have available four of 8 Wired's most MASSIVE Imperial Stouts.
- 8 Wired iStout 2014 Vintage (10%, 300ml)
- 8 Wired Batch 2.18 Oak Aged Imperial Stout (12%, 200ml)
- 8 Wired Bumaye Imperial Stout Aged in Pinot Noir Barrels (16%, 100ml)
-
8 Wired Ice Distilled Bumaye (30%, 50ml)
All four of these stouts are available today, and you can try all of them in a four-trip-ticket style flight for
just $20.
Ice Distilled Bumaye is the final form of Soren's freeze distillation project. We've seen ice distilled bumaye in its initial 16% form, then 22% a year later, 27% a year after that and now we've reached 30%.
What a beer tastes like after such a treatment will be something to behold, and limited to a lucky few.
We've only got a limited amount
of this massive beer, which is likely to only be available today so make sure to visit at some stage.
And of course all four stouts will be available on their own if you're just keen on one or two.
Live in the Lounge: Vincent Vega Trio
We've organised a special band outside of our bi-weekly special this Saturday to keep the Beervana energy flowing even after the final session.
Vincent Vega Trio
will be performing in the lounge
from 10pm
this Saturday, continuing on till midnight.
Post-beervana patrons will be treated to a hot blend of surf, funk, soul and blues by Chris Armour - guitar, Greg Crayford - drums and Nick Lissette - bass.
There's no charge for this added entertainment, and we'll likely have some of the delicious blackout/litmus fest leftovers still pouring.
NRT: Beervana Mystery Special
With the insanely packed week of beer that is Beervana week, inevitably comes a lull following. As such, we haven't locked in a rock-star beer for next week's New Release Tuesday.

However, another inevitability following Beervana is a glut of amazing kegs left over from the festival.

We've spied a few pallets of pretty amazing looking US brews chilling out down at the BwB coolstore waiting for this weekend. So on Sunday morning we'll be looking to acquire our favourites from the festival to bring to you over the coming weeks - starting Tuesday.

Keep an eye on our social media for updates on what we've got coming.