Post Fest
I'm guessing quite a few of you attended SOBA's annual Winter Ale festival on the weekend, I've been hearing heaps of positive things about it. We're now quite looking forward to running the Pacific Beer Expo in October. We've managed to secure a few leftovers from WAF, so look out in the coming week for:
Kereru Weizenbock
Behemoth Hazelnut Milk Stout
Martinborough Imperial Stout
A cask of Townshend Keystone Milk Stout
Moa Cherry Sour
Speaking of Moa, they've been quite well behaved recently as far as offensive marketing is concerned- hence the upcoming tap spot. Moa may have learned their lesson, but it seems
Williams Warn
need a kick in the butt now.
Vincy Princy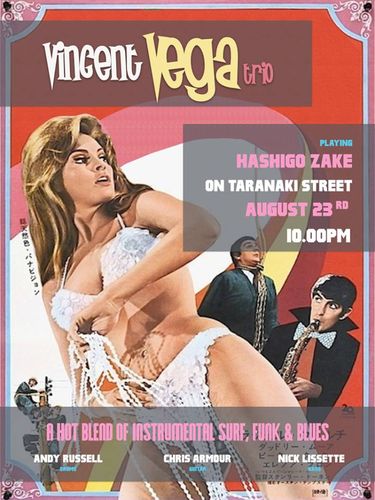 This Saturday's free gig in the lounge comes from the
Vincent Vega Trio
. Known for their 'hot blend' of surf, funk, soul and blues with Chris Armour (guitar), Andy Russell (drums), Nick Lissette (bass). Come on down and chill out with some good beer and good music. As usual, the guys kick off at
10pm this Saturday
.
Honey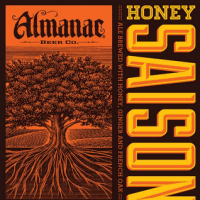 This Tuesday we'll have Almanac's
Honey Saison
on tap for the first time - all the way from San Francisco. Brewed with Bay Area honey from Marshall Farms, wheat, California two-row barley, French oak and fresh, local ginger root for a hint of spice. Balanced with earthy Mount Hood and Saaz hops. Honey beers often get lumped into the sweet, sugary category of beer - but most of the time the opposite is true. Honey sugars are highly fermentable, so almost 100% is consumed by the yeast which actually drys out the beer. The flavour components of the honey tend to remain which give the beer its character. Almanac's Honey Saison shows this well, with a great balance between saison yeast flavours, hops and honey. Half of
the Beer Diary Podcast
agrees. Catch Almanac Honey Saison on tap
Tuesday from 5pm.
'Murica Day
We had a wee dress rehearsal of July 4th last Friday with the launch of 'Murica Pale Ale. You may have noticed the large amount of stars and stripes adorning the bars walls and ceiling.
Because bigger is better, you can expect four times as much on Independance day, but the main show will be the eight American brewed beers on tap as well as one on handpump.
We're confirming the line-up with Beer Without Borders currently, a well timed shipment of kegs from Speakeasy should be arriving a few days before so you can at least expect some super fresh Big Daddy!
We've also booked in the Fire Truck food truck to provide american style fare on the night.
Full details of our annual celebration of everything 'murican will be revealed in next weeks newsletter.