Venusian Pale Ale... Saturday Entertainment... Tuesday's New Release... Look Out For... IP Watch...
VPA Launch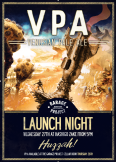 Way back in mid-to-late 2011, Garage Project brewed two beers to coincide with a special event at the Roxy that blended food with Steampunk in the form of Greg Broadmore's work. We got to serve them here as well. One was Venusian Pale Ale, a strong pale ale infused with every just about ingredient they could get their hands on with citric notes, including kaffir lime leaves, grapefruit peel and lemongrass. The result was pretty memorable.
Garage Project have just made the first full batch of Venusian Pale Ale and we're rapt to have the opportunity to (re-)launch it next Wednesday evening from 5pm.
We're planning to decorate the place with a little of Dr Grordbort's memorabilia and receive a visit from the artist himself and maybe even one of Weta's big wigs. There may also be a rare keg of VPA's brother beer, Lord Cockswain's Courage, on tap.
Now it seems that we aren't the only ones who've schemed to use the Wednesday before Easter for a special beery occasion. We encourage anyone with the stamina to take in the VPA Launch and the Yeastie Boys Tap Takeover at Bin 44. It's no more than Lord Cockswain would do before breakfast.
Saturday Entertainment
Darren Watson's Underground Blues Band return on Saturday night. From 10pm but we suggest arriving in plenty of time to grab a seat.
Tuesday's New Release
As well as Wednesday's VPA Re-release, we'll be holding our traditional Tuesday release. In honour of the recent spell of wintry weather, we're breaking out a winter beer. Too bad if the Indian summer will be back on Tuesday. It's Klap van de Molen from the Netherlands' De Molen. The 2012-13 batch is a strong amber ale spiced with cinnamon, vanilla and caraway.
Klap van de Molen will be on tap from 5pm on Tuesday.
Coming Up
Apart from the aforementioned rockstar beers being launched in the next seven days there are plenty of beers of note, both new and old, waiting in the keg room. Look out for:
Resolute Peerie Pale Ale.
666 Red Se7en.
Green Flash Imperial IPA.
Hallertau Saison.
Bear Empire Saboteur.
Hip Hop Pilsner and Tumeke IPA from Mata.
IP Watch
It's a sad but undeniable fact that the acquisition of Emerson's Brewery by Lion Nathan/Kirin means that all of that company's assets - physical, intellectual and pertaining to the soul - became the property of the great brewery gobbling corporation. So we can hardly complain about this, BUT...

isn't it a bit galling to see the "Lion Nathan Brands Company Limited" apply for trademarks for Bookbinder, Taieri George, 1812 (can you trademark a year?), Bird Dog (how do the Verlaines feel about this?), and JP?
Finally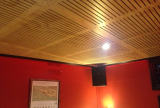 Many of you (and us) will be relieved to learn that part of our Red Room now has Hush Panels.
Congratulations to Michael Donaldson for (a) finally getting his weekly column onto the web and (b) demonstrating the benefits of healthy scepticism and a little subject knowledge when reporting on the behaviour of breweries. We suggest that NBR takes note and Hancocks review their branding.
And Hashigo Zake management has reason to believe that long standing staff member Dylan Jauslin will stop turning up to work soon.