Happy New Year... The Best of 2012... Single Hop IPAs... Music this Saturday... New Release Tuesday... Victory at Sea... Wellington Anniversary Weekend...
Happy New Year
Welcome back, all of.. well.. some of you. We wish our customers all the best for 2013. We also thank those of you who stayed in Wellington over the Christmas and New Year period and made it worth our while staying open. We'd also like to thank all the Wellington hospitality businesses who helped us by either closing or applying surcharges.
Our Best of 2012 Survey
The observant among you would have noticed that it's now 2013, so it's now a sensible time to reflect on 2012. We've had a lot of fun with our survey over the last two years, it's time we rolled out this year's version.
Little has changed. There are one or two more questions. And this time every multiple choice answer allows you to write in an alternative. We'll keep an eye on any of these and will add any (sensible) alternative answers back in as options for future respondents.
Anyone who wants to be influenced by last year's results can check them out at http://hashigozake.co.nz/2011survey.pdf.
You may take the survey here. We'll keep it open for a week or two and announce the results at a glittering, $200-a-head awards dinner later in the month.
Single Hop IPAs
One of Mikkeller's recurring experiments is the Single Hop IPA series. In the past we've been able to showcase a number of these and we recently received a load of kegs from the latest round of parallel single-hop brewing. It's going to be an education for many of us, with varieties like Galena, Super-Galena, Mt Hood and Cluster plus a few old favourites like, Citra, Amarillo, Cascade and.. ahem.. Sorachi Ace.
For those unfamiliar with Mikkeller's Single Hop series, these are IPAs brewed with recipes that vary only in the single hop variety that each one uses. They're all 6.8%, and usually delicious - unless the hop used is a "problematic" one.
Super-Galena is waiting in the wings and we'll be working through them steadily after that.
Music This Saturday
We decided not to interrupt our programme of live music over this period and we're pretty pleased with the result. It has kept Saturday nights (and New Year's Eve) humming at a time of year when supposedly you're all out of town.
This Saturday it's the return of Neil Billington, this time with his own blues band, which includes some pretty familiar names. The Chicago blues start at 10pm.
New Release Tuesday
After last week's Mikkeller two punch, we're sticking with a European brewer and launching what should be a flavour bomb from De Molen. It's their Rye Amarillo/Cascade IPA. After a succession of big De Molen beers packed with coffee, malt or both, an American hopped rye IPA at a mere 6.6% ABV will seem like light relief. But we've got a feeling this won't lack for flavour.
As usual the new release gets newly released at 5pm on Tuesday.
Victory at Sea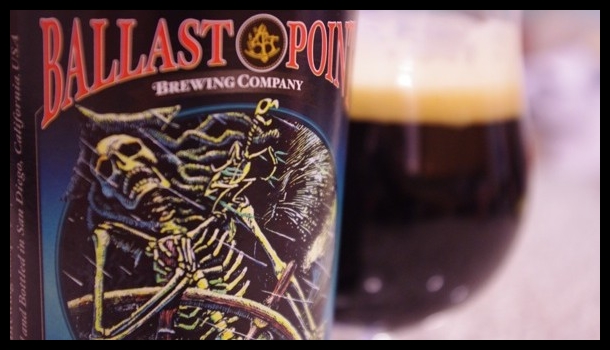 We've just had word that our first new consignment of Ballast Point Victory at Sea in two years is somewhere in the Wellington metropolitan area. It's likely that we'll have it available in bottles by the weekend and maybe even on tap soon.
For the uninitiated, Victory at Sea is a 10% ABV Imperial Porter flavoured with coffee and vanilla. It was wildly popular last time we got it in and we understand that it was the inspiration for Mike's brewery's recent (very good) Coffee Vanilla Porter. This time we've got more than the staff can drink on their own and hope to see it get out to plenty of other outlets.
Wellington Anniversary Weekend
Anniversary day is just a few weeks away. As a parochially Wellington-based business we're keen to celebrate our city's birthday. So over Anniversary Weekend we'll be dedicating all our taps to Wellington-brewed beer.
Even a year ago this would have been an awkward thing to attempt and would have required a lot of cooperation from the breweries to make sure we had enough volume and variety of beer. This year we look forward to not only having great local beer occupy the taps for more than three days, we'll have no trouble sticking to our usual practice of steady rotation.
The Wellington Anniversary Tap Insurgency will start on the evening of Friday, January 18 and continue through until the end of Wellington Anniversary Day, January 21.