Immediately below Beer Decadence... The End of Time... Rye IPA... Music This Saturday...
Beer Decadence
As foreshadowed in last week's email, next Tuesday Garage Project will unveil what might be the most extravagant beer ever made commercially in New Zealand. The story began when Boundary Road mailed five dollar notes to 22,000 people and Garage Project invited recipients to donate them to a "fermenter fund". The amount raised wasn't quite enough to fund any serious stainless steel purchases, so instead it was used to fund the purchase of the most expensive ingredients possible for a beer.
The result is a Belgian Blonde Ale fermented with a Champagne Yeast, and conditioned on White Truffle infused Honey and fresh grated White Truffles. And we'll be launching this affront to brewing's blue collar roots on Tuesday at 5pm.
The End of Time
Plenty of people seem to have been conflating the alleged Mayan prediction of the end of the world (scheduled for 21/12/2012) with the numerically quaint date of 12/12/12. So really, anyone celebrating having survived yesterday is in danger of looking pretty silly in eight days time.
But for many the question is not "will the world end next Friday?" but "how will we survive?". Yes apparently the end of the world is somehow survivable. Just as well because there's not much point flogging Let's Get Ready to Rapture coffee mugs if you aren't around to spend the proceeds.
But as even the Decembertwentyfirstists admit, they aren't quite sure how the end will come, so it's hard to see what measure will really see any of us through. In other words, we guarantee that the survival strategy we are about to give is as effective as any and every other one.
That strategy is to come along next Friday and inoculate yourself against the end by drinking Liberty Brewing's La Fin du Temps (incorrectly called La Fin du Monde last week) which is an experimental, small batch, strong Saison. Then when you wake up on the morning of December 22 try to remember that we're something like eighteen hours ahead of Mayan daylight time.
Rye IPA
A month or so ago we were visited by Adam Betts of Melbourne distributor Northdown and Christian Skovdal Andersen of Danish brewing company Beer Here. They were on something of a tour, mixing white water rafting with some white-knuckle brewing at Tuatara and Croucher, that we believe will result in some collaborative releases in the near future.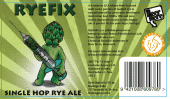 They also visited Invercargill Brewery to make a Rye IPA hopped only with Australian "Ella" hops. The resulting beer is Ryefix IPA. At the time of writing kegs and bottles of this beer are on their way north to us and in a day or so we'll be rushing this onto our shelves, taps and to our wholesale customers.
Incidentally Ella hops were once known as "Stella" (just as a slightly better known Australian hop is called Galaxy) until an objection from whichever corporate entity now owns the Stella Artois. No we're not making this up.
Music This Saturday
We host a new musical act this Saturday, just in case there was a danger that some of our regular acts became too much of a good thing. They're Scarlet, a two piece jazz and soul combo. They're on at 10pm on Saturday with the now traditional $0 cover charge.
And just quietly, the 2013 Fringe Festival programme came out yesterday, and there's a small development in our role as a performance venue.
Finally, and still on the subject of live music, Hashigo Zake's management mourns the recent tragic death of the unique performer and uncannily nice Wellingtonian, Steve Andrews.