Breaking With Tradition... Garage Project Releases... Craft Beer College "Exam"... Live Music... The 2012 Santa Session...
Breaking with Tradition
We're breaking with a tradition dating back to the end of the first decade of the 21st century by sending this email on a Wednesday. This is to correct a grievous omission from last Thursday's email. On that day we failed to draw attention to an event of some significance happening, ahem... [shuffles papers, mumbles] this evening.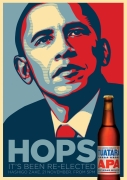 Yes this very evening we have the pleasure of being the first outlet anywhere to tap a keg of the 2012 release of Tuatara American Pale Ale.
This beer has enormous significance for many of us. To be blunt, its release a couple of years ago was the first time in years that hopheads took Tuatara seriously. It paved the way for Aotearoa Pale Ale, Conehead, Mayday and Double Trouble. But this APA is dependent on the supply of those decadent US hops.
So we're delighted that Tuatara have made a large pile of kegs of the stuff available for us to serve tonight and (depending how tonight goes) for a few more days after that.
Those arriving on or shortly after 5pm should find some pretty generous samples of the beer being doled out too. We're also expecting many of Tuatara's key personnel to be on the premises at the appointed hour.
Now we are also aware that a certain other institution of the Wellington craft beer phenomenon returns this evening - Regional Wines and Spirits Beer Options. For the last couple of years we've sponsored prizes in this event, only to see them come back tucked under the arms of members of a team made up of staff from Hashigo Zake and Craft Beer College. We're undeterred and will, once again, try to supply some swag that gives competitors an extra incentive to unseat the reigning Beer Options champions.
Beer Options competitors are welcome to return to Hashigo Zake after the competition to sample some of the new batch of Tuatara APA. And if you latch on to Dave or Shiggy you might even be able to sponge a taxi ride.
Upcoming Garage Project Releases
There's an unintended theme to this week's news. Just as Tuatara release their clearly American influenced beer, Garage Project are about to release a succession of beers with American "inspirations". The first of those comes on Tuesday. It's California Über Alles, an interpretation of the famous but not so common California Common style. (As in Anchor Steam™.)
The vital info is that California Über Alles is brewed with US Northern Brewer hops, Pale, Vienna, Crystal and Caramel malts and California Lager yeast. We're told that in the next few weeks Garage Project will be releasing batches of Pils'n'Thrills, Golden Brown and Angry Peaches - all with US connections. There's more info on Garage Project's own site.
Note that as a beer made for general release California Über Alles isn't part of Garage Project's 24 More programme. But we know that more experiments in that series are waiting in the wings. We expect more from 24 More before Christmas.
There's some bonus news for fans of Wellington's most garagey brewery. All pretence of secrecy over their trip to Tuatara about a month ago has been abandoned and we can talk openly about their "contract brewed" batch of Red Rocks Reserve. When you turn up at someone else's brewery with your own hot rocks it hardly seems to fit the classic definition of a contract brew. The reason Garage Project took themselves and their rocks to Paraparaumu was to take advantage of Tuatara's bottling capability. So a massive batch of Red Rocks Reserve was brewed and it all gets bottled this Friday. We'll have stock in time for next Tuesday's California Über Alles release - maybe even earlier.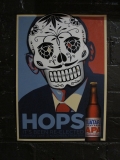 In case anyone has forgotten, Red Rocks Reserve is the beer that results from taking the wort for a pretty tasty, hoppy red ale and passing it through and over ultra-hot rocks, in an adaptation of the tradition of stein-brewing.
And at the risk of repeating a point made earlier, we're very excited to see two Wellington breweries collaborating.
Craft Beer College "Exam"
Craft Beer College's inaugural season of tastings comes to a close on December 1st, with an exercise in the important and demanding task of tasting beer "blind". Attendees' ability to discern what they've tasted will be monitored with prizes given to the most discerning. In fact Hashigo Zake is contributing one or two pieces of swag to make sure the prizes are desirable.
Anyone interested in attending should get in touch by emailing info@craftbeercollege.co.nz.
Live Music
We have to acknowledge another failing in last week's email from us to you :- we failed to mention last Saturday's live gig. But last week's shortcomings are this week's steps on a path of continual improvement.
So we can announce that this Saturday evening live musical entertainment will be provided by the Tony Mad Trio performing Texas Boogie in the tradition of Stevie Ray Vaughan. From 10pm and at no charge.
The 2012 Santa Session
A handful of places remain for the 2012 Santa Session, coming up on December 4. More details and bookings are at the Cult Beer Store.