Día de los Muertos... Chilli Beers... Darren Watson... US Presidential Election...
Día de los Muertos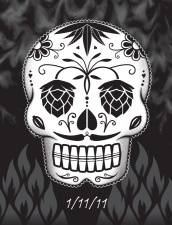 Very shortly we'll be hosting a triple release of Garage Project Day of the Dead beers. Those are Day of the Dead, Double Day of the Dead and Bourbon Barrel Aged Day of the Dead. As many of you will be tired of being told, last year's Day of the Dead was one of the most popular beers, or perhaps the most popular beer of the original 24/24 programme.
Then tomorrow it will be the turn of Day of the Dead's new sister beer - La Calevera Catrina. This maize-based, habanero-infused, watermelon and rose-water-finished curiosity has most of us scratching our heads before we've even tasted it. It could be the start of a phenomenon. But with only a tiny initial batch made it would be tempting fate to not race along to try it tomorrow evening.
Garage Project aren't the only brewery with a liking for the Mexican Day of the Dead. Rogue have been making Dead Guy Ale and Dead Guy Whiskey for years. We started stocking Dead Guy Whiskey recently. The first bottle is nearly finished and whoever orders the last serving can take home the glow-in-the-dark bottle!
Finally to coincide with the next two days' special releases we've tweaked the lighting in our red room to make it even redder and today's music is streaming direct from Mexico.
Chilli Beers
Hot on the heals of our somewhat chilli-infused Day of the Dead beers, the finals of the national chilli eating contest take place on Saturday. Liberty have made a special chilli beer for it, called Dragon's Whaia. Given Joseph Wood's notorious appetite for ridiculously hot chillies it seems reasonable to assume that this will be a challenging drop. It will be one of our new releases next Tuesday.
Now we haven't tried Dragon's Whaia yet but are making a few assumptions about its intensity. So for the sensible among us who prefer our capsaicin in quantities that aren't life-threatening we're putting on a second beer. It's Jungle Brewing's Cerveza Habanero.
Cerveza Habanero will be our first ever Southeast Asian craft beer. We just took delivery of a pallet of beer intended for the Pacific Beer Expo but which (obviously) didn't quite make it in time. We're assuming that a brewery who specialises in wheat beers infused with tropical fruits is going to show a little restraint when making a chilli beer. But then again it shouldn't come as a surprise if something originating in Southeast Asia has a little kick to it as well.
We'll all know for sure at around 5pm on Tuesday
And since we just mentioned the Pacific Beer Expo, a review just appeared on Australia's Crafty Pint.
Darren Watson
Darren Watson's Underground Blues Band are back in the lounge this Saturday night. The complimentary entertainment starts at 10pm.
US Presidential Election
The US Presidential Election is next Wednesday - New Zealand time and weather permitting. As the vote counting begins we're looking forward to tapping the only kegs in New Zealand (that we know of) of White House Honey Porter (Garage Project / Hashigo Zake remix). We'll pipe a combination of a satellite news channel and internet-sourced coverage through the TVs and look out for early signs of an impending zombie apocalypse.