New Release Tuesday... Live Music This Week... Pacific Beer Expo News... The Pathway to Hoppiness... The New Tuatara Brewery... IP Watch...
New Release Tuesday
On October the 2nd we got to serve the first in a series of variants of Garage Project's recently brewed Bastard Rye strong blonde ale. That beer was the raspberry infused version. Next week Bastard Rye returns in another variant - one infused with sour cherries and a dash of Six Barrel Soda's kola nut syrup. It's Bastard Rye: Lola, Lola being the name of Aro Park's resident cat, for those not in the loop.
Bastard Rye: Lola goes on tap next Tuesday at 5pm.
Live Music This Week
We have great pleasure in announcing another new act (new for us, that is) for our Saturday night slot. The Nigel Patterson Trio play in the lounge from 10pm.
Our musical schedule is looking about as good as it ever has right now. The following Saturday (also the evening of the first day of the Pacific Beer Expo) features the return of blues from the Nick Granville Trio, and the week after (October 27) we welcome back the act that started it all - Adam Page and the Counts.
The details of upcoming acts are at eventfinder and, if we've been diligent, at our own website.
Pacific Beer Expo News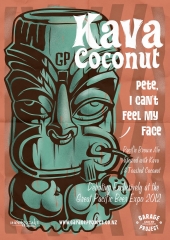 Earlier this week Garage Project announced one of the more adventurous beers that we'll be serving at the Pacific Beer Expo. It's their Kava Coconut Brown Ale - a beer made with not only toasted coconut, but kava. If anyone else has ever made a commercial beer incorporating the South Pacific's favourite recreational drug, we'd love to know about it. Seriously, do let us know.
Speaking of Wellington breweries, ParrotDog have a new release coming out at our festival - a Scotch Ale called Sleuthhound, the Shleuthhound being the Shcottish ansher to a Bloodhound.
Meanwhile Kereru have a new beer and it was brewed with assistance from our own Dave and Sam. It's a brown ale made with kumera. And Kereru's Chris is making available a small amount of another of his beers - Velvet Boot, a strong Belgian ale.
From Hamilton we've already announced 666 Brewing's contribution, which is a rare Cream Ale. We can now add that it's called Angels On A Pin. Also from Hamilton Brewaucracy are sending us a keg of their rare Punkin Image Limited.
Meanwhile ticket sales are coming along and there's every chance that the Saturday session will sell out in advance. They're for sale here at Hashigo Zake or at our web store.
The Pathway to Hoppiness
Last week's Pathway to Hoppiness tasting, run by our friends from Craft Beer College on our premises, was such an overwhelming success that extra attendees were accommodated and there was still a waiting list. For the benefit of those on the waiting list CBC are considering putting on a repeat event this Saturday. Anyone interested should let CBC know as soon as possible by emailing info@craftbeercollege.co.nz.
The New Tuatara Brewery
Tuatara Brewery and, indeed, Wellington's craft brewing industry passed a significant milestone yesterday with the official opening of the new Tuatara facility in Paraparaumu. Instead of having capacity continually trying to catch up to demand at what was basically a rural site, Tuatara suddenly have a brewery that they can grow into and is on a sealed road.
So great is the capacity at Sheffield St that smaller breweries are beating a path to Tuatara's door to get help increasing their own output. Suddenly Tuatara are assuming a wider role in the rapid development of the craft beer industry in our region. Details like this weren't lost on yesterday's guest of honour, the Prime Minister, who said it was important that he not be seen chundering after drinking Tuatara's beer.
IP Watch
IPONZ and New Zealand's brewing industry didn't conspire to come up with any clangers in the world of trademarks in the last seven days. Instead we can report a little good news. Kirin-San Miguel-Lion Nathan have voluntarily cancelled their trademark on the name Blind Pig, although the reason given was that they didn't need it any more, not that they cared that they were borrowing someone else's beer name.
But to be fair, Castlemaine-Toohey-Lion's lawyer did mention that "[Lion] does not condone any actions which subvert the trade mark rights of brand owners or the integrity of a category (for instance, in the beer category, attempts to trade mark a beer style)."
Fist bump.