Happy Birthday Garage Project... Music This Saturday... Choice Beer Week... IP Watch... Next Week's New Release... International IPA Day...
Happy Birthday Garage Project

Prediction: in ten years Wellington will have around fifteen independent production breweries, making something like three million litres of beer annually. A small industry will spring up running bus tours around the breweries. Even the lamest bars will serve at least one beer actually brewed here. And we'll look back on the 2nd of August 2011 as the turning point.
That was the day that Pete, Jos and Ian carried corny kegs of the first three beers (Trip Hop, Manuka Dark and Pernicious Weed) to come out of Garage Project's pilot brewery down the stairs to Hashigo Zake. Volumes were so low that servings were rationed to 150mls and it was all gone in under an hour.
But while a year has flown by it's not as if progress has been slow. They achieved their (self-imposed) goal of coming up with 24 original beers in 24 weeks, then continued to experiment while occasionally contract brewing and finally imported and installed a beautiful new brewery. That new brewery is now being put to good use and a steady supply of beer is coming out of Aro Street while some interesting experiments are still being brewed on the original pilot brewery.
To celebrate Garage Project's triumphant first year they and we have decided to assemble the best collection of their beer available and put them on tap at once this Friday evening. The lineup will be:
Super Angry Peaches (Amped up version of last year's Amarillo-packed Angry Peaches.)
Dark Arts (a revised edition of last year's highly successful coffee bock)
Cherry Bomb (the Cherry Chocolate Imperial Porter that starred at SOBA's Winter Ale Festival)
Trip Hop
Pernicious Weed
Music This Week
After last Saturday's Chicago Blues (and Neil Billington and Bullfrog Rata will be back for Choice Beer Week) it's time for another left turn stylistically with a smooth jazz gig from the Tessa Quayle Trio.
As usual this gig kicks off at 10pm.
Choice Beer Week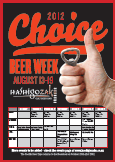 Our own programme of events for Choice Beer Week is looking somewhat chocka. Please check it out here or by looking at the events page on our website.
There are product launches, meet-the-brewer sessions, additional late evening gigs in the lounge and a photography exhibition. Not to mention there's a better-than-normal chance of running into your favourite brewer at random times of the afternoon or evening.
IP Watch
It seems that there will be a satisfactory resolution to last week's bombshell that Heineken-Tiger-DB-Tui had decided to call a beer in their "Monteith's" range Porter Noir. This had drastically raised the blood-pressure of many a fan of Auckland brewery Hallertau and for good reason.
Many beer and brewery names end up getting more than one use. For instance a brewery in Belgium once had a beer called Luxe, which is also the name of one of Hallertau's beers. But Porter Noir had been completely unique to Hallertau until a corporate brewery across town happened to spontaneously come up with the same name. And staff at that corporate brewer were, oddly, incapable of using ratebeer.com or google to see if their clever new beer name was unique.
But then it's easy to see why the firewall at DB-Radler's corporate headquarters might block ratebeer.com. It would be disastrous for morale for them to see just how lowly the world's beer geeks score their beers. As for google - their motto is (or was) "don't be evil", so perhaps that's an unpalatable message too.
Next Week's New Release
To celebrate (well, to mock) DB's generally appalling mis-use of intellectual property law we're going to make next week's Tuesday New Release a Saison. This was a style that DB were erroneously granted a trademark on once, before they relinquished it with uncharacteristic good grace and common sense. Mind you they had stopped putting out a beer under the name by then, so kind of had to. So for the last couple of years it has actually been legal to import or brew a Saison in New Zealand and we're better off as a result.
So next week's New Release is a Saison from Dutch brewery De Molen. Actually it's called Jaar & Dag (Year & Day) rather than Saison, so it would have been legal to import it even when DB's trademark stood, but why let the details get in the way of a good dig?
New Zealand's one and only keg of De Molen Jaar & Dag goes on tap next Tuesday at 5pm.
IPA Day
Today is the second ever IPA Day - a celebration of the style that may already be the most prominent in the worldwide craft beer movement. In fact the American Brewers Association recently revealed that IPA has overtaken Pale Ale as the most popular style amongst US brewers.
The Australian website Brews News today published a highly recommended contemplation of hops, IPA and IPA Day. And if that makes you thirsty remember our fridges are packed with what must be New Zealand's best collection of hoppy IPAs.