Temporary Gallery... Special Visitors... Thirteen... On Soon... iWit...
Temporary Gallery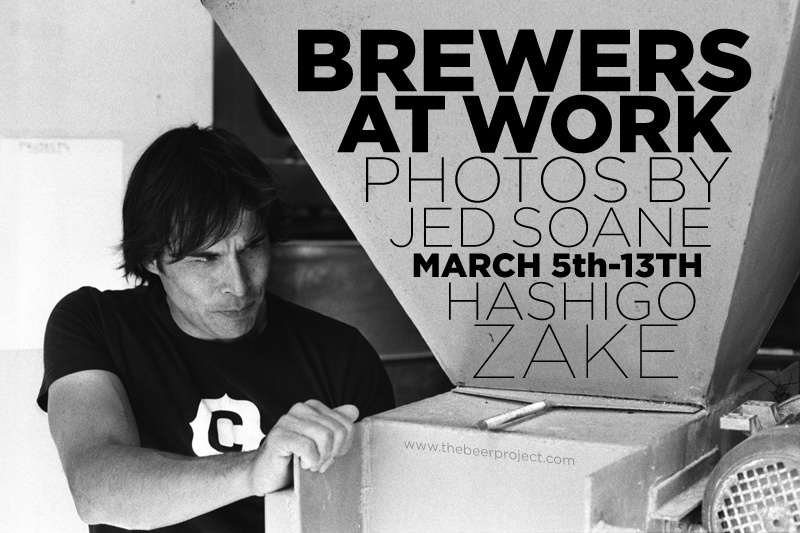 The Red Room remains a temporary art gallery and will do until and including next Tuesday. The opening on Monday of Jed Soane's Brewers at Work got a big and enthusiastic turnout.
We encourage anyone familiar with the brewing process or the personalities in the New Zealand brewing industry to come along, enjoy the photos and consider buying a print to help get Jed to Australia.
Special Visitors
On Monday, while most of us were occupied with the launch of Jed's exhibition, a group of three customers visited Hashigo Zake, ordered some drinks and some Dragon Bread (that they found too spicy) then headed off into the Wellington night. It was about when they were leaving that we recognised Nick Floyd, Barnaby Struve and Chris Boggess of Three Floyds Brewery - allegedly the best brewers in the world, a title that none of Hashigo Zake's staff would debate based on the samples we've got to try.
Actually we'd been tipped off that they might drop by. Regular customer Scott of Ninjaflower has a strong association with the brewery and knew of their plan to come all the way from Munster, Indiana to witness New Zealand's hop harvest.
So we missed our chance to hang with the most rock 'n roll brewers in the world. But coincidence (or the scarcity of Wellington restaurants open at 9pm on a Monday) meant that they ended up sharing a table at Monsoon Poon with none other than the aforementioned Jed Soane.
And there this not-terribly-consequential story might end, except that the next day we noticed this on the inside of the door to the cubicle in the gents' toilet. While a keg of Dark Lord would have been good, this morsel of graphic art, presumably applied by one of 3 Floyds' inner circle, will have to pass for endorsement from the world's best brewery.
This a good time to mention that although the prospects of importing beer from 3 Floyds remain slim (read here to get an idea of what demand for their beer is like), we do have stock of some of their collaborations with Mikkeller and BrewDog and are looking forward to acquiring Mikkeller/3 Floyds BooGoop (wheat wine) soon.
Thirteen
Here's something for everyone's diary. On Friday January 13th Garage Project brewed an English barley wine. One week of fermentation and thirteen weeks of conditioning end of Friday April 13th. That's when we'll be serving this new beer, called Old Scratch.
We used to stock another beer called Old Scratch, from Flying Dog - an Amber Lager brewed at higher temperatures. Interestingly there's no suggestion that the Flying Dog beer's name had the same demonic origin.
Speaking of Garage Project, they recently brewed large batches of Pernicious Weed and Trip Hop at Three Boys. Kegs of these beers have been appearing at bars other than our own, which makes a nice change for all concerned. But don't worry, we'll be putting some on soon too, probably this weekend.
On Soon
If you buy into the theory that a cold climate needs darker beer, then you'll be pleased with our response to the premature arrival of winter:
For the first time in a long time, Invercargill Pitch Black Stout.
From our recent shipment from the Arctic Circle, Nøgne Ø Imperial Stout.
Green Flash Double Stout.
Cassel's Milk Stout, along with one or two other beers as part of a big order from the Christchurch brewpub.
iWit
Next Tuesday's new release is the last of our initial shipment from Australia's Feral. It's iWit 2.0, an Imperial Witbier - a Belgian style wheat beer with extra malt and spices. Given how good everything else from Feral has been, we expect great things.
iWit 2.0 is on tap from 5pm on Tuesday.