ParrotDog... Yakima Scarlet... Foreign Approval... Growler Howler... This Long Weekend... A Few Teasers... Fine Dining... On Tap Soon... Other News...
ParrotDog
Unsurprisingly a big crowd turned up on Tuesday for the launch of ParrotDog's new beer - FlaxenFeather. There was even a pleasing turnout from some key figures in businesses like Tuatara Brewery, The Fork and Brewer and LBQ.
Those present not only got to try a pretty pleasant new golden ale, they witnessed the official announcement of one of Wellington's worst kept secrets: ParrotDog are building a new brewery in downtown Wellington.
In a few months time beers like BitterBitch, Bloodhound and FlaxenFeather will no longer be brewed under contract at Mike's and will instead be brewed in lower Vivian Street. The Matts have taken on a six year lease and ordered a 2500 litre brewery from China.
For years many speculated about why there were no breweries in Wellington city. It seems that there never was a good reason not to put a brewery in Wellington city, and ParrotDog, Garage Project and, perhaps one day, the Fork and Brewer are going to show us what we were missing out on all these years.
ParrotDog have pulled of a coup by stitching together the funding to let them take this audacious step into full-time brewing. Starting a week into the Year of the Dragon seems fitting. We have great expectations.
Yakima Scarlet
Next week's new release will be Liberty Yakima Scarlet. It's a Red IPA, or perhaps an American Red Ale, depending how you prefer to construct labels for contemporary beer styles. In other words it's a 6.5% ale with a complex and rich malt bill and hopped like a new world IPA.
The last time we had a completely new release from Liberty was the launch of M!ller's IPA, which was one of the busiest nights ever at Hashigo Zake.
Coming down from New Plymouth at the same time will be the latest in this summer's series of the West Coast Blonde Ales. This time it will be Amarillo - for many of us the only one even nicer than Simcoe last year.
Foreign Approval
We have theorised before that 8 Wired brewing started doing much better on ratebeer.com once the brewery started exporting. Not because exporting somehow made the beer better, but because beer geeks in New Zealand are either less frequent or harsher judges of beer.
Last week ratebeer released their annual summary of the previous year's ratings and it may have reinforced that impression. Because 8 Wired, who now export more beer than they sell domestically, have broken new ground for a New Zealand brewery. To the best of our knowledge they are the first New Zealand brewery to break into the worldwide top 100 and they dominated the Australasian top 50.
A glance at that top 50 shows some pretty good returns for Epic, Yeastie Boys and Renaissance, who are sending plenty of beer offshore too.
Growler Howler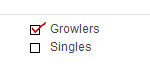 While DB's trademarking of "Radler" remains the most notorious abuse of intellectual property law in the beer world as we know it, other cases pop up now and then. One of our informants has put us on to a shocker from none other than Hancock's, the local liquor distributor, owner of Glengarry's outlets and supplier of a handful of products (for now) to us. They are currently attempting to trademark Growler - the North American term for flagon or rigger.
The not-so-funny part of this is that if IPONZ are blissfully unaware that there are plenty of us around who know and maybe even use this term - just as they insist no-one in New Zealand knew what a radler was - they may just accept the application. And then someone sufficiently outraged will have to cough up $300 to correct a government department. On the usage of growler. The mind boggles.
But what we'd like to ask Hancocks is: why would a company try to take ownership of a term that they didn't invent?
Anyone curious can search for trade mark application 851281 at the IPONZ website. And while you're there, patent number 519778 is kind of interesting too.
This Long Weekend
This is our third Wellington Sevens since opening in 2009. In the days before the last two events we've exhorted our regular customers to take no notice of everything else going on in downtown Wellington, and just come down like it was a normal Friday or Saturday. Frankly it's made little difference - slightly fewer regular customers come in, we gain a few irregular ones (and keep a nervous eye on them) and at the end of the night we wonder what the fuss was about.
So our message now is: everyone do whatever you like. We'll truck along as normal and look forward to Monday.
Because on that day, which happens to be Waitangi Day, we get to put a few pretty special American beers on tap, slow cook a couple of enormous pots of chilli and screen the Super Bowl without worrying about whether the next customer is coordinated, coherent and clothed. It's actually a kind of therapy for us.
Now we've had a couple of requests to reserve tables during Monday afternoon. It shouldn't be that busy, but just in case, we'll accept a limited number of table bookings from the time this email is sent.
And in case anyone is in any doubt, we won't be applying any kind of public holiday surcharge on Waitangi Day.
A Few Teasers
It's been a month or two since we received a significant shipment from overseas and a couple of the shelves at Hashigo Zake aren't looking quite as overloaded with exotic goodies as usual. So here are a few hints about what's going to arrive soon.
More Mikkeller! When we put Texas Ranger on tap it was such a success that we're investing in more of this in bottles and kegs of this chipotle pepper infused porter. In fact we're securing enough Texas Ranger bottles to sell a few on to selected bottle stores and supermarkets.

We're also going for broke and getting a keg of every beer in the Mikkeller Single Hop IPA range. Some time in the next month or so, look out for a succession of these beers, which will include Simcoe, Sorachi Ace, Citra and Nelson Sauvin, among others. We admit that importing hoppy IPAs like these is risky, but these beers are guaranteed to be fresh and have been kept refrigerated for the bulk of their trip from Western Europe.

Look out too for a couple more cases of the Chateau d'Yquem barrel-aged Belgian ale called Mielcke & Hurtigkarl.

A new shipment from Nøgne Ø will be with us soon too. Once it's here supplies of beers like their Citra IPA and Imperial Stout should last for months.


More Californian beer:- a big shipment with enough of the spectacular Ballast Point IPAs (Big Eye and Sculpin) to last for... well weeks. We'll also have a couple of new beers from Green Flash, including Rayon Vert - a brettanomyces influenced Belgian pale ale. This shipment is still a way off and may not be with us until late March.
Fine Dining
There remain available places for our first dining event of the year - a five course pairing of dishes from five Asian countries with different beers. It takes place on Sunday (yes, Sunday!) February 12 at 6pm. Bookings can be made at the bar or here.
On Tap Soon
Look out for:
A showdown of some of the New Zealand IPAs that came out in 2011 - Yeastie Boys Digital IPA on handpump, Mike's Taranaki Pale Ale and Hallertau Beastwars IPA.
Croucher's new IPA made with, of all things, Australian Galaxy Hops.
Bear Republic's great dopplebock - Carburator.
A rare treat straight from Emerson's. This one depends on freight from the deep south and with the long weekend coming up we don't want to make too many promises. But keep an eye on the online menu for an Emerson's beer that isn't normally available on tap.
And did we mention that Nøgne Ø Imperial Stout and Green Flash Le Freak are on tap right now?
Other News
Yesterday, in our capacity as a distributor of American craft beer, Hashigo Zake became a paid up member of the American Brewers Association! Among various benefits we should start receiving the association's own periodical that we'll make available to regular customers along with other magazines.
Late last week we took customer contributions, topped them up with our own money and made a $US125 donation to the production costs of the Beer Hunter movie. Thanks to donations like this the fund raising exceeded its goal, as described here.