The End of 24/24... Life After 24/24... What to do on 24/12... 666 Brewing... Six Beers on Now or Soon...
The End of 24/24
A few months ago Garage Project's 24/24 programme seemed an exhausting proposition whose eventual end was far too distant to contemplate. But somehow, suddenly it's 23 down and one to go. That final beer will be next Tuesday's Rum and Raisin. To many Rum and Raisin will sound more like an ice cream flavour than a beer style. And that would be kind of astute.
It turns out that Garage Project and a brand new local maker of "craft ice cream" called Wooden Spoon Creamery have been planning some kind of collaboration for a while, and the 24th beer of 24 will be it. The details are where it gets tricky:
Some time ago Garage Project brewed a Belgian Tripel and left it conditioning.
More recently a batch of organic raisins were left to "rehydrate" in 12 year old rum.
Those raisins, now bloated on rum, were transferred to the aforementioned Tripel.
After some time the beer/rum infused raisins were then extracted to be incorporated in an ice cream.
A portion of the rum-infused-raisin-infused beer was also used to make that ice cream*.
The best part is that Hashigo Zake is securing several litres of this rare ice cream and will serve scoops of it as an accompaniment to the beer from 5pm on Tuesday. We think it's a fitting, and sort-of Christmassy, way to close off the 24/24 project.
Note that servings of ice cream will be complimentary and will be offered until either the ice cream or the beer runs out.
* We say "was used to make..". In fact the ice cream will be made this weekend. We haven't been able to learn exactly where.
Life After 24/24
It may sound trite or even a little sad to some, but 24/24 really has changed Tuesdays for many of us. At the very least it's made Tuesday a busier night than Wednesday for the last few months, for which the management of Hashigo Zake will be forever grateful. We've also really appreciated the way that regular new releases have fostered an atmosphere of beer-focused scholarship.
So the end of 24/24 deserves to be marked in more ways than just giving away ice cream.
First of all, the next keg after Rum and Raisin will be a kind of a homage - Mikkeller Black. This extraordinary imperial stout is almost certainly the strongest beer ever served on tap in New Zealand. (It's 16.5% alcohol by volume.) For those wondering, it won't be in the usual serving size. In fact we've had to go out and buy port glasses so we have something small enough to serve it in.
Secondly, and as already mentioned, all Tuesdays are henceforward New Release Tuesdays. The tradition starts immediately, even though Tuesday week is December 27 and almost certainly one of the quietest nights of the year. Anyone coming into the bar at 5pm on the 27th can form a queue to sample the first glasses from a keg of Mikkeller Vesterbro Wit. This is a kind of "house wheat beer" made for the Mikkeller Bar in Vesterbro, Copenhagen.
What to do on 24/12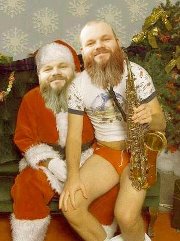 After building up last Saturday's planned performance by Adam Page and the Counts as much as possible, it was difficult, saddening and, well, anti-clamactic to have to postpone the gig on account of illness on the part of Adam himself. If anyone reading this was as disappointed as us then please accept our most sincere apologies.
Adam and his colleagues looked through their diaries (and Adam, Ed and Ricky are three in-demand musicians) and came up with a proposed new date of December 24th. Now on the surface choosing this date may seem like folly. On Christmas Eve in Wellington it seems standard practice to go home from work at midday and metaphorically wash off the stench of daily urban life. But this year Christmas Eve is a Saturday, most of you will have been off work since midday on the 23rd and we're gonna bet that after 24 hours sitting at home waiting for Santa you're all going to be desperate for the sophisticated, urban experience that comes from blending great music and beer. And when that moment comes, we're a short bus or taxi ride away.
Please note that because of our legal obligation to have none of you on the premises by the time Christmas Day rolls around, this gig will start at 9pm.
666 Brewing
A few of you will have heard of 666 Brewing. The rest of you should hear a lot more of it in 2012. It is the brewing company of Graeme Mahy, formerly the head brewer at Australia's Murray's and Blenheim's Moa.
Graeme has spent several years trying to stitch together a location and a company to brew for and signs are that his plans will come to fruition in 2012. If and when that happens we can all have high expectations, because his work at his previous employers, his influence on brewers such as Martin Townshend and the tiny batches of commercial brewing and home brewing that he's done in recent years show that Graeme is one of the country's most gifted brewers.
For the time being Graeme has found some spare capacity up in Hamilton to squeeze out a small batch of the beer he calls Gabriel B. It's described as a multi-national new world pseudo-pilsner, made with New Zealand hops, German and British malt and American and Belgian yeast. We're getting two kegs of this and the first will go on tap soon.
Six Beers on Now or Soon
Here's something no-one could have predicted. On soon will be a mild ale that is a collaboration between our regular favourite (and recent visitor) Nøgne ø and Japan's Tamamura Honten - an ancient sake brewery that has successfully tried its hand at beer in recent years under the name Shiga Kogen. The result is called Not So Mild and mustn't be confused with Liberty's upcoming Not Your Ordinary.
Epic's new Imperial Pilsner has reached us. Instead of following the pattern above and calling it, say, "Not a 5% Pilsner", they went with the more self-important title LARGER, which only succeeded in confusing the Dominion Post who shamefully mistook it for the work of a spelling-challenged hospo worker. LARGER - or preferably just Larger - will be on tap soon.
Another fresh keg of Coronado Brewing's Orange Avenue Wit will be on soon. Certain staff members reckon it's the best witbier we stock.
Last night we finally found a tap free for the first keg of our recent shipment of Ballast Point Big Eye IPA. This beer and its stablemate Sculpin IPA arrived late last month and our stock of bottles has been all but snapped up by bottle stores and supermarkets around the country. But we've retained good stocks of both beers in kegs, so it should be months before we run out here at Hashigo Zake.