A Slice of San Francisco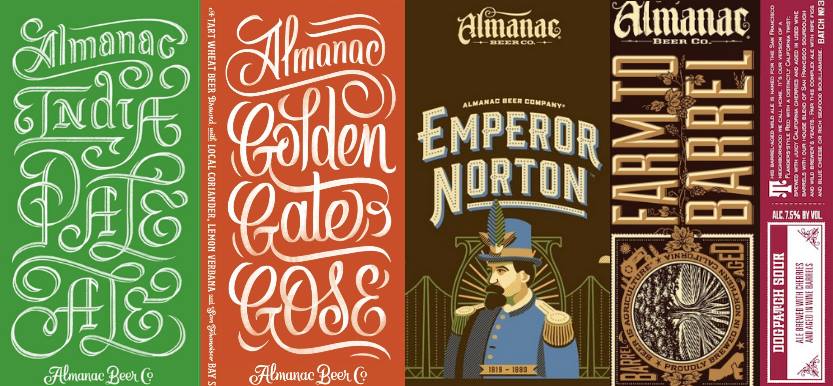 The next in our series of weekend showcases from BwB's latest shipment features some super exciting beers from San Francisco's Almanac.
We've been having great fun serving up tasting flights when we have a few bigger beers to show off, so this weekend we're serving up almanac flights of four with two big new beers from Almanac supplemented by two classics from Almanac's year-round range.
Emperor Norton
is part of Almanac's new 'Fresh Beer' limited series. Beers in this series are strong Belgian styles featuring "even bigger flavors, bolder yeast characters and more intense hop aromas, reflecting our rich Californian agricultural bounty."
Emperor Norton is a 9% Belgian Tripel, but with California-grown summer apricots thrown in and dry-hopped generously with Citra and Hallertau Blanc hops. Sounds pretty damn interesting.
Another first from this shipment is kegs of one of Almanac's most celebrated sours,
Dogpatch Sour Cherry.
A Flanders red style, Dogpatch is fermented with a variety of bugs including wild yeasts, bacteria and SF sourdough yeast. It spends time with these bugs in red wine barrels with California Rainier cherries. The result rivals some of the classic Krieks from Belgium, tart and acidic with plenty of body and cherry flavour to back it up.
After having Dogpatch in bottles, I'm excited to have this amazing beer on tap - but it won't come cheap. So we're including it in Saturdays flights to make sure everyone gets a go at this delicious beer.
Rounding off the tasting flight of four along with Dogpatch and Norton will be the amazing
Golden Gate Gose
- a tart, savoury wheat beer brewed with sea salt and lemon verbena - and
Almanac India Pale Ale -
one of the best west coast IPA's I've ever had featuring Apollo, El Dorado, Simcoe and Mosaic hops.
This Saturday only, you'll be able to grab a tasting flight consisting of a 150ml pour of each of these great San Franciscan beers from midday.
Darren's Back
The legendary blues singer, songwriter and guitarist Darren Watson returns to the Hashigo Zake lounge this Saturday.
Darren will be playing solo, a mixture of blues classics and his own creations - such as the controversial "Planet Key".
Darren's blues kick off at 9.30pm this Saturday, and even better it won't cost you a thing to come and see this blues legend up close and personal.
Made in Wellington City
The Maiden label is the brainchild of Adam Laird. You've probably had some excellent beer brewed by him before - under the Baylands name.
After beertending around Wellington for some years, Adam landed an assitant brewer job at Petone's Baylands where he has been honing his brewing skills. To express these under his own label Adam has created Maiden Brewing Co.
This Tuesday's new release is a beer brewed small-scale by Adam at the new Te Aro brewing (out the back of Brewtopia on Tory St).
This beer started out as a collab with the band 'Richter City Rebels' so gained the name '
Maiden Richter City
' (get it?!). Adam flexed his creative muscles with this one, brewing a 5.8% toffee and biscuit brown ale and threw in some cranberries for good measure.
I'm really looking forward to tasting this beer, as brown ale is a sorely neglected style these days - and it's not often you get a cranberry beer. We tap our single keg of Maiden Richter City at
5pm Tuesday
, and we expect it to run out on the night so get there early.