Big Thanks... 2013 Santa Session... Music on Saturday... New Release Tuesday... Ramen... Finally...
Big Thanks
Hashigo Zake has a number of people to thank for the enormous success of Sunday's Pacific Beer Expo.
First and foremost we thanks the hundreds of people who did "get" what the festival is about and how it works, knew not to question why the ticket price was what it was, and came along and enjoyed themselves. It's not our style to wait at the door with survey forms, so we can only go by the anecdotal feedback we've received. And that feedback suggests that attendees were pretty happy and satisfied. So thank you for coming.
Steph Coutts of Craft Beer College and her pool of willing volunteers are one of the reasons why Wellington is at such an advantage when it comes to the organisation of beer festivals.
We got all sorts of help from Goldings Free Dive. And ParrotDog and Garage Project helped make sure we had enough taps to pour that number of beers.
A number of brewers went to a lot of trouble to supply us with new and/or interesting beers. A few even attended. One actually volunteered to pour his own beer.
For once we are in a position to make a nice early announcement about next year's Pacific Beer Expo. It will take place on the Saturday and Sunday of Labour Weekend (October 25 & 26) at our original venue of the Boatshed, but with one key difference. We'll also have the use of the adjoining Wellington Rowers Function Centre, giving us significantly more capacity than we've had before, but in not one, but two, character venues.
2013 Santa Session
Now also seems the ideal time to announce the 2013 Santa Session. This is our now annual exercise in clearing a little stock and celebrating the looming year's end with some of our favourite customers, organised in collaboration with (and with a discount for members of) SOBA.
It may or may not be common knowledge, but our wholesale business has grown around 300% in the last year, which means that there's a lot more beer passing through our warehouse with increasing potential for some really good products to get overlooked by our wholesale or bar customers.
There must be plenty of Santa Session veterans by now, so you know the drill... tickets are available at the Cult Beer Store, or we'll take your booking over the bar. Anyone taking advantage of the substantial discount to SOBA members will be expected to show a SOBA membership card on the night.
Music on Saturday
We host something of a Wellington Jazz supergroup on Saturday evening, with Leigh Jackson and Nick Granville playing as the Leigh Jackson & Nick Granville Quartet with the four made up by Nick Tipping (bass) and Reuben Bradley (drums). From 10pm in the lounge, at no charge.
New Release Tuesday
Our favourite Tauranga nano-brewery is now generating a little more variety and has invested in a stock of the same 10 litre kegs that Mike's brewery use. And because we aren't contractually bound to pour Mike's beer through the Mike's machine, we can take advantage of this new diversity we're getting from Fitzpatrick's. And next week we'll make Fitzpatrick's ESB our new release. On tap from 5pm on Tuesday.
Ramen
Tomorrow is a Ramen Friday. Delicious porky broth and freshly made noodles go on sale from around 11:30am tomorrow. Thanks to the Ramen Shop.
Finally
Tonight is the Night of Pretending To Be Out, so tomorrow must be the Day Of The Dead. Which presumably explains the unheralded arrival of these: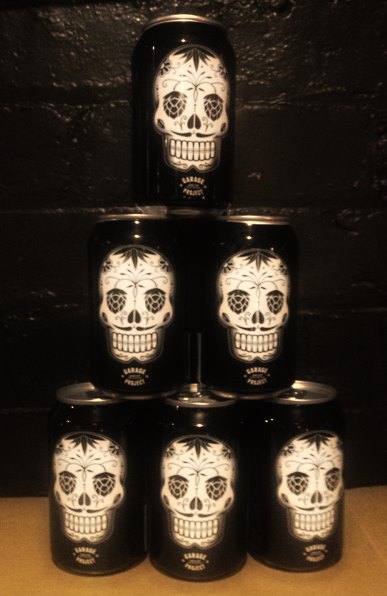 They look like anything but a vessel containing beer, and we don't know if there are more where they came from. But they and a couple of kegs that appeared at the same time came with some message about an embargo that will run out some time tomorrow.