Glassware, Part 2... Who's Your Big Daddy?... Sunturnday... On Tap Now or Soon... Funk 1... Funk 2... New From Liberty...
Glassware, Part 2
Last week we wasted minutes of your and our time explaining why we settled on the glassware that we did, some three years and ten months ago. This time we actually have something new to reveal.
For smaller servings of tap beer, we've always used stemmed glasses of one or two varieties. They hold a little over 300mls. They're ok - maybe even slightly better than ok. We probably would have gone on using them, if it weren't for a fact-finding expedition to Adelaide's famous Wheatsheaf Hotel last month.
Now we've been hearing about the Wheatsheaf for a while - from such credible sources as Adam Page, Yeastie Boys' Stu McKinlay and Lobethal Brewery's Alistair Turnbull. And our delegation wasn't disappointed - the Wheatsheaf is a magnificent bar in more ways than one. It seems to be comfortably the most important venue for interesting beer in Adelaide, as well as being a great band venue and a big old neighbourhood pub.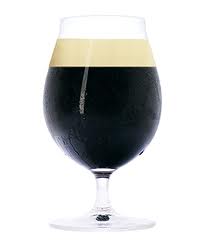 Some years ago the Wheatsheaf took the dramatic step of investing in glassware from the German producer Spiegelau. Referred to there as "Fancies" these were the kind of glasses that we would admire but generally dismiss as being far too fancy and delicate for a bar. They are made of relatively fine crystal, are pleasant to hold and have a tulip shape that makes it easy to savour aromas, provided they aren't filled to the top. But there they were, in use and surviving the rigours of daily use in a noisy Adelaide pub.
On the premise that if you're going to steal, steal from the best, we're unashamedly copying the Wheatie and have invested in our own supply of Fancies. And they replace our old stems today.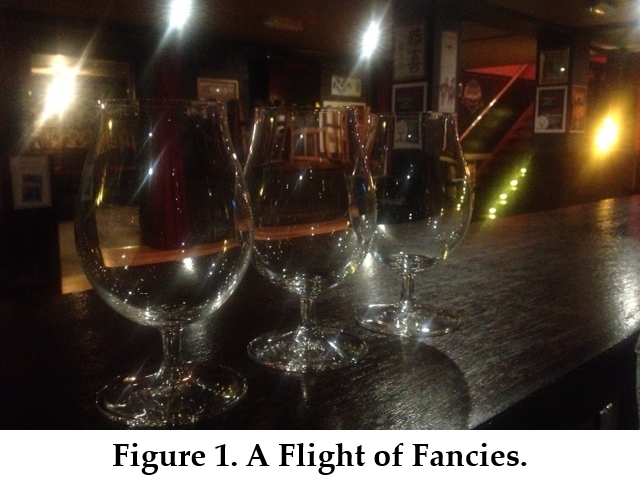 Our Fancies have come with 300ml fill lines marked on them, so we'll be intentionally leaving a gap at the top when pouring them. No doubt that will upset a few. But for anyone hoping to really savour their beer and not afraid of ordering slightly less at a time, we encourage you to try drinking from a Fancy.
Who's Your Big Daddy?

It is with great pleasure that we announce that we'll soon be stocking the beers of celebrated San Francisco brewery Speakeasy. We'll not only be serving them here at Hashigo Zake but making them available to our wholesale customers around the country. So feel free to have a word with your dairy owner.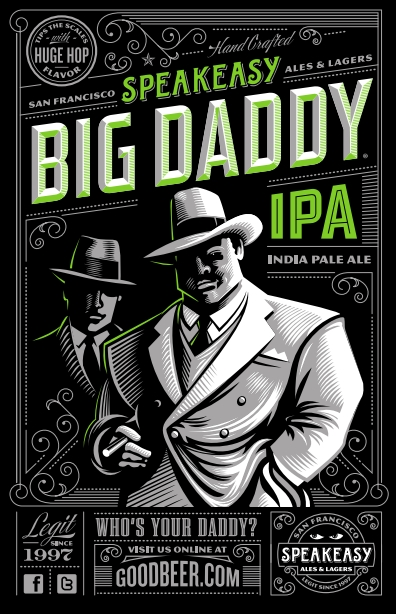 At a time when our decadent, pinky-out, IPA-sipping ways are threatened by a resurgent neo-prohibitionist movement, it's refreshing to bring the products of a brewery whose branding mocks an era of prohibition. Who knows, if the Wellington City Council's draft Local Alcohol Policy is as much of an assault on the hospitality industry as some claim, every Wellington bar wanting to continue trading may have to convert to an unlicensed speakeasy.
Speakeasy's flagship beer is a classic American IPA known as Big Daddy. Kegs of this beer are halfway across the Pacific right now and we're going to be scrambling to get it on tap at Hashigo Zake and a few other bars around the country on the 4th of July.
Speaking of which, we look forward to revealing more about celebrations on the USA's national day between now and then.
Sunturnday
Apparently in Norway, the winter solstice is called 'solsnu', or 'sun turning'. It's called that because of a belief that the sun was changing direction in its path around the earth. At least that's what Nøgne Ø's Kjetil Jikiun told us and he should know - as a former long haul airline pilot he probably watched it happen.
To celebrate this astronomical phenomenon, Nøgne Ø brew Sunturnbrew every (northern) winter solstice. It's a smoked barley wine - made with a decent proportion of peat-smoked malt.
We've been waiting for winter to put our first keg of this cult favourite on tap and what better day than the southern hemisphere's winter solstice. After a glass of this perhaps the sun will change direction. Or perhaps water will go down the plug-hole in a different direction.
On Tap Now or Soon
This Tuesday's new release was so good - and so popular - that we put a second keg on straight after the first. So Baylands Black IPA is still on tap.
We have a couple of rareties from Hamilton waiting to come on tap - Avarice IIPA from 666 and Bale Out from Brewaucracy. We've had Avarice before, although rumour has it that not everything went right with the previous batch and this one is promised to be on form. Bale Out is a hoppy American wheat ale.
ParrotDog's seasonal American IPA PitBull was a huge success when it came out late last year. So news that they've brewed another batch is welcome. Now it turns out that one last keg of the original batch has been unearthed. We'll have that on tap soon.
The Mussell Inn's contribution to the Great Australasian Beer Spectapular was Bush Baby. It's another variation on the great Captain Cooker - this time with kawakawa leaves and some rata honey in addition to manuka leaves. And it's good.
We have a keg of Garage Project's extremely successful California Common beer - California Über Alles. We're also getting a keg of their radical new Sauvin Nouveau - a highly hopped pilsner that also happens to have a good amount of Sauvignon Blanc juice blended in with the more conventional water.
We also have a keg of Schippers Chinook IPA, made with NZ grown chinook hops.
Funk 1
We've a mini-season of funk acts in the lounge. This Saturday local "surf funk" act, The Digg, appear for the first time.
Funk 2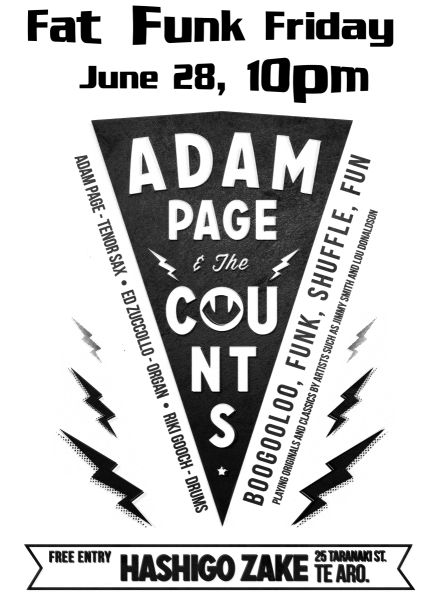 Our first ever live musical performance was from Adam Page and the Counts. Adam and co are so in demand these days that there seems little chance of getting them back for the very Saturday night slot that they inaugurated back in late 2011. Instead we've managed to book them for a Friday, so we present Fat Funk Friday, next Friday the 28th.
To help the funk go down we're looking at some kind of a deal on selected Funk Estate bottles. More details close to the time.
New From Liberty

The first ever large batch of Liberty Darkest Days Oatmeal Stout left the brewery this week. We'll have bottles on sale today and probably on tap soon as well.
And Liberty is collaborating with Dragon's Fire Chillies again. For this year's Chilli Eating Contest they've produced a Bhutty Chocolate Stout - a chilli chocolate infused double stout. It's our new release at 5pm next Tuesday.