New Release Tuesday... On The Horizon... History Repeating... Some Thank Yous... Music This Week... On Tap Now or Soon...
New Release Tuesday
First of all we applaud Dale Holland for not only producing a formidable Doppelbock that we got to launch on Tuesday, but for turning up to promote it in person and bringing reinforcement in the form of Geoff Griggs.
To be honest we've had trouble programming the "New Release Tuesday" slot for the next month or so. We're expecting all sorts of interesting beers in the near future - in fact we'll talk you through some of them below. But in most cases we aren't sure when we'll get them on the premises.
But at least one of these promised jewels is within Hashigo Zake's walls, it's unusual, it's probably exceptionally good and we can book it in with confidence.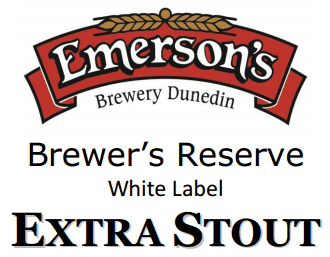 It's a beer from Emerson's Brewery's White Label series, which we think indicates that there's too little of it to get a proper label. It's a 7.8% Stout modelled on certain big, intense American stouts. The brewery claim it came out even better than they hoped and is "beautifully black with a creamy latte head, oily, rich and resiny on the nose" with "licorice, coffee, and molasses flavours to the fore". It sounds like the perfect beer to make a fuss over in the middle of winter. Perhaps it will inspire a pithy haiku.
As usual it will come on tap at 5pm on Tuesday.
We can also give early notice of our release the week after. Funk Estate have been busy, not only getting full scale batches of their first two beers out, but doing small batches at Massey University's pilot brewery and performing experiments on unsuspecting kegs of beer. The first output of their research programme - Pinta Colada - will be our release on July 24. More info next week.
On The Horizon
There are some pretty exciting and unusual products on their way to us. Some are still some way away, some are closer and to be honest some could be just about anywhere for all we know. But here are a few teasers to, well, try and convince you that we're busy.
1. Yeastie Boys' Stu and Sam spent some quality time in South Australia back in May. But rather than go empty handed they took eighteen kegs of their own beer. The actual kegs they used were lent to them by.... well.. us. As a consequence we're looking forward to a feast of South Australian beer. And in amongst that shipment will be "Bruce" - the beer that resulted from time the Yeastie Boys spent collaborating with Lobethal Bierhaus, a brewpub in the town of Lobethal, outside Adelaide.
Lobethal Bierhaus has something in common with Hashigo Zake - Adam Page has played gigs at both venues. And Adam has dropped plenty of hints about the quality of certain South Australian breweries. So we have high hopes for this shipment, which right now is in the hands of one of our suppliers of freight services.
2. Liberty Brewing's Joe Wood has been as busy as ever. When he hasn't been slogging away trying to meet demand for C!tra Imperial IPA (which, by the way, is back in stock), he's been conjuring up a number of new beers that we hope to see quite a lot of in the next few weeks. And a few weeks later we hope to get hold of all the Yakima Monster that anyone could wish for.
3. A couple of months ago this article by our friend Geoff Griggs appeared on stuff and in one or two newspapers around the country. It describes a trip to the Oregon brewpub called Pelican by Graeme Mahy and Geoff, made just before Pelican won just about every award possible at the World Beer Cup. Everything Geoff said in the article was correct except for one thing. Describing the Pelican/666 collaboration Geoff wrote "Sadly, most likely none of us will get to sample the finished beer." Well Hashigo Zake followed Geoff and Graeme around Oregon, hounded, hassled and harried Pelican until they filled our kegs and secured stock of Our Precious and a few other Pelican beers. So that sentence should probably read "Only Hashigo Zake's customers will get to sample the finished beer."
Our pallet-load of Pelican beer is currently resting in a cool-store in Los Angeles, waiting to be incorporated into an order of Californian beer coming our way soon, so we're all going to need the patience of Gollum before we get to try "Our Precious".
4. Emerson's Extra Stout has been mentioned above. The brewery have also been good enough to give us access to a couple of other rarities. Ticketholders at Saturday's SOBA Winter Ale Festival will get to try something pretty unusual from them. For those who couldn't get a ticket, small quantities of that beer will be available at Hashigo Zake in the days following the festival.
And after nagging Emerson's for years, asking them to put one of their two regular wheat beers into kegs as well as bottles, the brewery have relented and supplied us with some of their famous Dunkel Weiss in kegs. Now the brewery have renamed this beer a couple of times and it's confused the hell out of ratebeer.com, who list one of the previous incarnations as the 8th best in its style in the world.
5. Swan Valley's Feral Brewing is generally considered Australia's and maybe Australasia's best brewery. They're in the middle of an ambitious expansion involving building a shared brew-house with Nail Brewing and are extremely busy. But it looks as though they'll find the time and enough beer to fill some kegs of ours that previously took Renaissance and 8 Wired beer to Perth.
The paragraphs above constitute far more information than we should really be revealing given that most of the beer discussed is not even in New Zealand yet. So please, keep this news to yourself.
History Repeating
Garage Project's anniversary is a few weeks away but possibly a more momentous milestone was passed just now. After nearly a year making 50 litres at a time or venturing to Christchurch a few times to brew at Three Boys, GP installed their own full-scale brew house a couple of months ago. Commissioning took a while but eventually some actual brewing took place and finally the first keg to be filled from the first batch on the new kit was carried from Aro St yesterday down to our premises.
It's a little like the first week of 24/24 revisited as this first beer from the new plant is Trip Hop, and we have just 20L of it. And it went on tap a few minutes ago.
Some Thank Yous
Last Saturday Aimee and Dane of Lemur Attack Force spent some of the final hours before departing for London hanging out, fighting back the combined effects of sleep deprivation and extreme anxiety and supporting our fundraising auction. By the time you read this they'll be about a day from starting the Mongol Rally.
So we thank them for their resilience last Saturday and we also thank Gold for entering into the spirit of the auction and generously bidding enough to take out both prizes.
Music This Week
Our booker's journey through various musical genres takes in another milestone on Saturday with a performance of "funked up jazz and ground soul" from the Kirsten Te Rito Trio. Fittingly there may be some Funk Estate beer on tap at the same time. As usual the music starts up in the lounge at 10pm.
On Tap Now or Soon
After explaining all the goodies coming up in the medium term future, it's time to reveal what's likely to be on over the next few days.
The hand pumps are going to be dominated by the Twisted Hop and Townshend. Nothing particularly unusual about that, but the Townshend beer will be Martin's incredibly popular Fuggles IPA. There will also be some of his 666 collaboration - Sutton Hoo.
Meanwhile we're flush with beer from the Twisted Hop, with Challenger, Twisted Ankle and the re-worked IPA Hopback.
It's time we put another keg of Mikkeller Texas Ranger on, lest time take any of the edge of its beautiful chipotle heat.
The Eagle vs Dog Pan Galactic Gargle Blaster divided plenty of people with its name but no-one complained about the flavour of this Imperial Brown Ale.
Uncle Sam will retain a presence with Rogue Shakespeare Stout, Moylan's Danny's Irish Red and Coronado Islander.