Clayton's Project... Pacific Beer Expo... On Tap Soon...
Foreword
Some weeks it seems as though all the most interesting news happened last week or will happen next week. It really defies common sense that we can scrape together enough material here in what is really quite a small business to bother you all every week. Which is a roundabout way of downplaying expectations for what follows.
Maybe the next time we hit writer's block it will be good to have a stock of topics to meditate or even pontificate on. Feel free to propose any.
Clayton's Project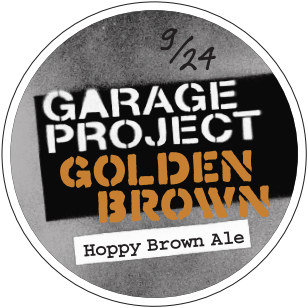 The guys at Garage Project have been threatening to not deliver a new beer for a number of weeks now. Next week they're going to deliver on that threat - after a fashion. Instead of a new beer they're bringing along their second "rebrew". It's another batch of Golden Brown. At the time (about seven weeks ago) it was described as "a nice juicy Brown Ale with plenty of hop character... Pale, Crystal, Chocolate and Aromatic Malt, with Columbus, Cascade and Ahtanum Hops. 6.2% @ 55BU."
At the time it drew lots of compliments and the words "best yet" may even have been muttered. This release we have when we're not having a release starts at 5pm on Tuesday.
To be completely fair, we should draw attention to the fact that Garage Project will be releasing more than one new beer next week, but all that will take place at the Pacific Beer Expo.
Pacific Beer Expo
After putting most of our cards on the table last week there is limited information left to impart about Labour Weekend's lineup. Or so you would think. In fact there are already one or two retractions to make, and some additions to announce.
First of all, we and Epic have decided that this event is not the time to release one of their few remaining kegs of Portermarillo. To compensate, but not replace, we can announce the first release of the second ParrotDog beer. The Matts have said a little about this new beer called Bloodhound Red Ale. It's described as a dark red ale built around floor malted maris otter malt with plenty of aroma and bitterness from liberal use of New Zealand hops. But the exact nature of the beer seems secondary when compared to the burning question: will it create the same kind of hysteria that BitterBitch did back on July 27?
On Tap Soon
While some rock star beers are waiting for their moment at the Pacific Beer Expo, some equally meritorious but longer established beers have found their way into our possession. In particular we've somehow acquired a keg of Three Boys Oyster Stout. It seems far too late in the year for this beer to appear - perhaps it's a show of support for a team wearing black.
In fact waiting to come on are most of the Three Boys range - Pils, Wheat, IPA, Golden Ale and the aforementioned Oyster Stout.
There are other rarities from the South Island coming up too. For starters we have not one but two new beers from Golden Eagle - Raindogs Amber and Summer Blonde. And Roger Pink has been brewing again, allowing us to pick up some Pink Elephant Mammoth for the hand pump.
More of Yeastie Boys' glorious accident - Red Rackham - is waiting to come on as well. This time it's imposing as a beer for the hand-pump.
We've a couple of Northern Californian beers returning to the taps too - Bear Republic's highly recommended Jack London ESB and from Moylan's their gratuitously bitter Nor*Cal IPA and Chelsea's Porter.