More Pacific Beer Expo Announcements... Two and a bit Years... The Tournament We Dare Not Name... The Big City We Dare Not Mention... Garage Projection... Correction...
More Pacific Beer Expo Announcements
Tickets are selling particularly fast for the Saturday session of the Pacific Beer Expo. There are a couple of theories attempting to explain this.
One is that many of you want to leave the Sunday free to watch the final of the rugby tournament that it isn't safe for us to name. The festival will finish at 7pm, a full two hours before that rugby game. We specifically wanted to give people time to get comfortable in a nearby tavern, go home or completely ignore it.
Another theory is that some people are afraid that certain rare beers in our lineup will be emptied on the first day. Here's why this won't happen. (1) We believe the overall quality of the beers on offer will be so consistently high that few if any beers will be "singled out" and quickly drunk. (2) In the event of that happening we will take steps (including weighing kegs if necessary) to ensure that no more than half of the supply of any one beer is consumed on the first day. Actually, at the rate tickets are selling the smart option is to come on the second day where there may be less competition for the same supply.
We can also give some more information about what exactly is going to be on offer. Here are a few specifics:
8 Wired Double Brown - an Imperial Rewired with a touch of Coffee.
Baird Kiwi Strong Pale Ale - another manifestation of Baird Brewing's liking for New Zealand hops.
Feral Barrel Fermented Hop Hog.
Ballast Point Victory at Sea Coffee Vanilla Imperial Porter - the final keg of the 2010 vintage.
Already announced:
Yeastie Boys His Majesty 2011
(All predictions about what actual beers will be served at the Pacific Beer Expo are made in good faith and with the best information available at the time. However we cannot guarantee that every beer announced will make it on the day.)
Two and a bit Years
We've been celebrating two years of business this week.
Over the last few days then we've received some very articulate and considerate messages from suppliers and customers. We are lucky as a business to have your support.
Thanks also to Gavin and everyone at The Hop Garden, where our staff celebrated the birthday with some memorable food and drink. Likewise thanks are due to Hayley, Dylan and Denise who made it possible for everyone to get the same night off.
The Tournament We Dare Not Name
By the time you read this the event that may or may not be the biggest thing to ever happen in New Zealand is as good as under way. Now since this email is promoting a commercial activity and we aren't an official sponsor of the event in question, it may be a crime under MEMA for us to name the event. (But it wouldn't be a crime for a hotel to charge $1500 for a room on the night of the final - go figure.) And the odd rugby-sceptic among you might like us to take that as a hint that we should ignore it altogether.
But the fact is that the ability to appreciate good drinks can be found in rugby followers as well as rugby sceptics, and it may even be found in
foreign
rugby supporters. So as with many major sporting events we are happy to be the thinking supporter's option for a welcoming tavern.
We're confident that our targeted advertising will attract a subset of visiting supporters that is completely compatible with our normal clientele. We want you, our valued, regular customers to feel no need to deviate from your usual pattern of patronage.
So our usual goals with respect to sport apply:
If you want to remain oblivious you can - we still aren't putting a screen in the lounge.
We'll put live games on one or both of our high def TVs if there's support for it.
If there isn't a meaningful game to watch, we'll turn the TVs off, although we will consider sincere requests to show replays of games.
But our goodwill to visiting supporters doesn't end there. From Saturday and every day until October 10 we're running an afternoon tasting letting visitors get to know New Zealand craft beer. The samples will be judicously picked from our range, the guidance will be as well-informed and witty as our staff can come up with and there will be some brief notes for everyone to take away.
So when your out of town guests start to stink like fish after three days send them down to us. The vital details are: bookings not needed, start time 3pm, price $25.
But it doesn't stop there. We know that certain good friends of Hashigo Zake will be spending some quality time in Wellington in the week leading up to the quarter finals on October 8 and 9. To help entertain them we're organising a guided trip to southern Wairarapa for a day on October 3. Food, wine and probably other beverages will feature. More details will follow, but feel free to reply to this email to register interest.
The City We Dare Not Mention
We in Wellington like to be ever so slightly patronising about Auckland, our (only numerically and geographically) bigger city. But this week the marketing and sales wing of Hashigo Zake Corporation descended on Auckland in a bid to raise the quality of the imported craft beer available. Our findings may surprise you.
Oases of craft beer exist but are better disguised than we're used to. For instance, who'd have thought that the Liquorland chain would be dotted with pockets of resistance to blandness at places like Newmarket and Forrest Hill? Check out these two shelves at
Newmarket Liquorland
, packed with high quality imports to back up a fine range of local craft beer.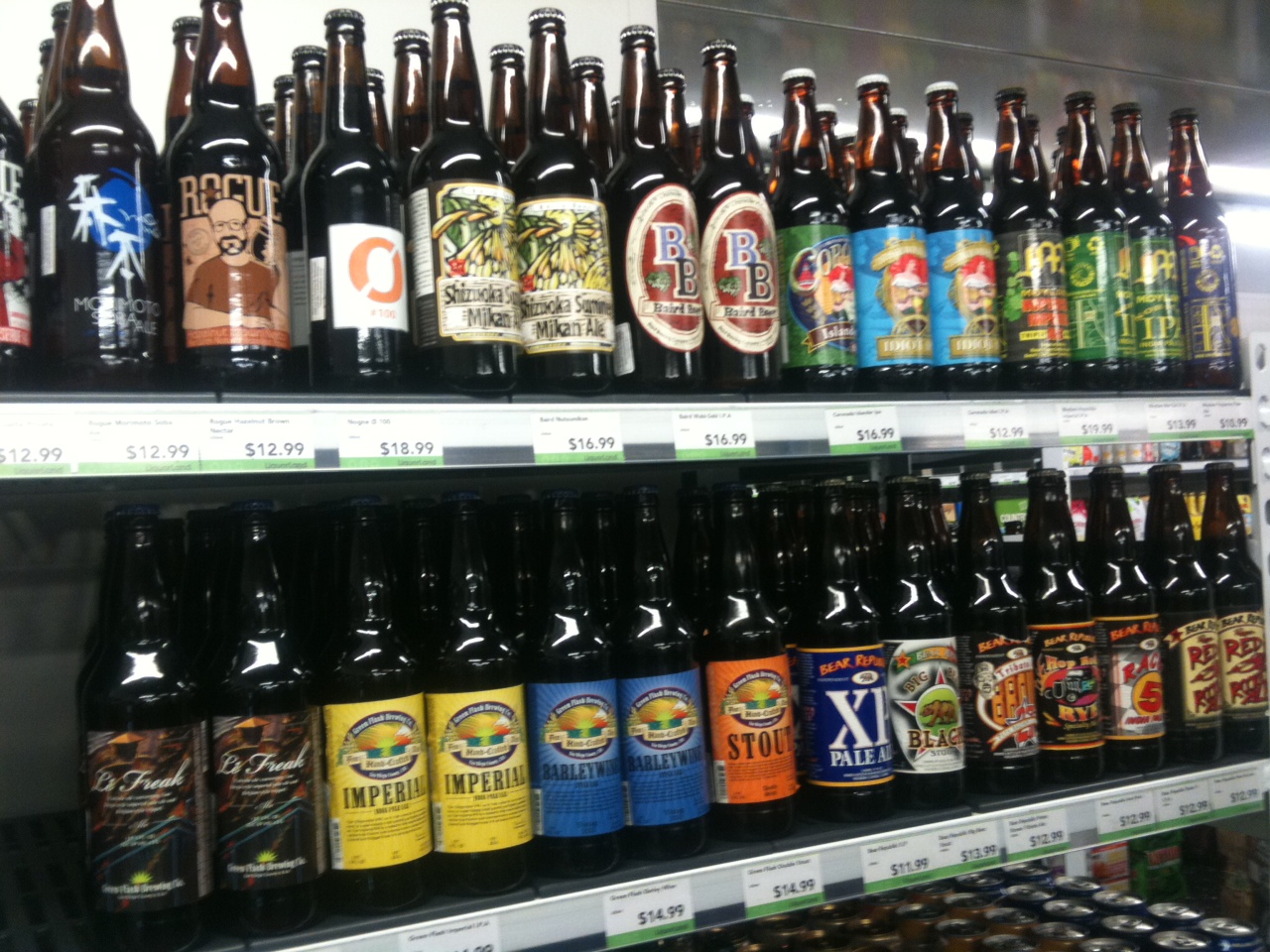 This week Mt Eden's
Village Winery
joins the family of enlightened outlets stocking some of the same imports that Hashigo Zake's regulars enjoy. One of the nicest surprises must be the French wine bar and bistro called
Winehot
which is a stone's throw from Eden Park but will be serving infinitely better beer than what will be on offer at any world cup matches. But the last word in beer in Auckland remains
Galbraith's Alehouse
and its great to see their legendary lineup augmented by the occasional Californian gem.
Garage Projection
The boys at Garage Project are well ahead of schedule in their quest to develop 24 unique beers in 24 weeks. So they've been threatening to take a week off. But NOT YET! Another beer is ready and it's
Salt and Pepper Porter
. In their own words:
A full bodied, robust porter, seasoned with sea salt and freshly ground black pepper to the boil to give a sense of body and fullness to the palate with a restrained fuggle hop character.
Now as if brewing in tiny batches wasn't making the point, this week's beer is another of the Garage Project's extra tiny batches. It will be available in small servings only and we make no commitments about how many minutes from 5pm on Tuesday it will be available for.
Correction
Last week, while attempting to lecture Moa Brewing about the wrongs of their marketing methods, an over-zealous spell-checker inexplicably turned our description of Hansie Cronje from being "deceased" to "diseased". We apologise for that error. If only Moa would apologise too. (For the record, they issued what has been described as a "non-pology".)