No News... Truffled Baby Peaches... Coming On Soon... Asian Cuisine and Beer...
No News is err... no news
We're getting a steady flow of enquiries about the outcome of last week's hearing into SOBA's challenge of DB's trademark of Radler. Unfortunately the process isn't instant and a decision is expected to take a matter of weeks.
We have heard bits and pieces about what went on during the hearing. It sounds as though SOBA's stance was given the most thorough legal test that money can buy and the outcome is very much in the balance. At least we know which side was in the right, regardless.
Truffled Baby Peaches
One of the hits of this week's tasting of gourmet italian foods matched with beers were the Truffled Baby Peaches, paired with Baird Rising Sun Pale Ale. The peaches are picked when they're about the size of a large olive for the purpose of thinning the crop and are preserved in vinegar and oil with pungent slices of truffle.
There were some expressions of interest from people hoping to take some of these delicacies home, so we've secured a few jars and as a service to our customers will re-sell them at a very reasonable markup.
We've also put them on the menu to be served in a manner similar to the Italian Cherry Chillies that are proving something of a cult hit.
Coming On Soon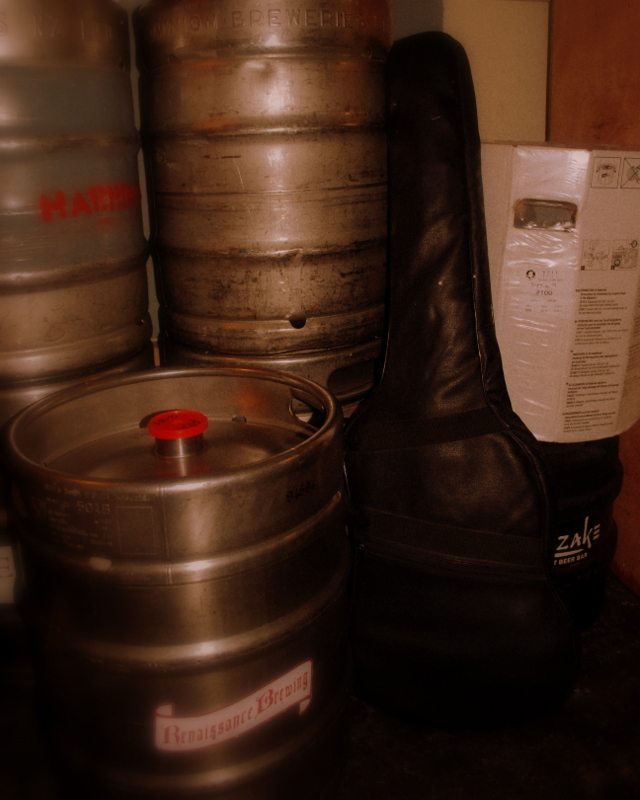 It would be wrong to let a week go by without putting on something new. This week we have Apache Amber Ale from up-and-coming brewery Golden Eagle.
There's also a brand new beer from Joseph Wood at Liberty. It's called Darkest Day and Joe's describing it as an American Stout.
We're expecting a delivery of Epic's new Imperial IPA, named Hop Zombie in an apparent homage to Luke's favourite bar. To fill out the shipment from Auckland we're expecting some Epic Mayhem and Armageddon.
Things must be returning to normal at Harrington's because we not only have a keg of Rogue Hop Pilsner, we finally have bottles of Three Boys Oyster Stout, which suggests that Harrington's bottling line is working again.
In the way of imported beer, we have Baird's amazing Teikoku IPA on tap right now, with Nøgne ø's #100 (is it a barley wine or is it an imperial IPA?) waiting in the wings.
Fans of Green Flash have it good at the moment. Their Tripel is on right now, with Double Stout not far off. And we can be confident of continuing to source beer from the terribly fashionable Green Flash, judging by the scale of the expansion they're going through at the moment: http://www.greenflashbrew.com/blog/?cat=3.
Asian Cuisine and Beer
A handful of places remain for our next beer dinner - Shiggy's East Asian/South East Asian inspired, five course, beer-matched dinner on June 10. Details are at http://www.cultbeerstore.co.nz/collections/tastings/products/beer-and-asian-cuisine.